1) Jakub Voracek is blossoming, and quickly.
You don't even need to watch any game to realize that Jakub Voracek is quickly becoming the offensive threat the Flyers have hoped for. Through 11 games this season, Voracek has 16 points (3G, 13A). He is second in the NHL in points behind only Sidney Crosby, and tied for the league lead in assists. Through his first 11 games in 2013, Voracek only put 4 points on the board. That is a substantial increase. Not only is he putting up more points, he's noticeably more confident on the ice (see the goal below), and willing to carry the puck and use his speed to beat defenders. If this Voracek decides to stick around, the Flyers first line will continue to put up points and be a huge threat to opposing defenders.
2) Michael Raffl is fitting in nicely.
I have to admit, I was a huge critic of seeing Raffl placed on the first line. Who was this guy anyway? That being said, I'm being proved wrong more and more each day.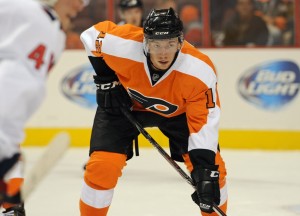 Raffl is now tied with Wayne Simmonds for the team lead in goals (6), and is starting to solidify a spot along side Claude Giroux and Jakub Voracek. Another part of Raffl's game that is flying under the radar is his shooting. Raffl far and away leads the Flyers in shooting percentage at 21.4%. That says a lot about him, considering he is also 4th on the team in shots taken (28). It helps that Raffl is playing with Giroux and Voracek, but he is fitting in very snug with the top line, and that is what the Flyers really need.
3) Where has Claude Giroux's physicality gone?
It may not seem like much of a big deal, or that Giroux was ever that physical, but when the captain throws his weight around the team follows suit. Through 11 games, Claude Giroux has just 7 hits, and according to nhl.com, he is on pace for just 52. Compare this season to 2013-2014 where he had 90, 2013 (lockout shortened 48 games) where he had 57, and 2012-2012 where he had 70, that is a pretty steep dropoff. Giroux might not be a big guy, but when he wants to light the team on fire, he will use his physicality (Just ask Sidney Crosby), and that is something that we have yet to see this year.
4) Shayne Gostisbehere should have stayed.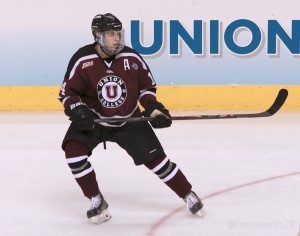 Atleast a bit longer. Ron Hextall makes it no secret that his prospects should develop in the minors with no rush whatsoever. But that changed for Gostisbehere. He was called up after the injury bug hit the Flyers top two defenseman in Brayden Coburn and Andrew MacDonald. It's easy to forget that Gostisbehere played NCAA hockey, not junior hockey. He is 21 years old, and dominated defensively in a league that includes guys whose age range is much different than that of say the QMJHL. Compare the two top defensive prospects for the Flyers. Gostisbehere is 21 and played mostly against guys who were 20 or older. Morin, who is 20, is playing against guys who are as young as 16 and no older than 20. That is a totally different ballgame. In fact, if you have looked at some notables to come out of NCAA hockey, most of them go right to the NHL (or played less than a season in the minors first). That list includes Dany Heately, Zach Parise, Jonathan Towes, Matt Carle, Jack Johnson, Ryan Suter, and James Van Riemsdyk, among many others. I wouldn't be bringing this up if I didn't think he could improve the defense, but in the two games he played with the Flyers, he looked pretty solid, and they were against two very good teams in the Kings and Red Wings. The Ghost should have stayed up, atleast until Coburn and MacDonald returned, especially when you look at his play, and the state that the Flyers defense is currently in.
5) The Flyers actually escaped October OK.
If you stepped back and looked at the Flyers October schedule before the season started, you could have seen a looming disaster. The Bruins, Penguins, Kings, Red Wings, Ducks, and Blackhawks, and Stars all in one month? Absurd. Well, the Flyers actually held their own against some of the top teams in the league. Their record against the teams I mentioned above was 4-2-1. Pretty good for the quality of competition, if you ask me. Also nice considering the fact that the Flyers are missing two crucial pieces of their defense, and their starting goalie has performed miserably. 4-5-2 still isn't an ideal record for them to have, but it's better than their 1-7-0 start to last season, and that team still made the playoffs. It could be worse, and it will get better.
Matt is a contributor for the Philadelphia Flyers at The Hockey Writers. He has previously covered the Flyers for GrandstandU. He enjoys playing hockey and making music in his spare time.