Now five weeks into the 2014-15 NHL season, there has been a bevy of surprises regarding the success of particular teams.
While the majority of NHL teams are playing to a level of success which many had predicted, there are select teams which have surprised the hockey world for both the right and wrong reasons.
Enter Studs and Duds; a team based article which explores which NHL clubs have been under-achieving, and which have been surpassing expectations thus far in the NHL.
The Studs

Calgary Flames:
Who could have imagined that at the start of play in November, the Calgary Flames would be tied for second in the powerhouse Pacific Division!
Through Calgary's first 13 games, the Flames have compiled a 7-4-2 record, good for 16 points. During this time, the Flames have not had an easy schedule, and have managed win's over top NHL teams such as the Nashville Predators, Chicago Blackhawks and most recently, the Montreal Canadiens.
It's been a complete effort on the part of the Flames, who have received strong contributions throughout their lineup. Goaltending, in particular the work by Jonas Hiller, has acted as a strong backbone thus far, with both he and Karri Ramo having excellent seasons so far.
The Flames have played sound defensive hockey, and have received offensive contributions throughout their entire lineup. For instance, the teams top two point producer are both defensemen, in TJ Brodie and Mark Giordano. On top these two; young Flames in Joe Colborne, Johnny Gaudreau and Sean Monahan have all enjoyed early success.
All in all, a complete team effort has allowed the Flames to enjoy great success early in the season. The surprisingly successful play of Calgary situates them as a glaring overachiever in the NHL. The major question which remains to be answered is whether their strong play will be sustainable in the long run.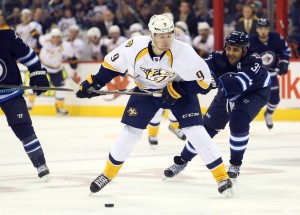 Nashville Predators:
The Nashville Predators are another team which have enjoyed a significantly improved start to their season.
In their first 11 games, the Predators have enjoyed renewed success, positing a 7-2-2 record, good for 16 points and first in the Central Division. During this successful span, the Predators have beaten strong teams such as the Chicago Blackhawks, Dallas Stars and the Vancouver Canucks.
One major reason for the Predators' success is the resurgent play of goaltender Pekka Rinne, who has returned to top form after being plagued by injuries the past few seasons. In his ten games, Rinne has seven wins, a .931 save percentage and a 1.88 goals against average, all of which are spectacular numbers.
On top of this strong goaltending, Nashville has experienced solid contributions from all of their layers, in particular, new comers to the team this year. Rookie sensation Filip Forsberg leads the team in points, while Mike Ribeiro, James Neal and Derek Roy have all been consistent contributors at both ends of the ice.
The continued strong play of first year Predators and Pekka Rinne will ultimately determine Nashville's success this season.
 New Jersey Devils: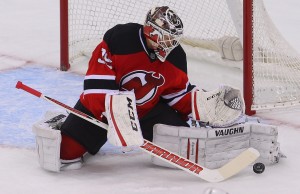 After missing the playoffs in the 2013-14 season, the Devils have opened 2014-15 at a torrent pace.
Boasting a 6-3-2 record through their first 11 games, the Devils have 14 points, which places them second in the Metropolitan Division behind the Pittsburgh Penguins. Although the Devils' schedule hasn't been necessarily challenging, they have still beaten a few good teams, such as the Tampa Bay Lightning and the always challenging Columbus Blue Jackets.
As is always the case with the Devils, they have been able to win games through balanced scoring. This means that all players in the lineup are contributing offensively, with no player scoring a vast amount of points. Damon Severson however is one player who has stood out for the Devils this season, with four goals and eight points in eleven games. The 20 year old, rookie defenseman has also played a strong defensive game, with a plus six rating.
One issue which may hurt the Devils strong play is their goaltending, which has not been strong this season. Cory Schneider, despite his 6 wins, has yet to play up to the high standards expected of him.
If the Devils are to continue their surprisingly strong play, they will need continued scoring throughout their lineup, as well as improved goaltending to sustain long-term success.
The Duds
Dallas Stars: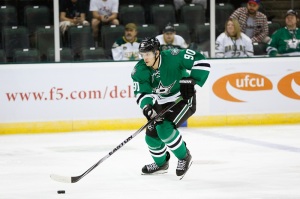 The Dallas Stars entered the 2014-15 season with great expectations, yet so far, have failed to live up to their huge potential.
In 11 games played thus far, the Stars have struggled, accumulating a 4-3-4 record, good for 12 points and a spot in the basement of the Central Division. To be fair, the Stars have had a difficult schedule, facing off and losing to powerhouse's such as the St. Louis Blues and Anaheim Ducks. Yet with the skill the Stars possess, as well as the new faces added throughout the off-season, there are higher expectations in Dallas than in years past.
Offensively, the Stars haven't skipped a beat. Other than Ales Hemsky, the new additions to the Stars as well as their star players have produced relatively well. Tyler Seguin looks poised to have a fantastic year, while Jamie Benn and Jason Spezza have enjoyed great starts to their seasons.
An area of major concern for the Stars is their goaltending. Starter Kari Lehtonen has struggled in his 9 games played, while backup Anders Lindback has been disastrous in his two appearances. Goaltending, which was considered to be a strength for the Stars this season, needs to experience significant improvements if the Stars are to get back on track in the wild West.
If the Dallas Stars hope to live up to their high expectations, they will need to play a complete team game on regular occasion. The Stars certainly have the ability, they just need to put it all together to have significant success.
Colorado Avalanche: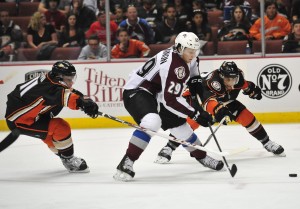 Coming off of a fantastic 2013-14 season, the Colorado Avalanche were hard pressed to repeat the success they enjoyed last year. Yet in the 2014-15 season, the Avalanche have significantly under-performed.
Through their 13 games, the Avalanche have stumbled to a 3-5-5 record, notching a mere 11 points which places them last in the Central Division. At this point, the Avalanche have played some good teams, and some not so great, struggling mightily against both. Losses have come against the Minnesota Wild and San Jose Sharks, while they have also come to teams such as the Florida Panthers and Winnipeg Jets.
Similar to the Dallas Stars, the Avalanche have also had major issues with their goaltending and defensive play. An injury to starter Semyon Varlamov put the Avalanche in a tough situation, a situation which saw rookie Calvin Pickard start two games. At 38 goals, Colorado has allowed the second most goals against in their division, an area in need of extensive improvement in order for the Avalanche to get back to their winning ways.
Further, the Avs' offense has also had it's struggles. Colorado's young guns have been firing blanks for the most part this season, while stars such as Nathan MacKinnon have just now begun to wake from what have seemed like perpetual slumps.
Chicago Blackhawks: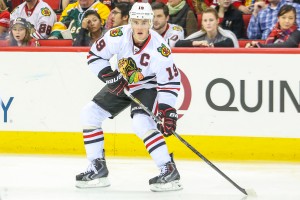 The Chicago Blackhawks are perennial winners who are expected to dominate the league year in and year out. However, the Blackhawks of 2014-15 have struggled compared to their standards.
In their first twelve games, Chicago has managed a 6-5-1 record, amounting to 13 points and fifth overall in the Central Division. Although the Blackhawks sit a game above .500, their play simply has not been up to the dominating, winning standard to which they have become accustomed. Their losses have come against some strong teams, such as the Anaheim Ducks, but they have also come against teams which they likely should have beat, namely the Winnipeg Jets and the Toronto Maple Leafs.
Unlike in Colorado and Dallas, the Blackhawks have had tremendous goaltending thus far this season, as Corey Crawford, Antti Raanta and Scott Darling have all been lights out. However, Chicago has been unable to play consistent hockey, earning either dominating wins or disappointing losses.
It seems that it is only a matter of time before the Blackhawks find their winning stride. To be clear, the Blackhawks haven't been terrible this season by any stretch, yet their performances this year simply have not been what the hockey world, and they themselves know they are capable of.
Brett Slawson is a four-year veteran of The Hockey Writers who covers the Toronto Maple Leafs, NHL prospects, and the OHL's Mississauga Steelheads.
Contact Brett on Twitter @brettslawson92, or by email at brett_slawson@hotmail.com.