The story of Edward Scissorhands captivated its audience in 1990. How this soft-spoken young man could win the heart of Kim, a normal girl with a normal life, was something that was raved about for years, making this movie a cult classic.
Am I speaking to a younger audience? Okay, take what I just said but replace Edward and Kim with Edward and Bella.
Opposites working against each other is played over and over again in books, movies and television shows. What audiences will see on the ice Tuesday and Thursday night will be something to be marveled, as well.
The St. Louis Blues and New Jersey Devils will take to the rink Tuesday night at the Prudential Center in Newark, N.J., for their first matchup of the 2014-15 season. Just two nights later, the clubs will meet for the final time of the season at Scottrade Center in St. Louis, Mo. Although this seems to be just another early season West vs. East matchup, the intricate pieces of this home-and-home series could play out to be some entertaining hockey for fans across the hockey spectrum.
In order to fully grasp the complex nature of these two matchups, I have summoned the help of Devils media member and fellow THW writer Dan Rice. Together, we broke apart each roster and dove into the meaning behind the numbers, including player age, road records and shootout stats.
This Jekyll vs. Hyde matchup promises to provide viewers with entertainment in both nights.
Limited Rookie Access
Devils: Possess one rookie and three players under 24-years old on the roster.
Rice: The Devils are a veteran-laden team, and it shows amongst their forwards; 21-year-old rookie Reid Boucher (their next scoring star) has only played in three contests and was recently sent back to Albany (AHL).
Blues: Possess two first-year players, three players with under 107 games played and nine players who are under 26-years old.
Ponder: The Blues' rebuild from 2005-06 to 2010-11 has paid dividends for the franchise. A team that once saw eight rookies skate through the lineup in 2010-11 has solidified its core, allowing these younger players to become the basis of the franchise. T.J. Oshie, David Backes, Patrik Berglund and Alex Pietrangelo were all the face of the rebuild; they are now what breathes life into this team.
Goaltender Jake Allen (24) and center Jori Lehtera (not considered a rookie at 26-years old) appeared on opening night as the freshest faces on the team, while forward Dmitrij Jaskin (21) was called up recently to alleviate the loss of Paul Stastny (upper-body).
Joakim Lindstrom heads a group of players that have limited time in the NHL. Before this season, Lindstrom appeared in 97 NHL contests, playing for Columbus, Phoenix and Colorado. Since last playing in the NHL in the 2011-12 season, Lindstrom won two championships in the last two postseasons with Skelleftea of the Swedish Elite League. He reinvented his game overseas, winning the SEL's postseason MVP award in 2013-14, and fought his way back into the NHL and in a top-six role for St. Louis.
Other players that are under 26-years old include forwards Magnus Paajarvi, Jaden Schwartz and Vladimir Tarasenko, as well as defensemen Pietrangelo, Ian Cole and Kevin Shattenkirk.
Forever Young
Devils: Fourteen players who are 30 years or older.
Rice: There are only four players on the active roster under 30: Travis Zajac, Damien Brunner, Adam Henrique and Jacob Josefson; Brunner and Josefson were healthy scratches to start the season.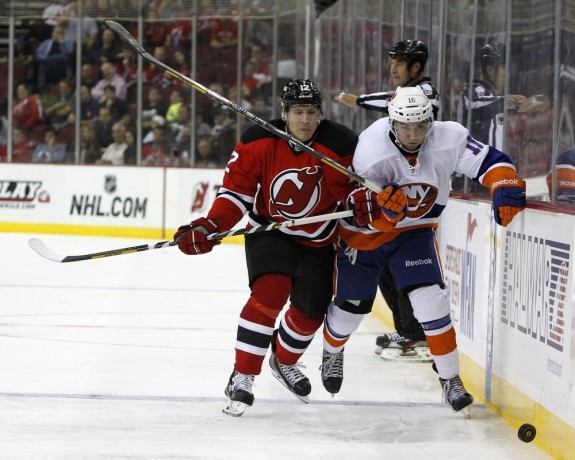 Blues: Eight Players who are 30 years or older.
Ponder: Rebuilding a team usually means a focus on the younger-to-prime players. The Calgary Flames, who are fully engulfed in a rebuild, currently have 12 players who are 25-or-younger on their roster. Inversely, the Vancouver Canucks, amidst an on-the-fly rebuild, employ just six players who are under 26-years old.
The Blues, who have made the playoffs in each of the past three seasons, are reaping the benefits of an all-out rebuild. With that, they have retained the desired veteran leadership (Barret Jackman, 33) and acquired workhorses along the way (Jay Bouwmeester, 31; Jordan Leopold, 34). They've also seen some of their younger talent graduate to the 30-plus club (Backes, 30; Chris Porter, 30; Alexander Steen, 30).
The  team brought in Steve Ott (32) via trade last season and Lindstrom (30) this summer.
Stopped by the Veterans
Devils: Defense has three players 24 years or younger (four if Larsson is recalled).
Rice: On the blueline three of the seven defenders are over 30 and the four others are all under 24-years-old. Rookie Damon Severson won a job in training camp and has been a first-pair partner with Andy Greene, and has played in all situations as a 20-year old; he's the only rookie on the roster with Boucher back in the minors. The sixth and seventh D spots have rotated between Adam Larsson & Eric Gelinas up to this point in the season. Last game Larsson scored his first of the season (GWG) and is currently holding down that sixth spot.
Blues: Defense has one player 24 years or younger.
Ponder: The Blues solidified their defense when they acquired veteran Bouwmeester on April 1, 2013. Since that time, the coaching staff has only allowed Carlo Colaiacovo (25 games), Carl Gunnarsson (four games) and Petteri Lindbohm (one game) to step in and receive any minutes.
That means that the defense has grown together in age and, more importantly, as a team.
The lone 24-year old in the defensive ranks is arguably the team's best defender: Pietrangelo. Drafted in the first round, fourth overall, of the 2008 NHL Entry Draft, Pietrangelo became an everyday NHL player in 2010-11.
Shattenkirk and Cole make up the lone 25-year olds and Gunnarsson is 27. Bouwmeester, Leopold and Jackman make up the 30s crew.
Big Guns
Devils: Employ four players who have scored 70-or-more points in a season and three players who have scored 80-or-more points in a season.
Rice: New Jersey boasts a number of former scoring stars from yesteryear but, other than the ageless Jaromir Jagr and Mr Devil 2.0 Patrik Elias, none of the others recently brought in to the team have consistently been an offensive force. Michael Ryder, Ryane Clowe, Dainius Zubrus and Tuomo Ruutu have never performed to the points level they reached elsewhere in their tenures with the Devils and the jury is still out on the two newest additions, Mike Cammalleri and Martin Havlat, who are both currently injured.
Blues: Employ one player who has scored 70-or-more points in a season and zero players who have scored 80-or-more points in a season.
Ponder: The Blues have long been a team that scores by committee. Last season, St. Louis had five players score 20-or-more goals, yet only one scored more than 30 goals (Steen, 33). Factor in that resident snipers Tarasenko and Schwartz are both playing in just their third NHL season and you can understand why the Blues do not boast more players with an extensive amount of points in a season.
Stastny is the sole player to achieve 70 points in a season. He did so with the Avalanche in his rookie season, 2006-07, contributing 50 assists and 78 points. He followed that up with a 47-assist, 71-point season in 2007-08. After an injury-plagued 2008-09 season, Stastny returned to the 70-point plateau in 2009-10, reaching career bests in assists (59) and points (79).
Aside from Stastny, the closest a Blue has come to the 70-point plateau was 62 points, set by both Backes (2010-11) and Steen (2013-14).
Solo vs. Duo
Devils: Cory Schneider is the clear-cut No. 1 goaltender.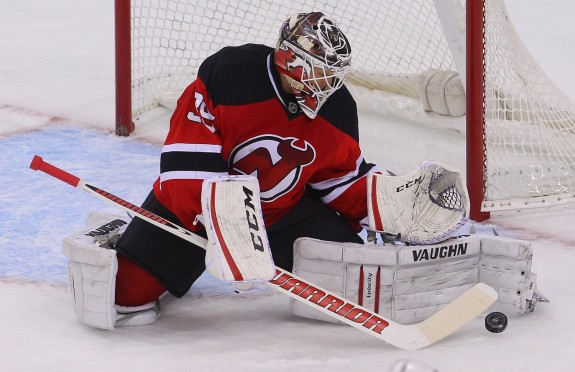 Rice: Cory Schneider has taken over the Devils' crease from Martin Brodeur and, while he hasn't been stellar yet this season, he has all six of their wins. He's the only goalie in the NHL that has started every one of his team's games (6-3-2, .909 save and 2.83 GAA) to this point; he's played so much that backup Scott Clemmensen (two mop-up appearances) was sent to the AHL to get some game action.
Blues: Brian Elliott and Jake Allen are splitting the duties in between the pipes.
Ponder: The goaltending duo is an idea that was adopted by the Blues during the 2011-12 season. With Jaroslav Halak entering camp as the starter, Brian Elliott emerged as a perennial backup with nine shutouts on the season, to go along with his first All-Star Game appearance. Since then, the goaltending duo is a widely accepted idea among the franchise's management, roster and fans.
This season, Elliott was slated as the No. 1 with youngster Jake Allen as his backup; both have shined to open the season. Elliott has posted a 5-2-1 record to go along with a 2.06 GAA and .920 save percentage. His most recent victory was possibly his best of the season, as he stopped 36 of 39 New York Rangers shots (as well as two of three in the shootout), to assist his team in achieving a hard fought 4-3 shootout victory on Monday night.
Although he has only appeared in three games, rookie Allen has been just as lights out to open the 2014-15 season. He is slated to receive the start in the opening contest of the Devils and Blues home-and-home series. To the Devils' dismay, he couldn't be coming off a better game.
Facing the loaded Anaheim Ducks, Allen stopped all 22 saves he faced, including a third-period laser from sniper Corey Perry, for his second victory of the season and second career shutout. He has accumulated a measly 1.34 GAA and monstrous .944 save percentage so far this season.
The Long and Winding Road
Devils: 14-18-9 on the road last season.
Rice: New Jersey started the season with three straight wins on the road (4-2-0) and started slow winless in their first three at home before winning the last two (2-1-2).
Blues: 24-14-3 on the road last season.
Ponder: In 2013-14, the Blues tied for fifth with a home record of 28-9-4. They were almost just as unbeatable when on the road, posting a 24-14-4 record, which was also good enough for fifth in the League. The Blues were a dominant team no matter how you sliced it.
However, the Blues' biggest problem was back-to-back contests. In the opening game, the Blues went 7-4-2. In the second game, however, the what-seemed-like superior roster only posted a 5-7-1 record. Although head coach Ken Hitchcock would often replace his older players with scratches from the night before, it seemed imminent that the Blues would falter in the second game.
The Blues have played back-to-back only once this season, but were outgunned by the Ducks in every sense of the word. It should be interesting to see how the Blues respond after Monday night's emotional 4-3 shootout victory.
Shootout Tussle
Devils: Went 1-14 in the shootout in 2013-14 and 2014-15 combined and scored just five goals on 50 attempts in that time.
Rice: The Devils have been horrendous in shootouts the past two seasons, but finally got off the schneid in their last one as they defeated Winnipeg, who was coincidentally the last team they beat before the drought started. Long gone are the days of having the ability to put out automatics such as Viktor Kozlov, Ilya Kovalchuk and Zach Parise. Schneider hasn't been good at all and regularly surrenders the first goal.
Blues: Went 11-4 in the shootout in 2013-14 and 2014-15 combined and scored 24 goals on 52 attempts in that time.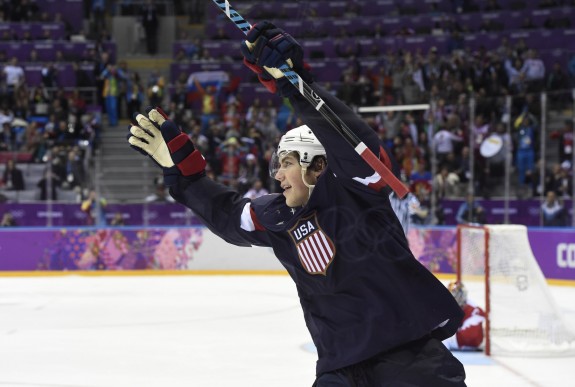 Ponder: The Blues have built a team that can be a handful in the shootout. Crafty forward T.J. Oshie was among the League leaders in almost every shootout category last season, including goals (9), shot percentage (75.0) and game-deciding goals (5). However, he has been sidelined the past three games for the Blues and has only participated in one of their three shootouts this season.
Much like their goal support during regulation, the Blues have won two consecutive shootouts by committee. Steen, Lindstrom and Tarasenko have all contributed goals, defeating the Avalanche Saturday and the Rangers on Monday.
With the firepower that has shown up recently, the Blues have to like their chances if the game continues past overtime.
—-
To follow the action between the Devils and Blues on Tuesday in New Jersey and Thursday in St. Louis, follow Devils reporter Dan Rice (@DRdiabloTHW) and Blues reporter Jeff Ponder (@jponder94) on Twitter!
I am a former NHL media member and reporter for the St. Louis Blues, working for various media outlets. Currently, I am an NHL News Writer and Editor for The Hockey Writers. I live in St. Louis and work as a freelance copywriter in numerous industries.