It wasn't long ago that the Pittsburgh Penguins top goaltending prospect was Tristan Jarry and almost no one knew who Matt Murray even was. However, within the last two years, Murray has taken the league by storm and was recently recalled to serve as starter Marc-Andre Fleury's backup for the remainder of the season.
Jarry was the Penguins second round pick in the 2013 NHL entry draft and many had high hopes for him after he posted a .936 save percentage and a 1.61 GAA during his 2012-13 season with the Edmonton Oil Kings in the WHL. His numbers decline in his final two years in the juniors, but he's been having an excellent season with the Wilkes-Barre/Scranton Penguins.
In 22 games this season, Jarry has a record of 12-6-0-4, with a 2.22 GAA and a .927 save percentage. Considering that star prospect Murray only had a 2.10 GAA and a .931 save percentage, Jarry is doing just fine at the AHL level.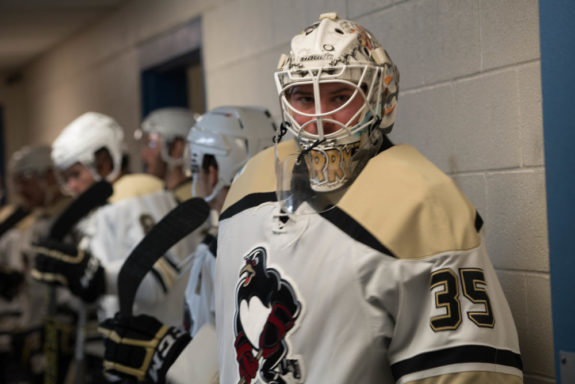 Tristan Jarry seizing opportunity with Murray's Departure
It seems that Jarry has almost been an afterthought given the rise of Murray, but that hasn't stopped him from playing some of the best hockey of his young career. With the absence of many of Wilkes-Barre/Scranton's top forwards, their team is playing a more defensive game and Jarry has been the only reason they're not totally imploding.
I saw Jarry play last Friday in Wilkes-Barre/Scranton's 3-0 victory over the Lehigh Valley Phantoms. It was his fourth shutout of the year and he made 36 saves to snap his eight-game streak without a win.
What I saw from Jarry was very, very encouraging. Considering how well he played, it seemed almost unfair that the Penguins had both him and Murray down at the AHL level early this season. And I wasn't the only one who was impressed with Jarry's play.
Head coach Clark Donatelli had this to say following the game.
He's been playing really well over the last couple of games where he didn't get the win. He was dynamic when there were some breakdowns and he made some big saves.
I spoke with an NHL pro scout during this game and here was his analysis of Tristan Jarry. Before I go any further, NHL scouts have a rating scale for prospects, and it's absolutely subjective, but the scale goes A-F, with A rated prospects being the highest possible.
Here's what he thought of Jarry.
It seems that the Pittsburgh Penguins have two excellent goalie prospects. I'd say both Tristan Jarry and Matt Murray as "A" rated prospects and Jarry is having a hell of a game. As good as Jarry's been, I still see some areas he needs to work on, sometimes his vision isn't the best and he really needs to work on his rebound control. However, from what I've seen, as long as he's mentally tough, because goalies who aren't mentally tough don't make it in the NHL, he's got the skills and talent to make it to the NHL level. It will be interesting to see how the Penguins handle their goaltending situation with Fleury just beginning a new contract and both Murray and Jarry showing a lot of promise.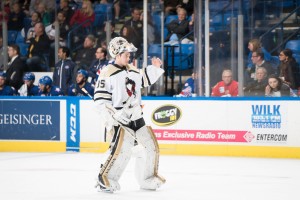 And the scout brought up a good point, Jarry, while a great goaltending prospect, might not have a place in Pittsburgh. If he turns out to be as good of a goalie as many think he can be, then he could be a starter in the NHL and with Murray seemingly taking that role when Fleury is gone, it remains to be seen if he Jarry will remain as a backup.
Regardless, the Penguins will have a problem on their hands in the next few years, but it's a good problem and one that almost every NHL team would love to have. They have three talented goaltenders at various levels within their system and they might eventually have to make a tough decision.
With Murray's departure, Jarry now has the chance to show what he can really do as a starter. From what I've seen, he's going to take this role and run with it.
Thanks for reading! Feel free to leave your comments below.