I simply do not understand the Winnipeg Jets. That's okay though. Apparently the Winnipeg Jets don't understand the Winnipeg Jets.
Every time you think you have a handle on them, the Jets pull out something you've never seen before, and a completely different team from the one of only nights, sometimes only the period before, emerges. This team has a multiple-personality disorder that would make Gollum nervous.
To put it another way, the Winnipeg Jets may be the NHL's least consistent team. After failing to score more than one goal in the previous five games, the Jets came out and victimized the Arizona Coyotes on January 26th, catching the road weary 'Yotes on the second of a back-to-back and pounding them 5-2. Nikolaj Ehlers and Dustin Byfuglien accounted for all five goals between the two of them, with Ehlers potting his first career hat trick.
Ehlers is perhaps the perfect example of how inconsistent the Jets really are. At the start of January, Ehlers seemed dead in the water, and so did his team. Suddenly, as if a switch had been thrown, Ehlers gelled with some new linemates and began producing as if out of the blue. Ehlers was back in the form that had him in the early season Calder discussion and he became the most consistent Jet for a few games there.
Ehlers' inconsistency, however, can be written off in part due to his age. All rookies hit this wall at some point. Before he ultimately went on to win the Calder Trophy, Nathan MacKinnon had a miserable November and a pedestrian December before going on a rampage through January that broke Wayne Gretzky's record for a point streak by an 18 year old. So Ehlers, at least, has an excuse, and has gotten back to his old scoring ways.
Ehlers. Hatty. 4-0. #NHLJets

— Scott Billeck (@ScottBilleck) January 27, 2016
Prior to Nikolaj Ehlers, the last teenager to record a Hat Trick in a Winnipeg uniform was Dale Hawerchuk on Feb 25, 1983 vs Hartford

— Sportsnet Stats (@SNstats) January 27, 2016
So, if Ehlers has the whole "I'm still a teenager" thing going for him, what excuse do the rest of the Jets have? True, this is a different team without Mark Scheifele, but Scheifele is a 22-year-old second line centre. A team should not be reduced to only a goal per game at the loss of such a player, yet just before this rampage over Arizona that's exactly where the Jets were for the previous five games. Scheifele's return, and strong chemistry with new linemates Blake Wheeler and Ehlers. So, does this mean a turnaround?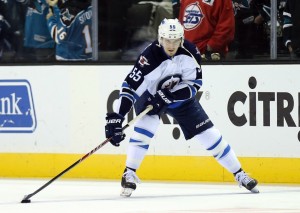 Tank or Playoffs?
Well, time will tell if this is the push the Jets need to get to the playoffs for the second year in a row (for the first time in franchise history). The fact is, right now the Jets are too inconsistent to get either a playoff spot (of which they are eight points back) or a first overall pick (they're four points away from the three teams tied for last place, and it's a bit depressing that they're closer to that group). As of now, the Jets are doomed to that hockey purgatory so often occupied by the Toronto Maple Leafs of old, neither spectacularly bad enough to get a top-flight player in the draft nor good enough to crack the playoffs. If the NHL is a movie, the Jets are some guy crossing the street in the background from the main character.
So, what to do about it? I don't envy Kevin Cheveldayoff his task, I'll tell you that much. One night his team looks golden, ready for a playoff push and maybe even a run as they did against Arizona. The next, they look more like the team that got so thoroughly dominated by San Jose and New Jersey, so bad it's almost amusing. How do you decide what to do with this lot if you're him? It's like prescribing medication for a hypochondriac with time management issues; he has seemingly every problem, but he wants you to recommend just one treatment.
It doesn't help that the Jets have a major decision to make on that count right away. With the February 29th trade deadline looming, the Jets have Andrew Ladd and Dustin Byfuglien still to sign or trade. They must do one or the other; they can't afford to let either (or worse, both) walk away for free as UFAs.
https://twitter.com/NicholsOnHockey/status/692484747705065472
Either way, the Jets need to make up their minds. Perhaps it starts with Ladd or Byfuglien being signed or traded, but the Jets have an All-Star break to think over what they want to do, and then less than a month after that to do it. What Cheveldayoff does next could define his career as GM in Winnipeg.
And the team he's managing isn't giving him any help at all making up his mind.
A long time hockey fan and player from Winnipeg, Manitoba. Play-by-play man with the SJHL's Estevan Bruins. Graduate of Red River College's Creative Communications program with a major in journalism. Former PxP man for the University of Manitoba Bisons. Lover of all things Jets and Avs related and always looking for a good hockey debate.