After a 27 day layoff, the University of North Dakota took the ice for an important two-game series against the Colorado College Tigers. After traveling to Burnaby, British Columbia, to play in the Great Northwest Show Case, UND was chomping at the bit to get back on home ice.
On Friday night, the home team didn't disappoint, as they jumped out to a 4-1 lead after two periods. The Tigers would push back in the third period, but UND would hang on to beat the scrappy Tigers 5-3.
"We built a lead, which was something that we have been struggling with this year," senior captain Dillon Simpson said. "Obviously, they had a good push back, they're a good team. But it was nice to kind of respond and hung on."
After Friday's game head coach Dave Hakstol was pleased with his team's effort.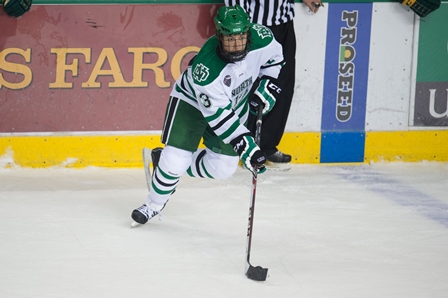 "I thought we were ready to play from the onset," Hakstol said. "Couple of soft areas of the game, I thought we got a little bit sleepy at the end of the first period. A little bit sleepy at the start of the third period. It was a pretty good team win."
UND got balanced scoring from all four lines, as 11 players would record points on the score sheet. Junior forward Michael Parks had a strong game tonight chipping in (2g-0a—2pts). Defenseman Dillon Simpson also chipped in (1g-1a—2pts) from the UND blue line.
Minus one, add another
After suffering a defection of freshman forward Adam Tambellini earlier in the week, another UND player made his return to the UND lineup. Suspended sophomore forward Bryn Chyzyk, who missed a month due to a team-imposed suspension, made a big splash in his return scoring (1g-1a—2pts). The sophomore forward would chip in an assist on Saturday night as well.
After Friday's game, an emotional Bryn Chyzyk had this to say. "It was a really tough month," Chyzyk said. "I just can't say enough about the coaching staff, my teammates, and their support meant the world to me and my family. When you have something as cool as the Sioux Community taken away from you for a month, you realize how special it really is. I had some time to think about that."
Saturday Night's Alright
Saturday's game was a tale of two teams going in separate directions. UND would enter the game riding a six-game winning streak. The Tigers would enter Saturday's game with a 0-9-1 road record and a 0-5-3 record in one-goal games. So far this season, the second period hasn't been kind for the Tigers. In the four previous games, they had been outscored 11-1. Saturday night, the Tigers held UND off the score sheet during the second period and outscored UND 1-0, despite being outshot 13-7 by UND.  But that wasn't enough to secure the win for the Tigers.
For a while, things were looking good for Colorado College. The Tigers would get a power play goal by Alex Krushelnyski to tie the game at the 19:36 mark of the second period.  In the third period, the Tigers would take the lead with a power play goal by freshman defenseman Jaccob Slavin at the 1:16 mark.
Then the roof fell in on the Tigers.
In the third period, UND mounted a furious comeback and scored two quick goals by Keaton Thompson and Rocco Grimaldi. That gave UND a 3-2 lead that they never relinquished.  The Tigers would mount a counterattack, but they were unable to get anything past Zane Gothberg who stopped 21-of-23 shots.
According to Joe Paisley of the Colorado Springs Gazette, the Tigers have been outscored 26-10 during the third period this season. With the loss, the Tigers have now lost six games in a row, and they haven't won a game since December 6, 2013, when they beat Nebraska-Omaha 4-2.
Head coach called out upperclassmen after exhibition loss
Before last weekend's second exhibition game against Simon Fraser, UND head coach Dave Hakstol called out a few of his upperclassmen, by name. It appears that message was received, loud and clear. This weekend, Michael Parks and Mark MacMillan responded to the head coach's challenge, by chipping in five points between the two of them.  Parks had two goals and an assist, and MacMillan scored two goals.
"I think everyone has responded," MacMillan said. "Everyone is stepping up when they need too. Zane, back there is doing a good job . All six D are doing their jobs. All four lines went out there and did what they needed to do.  We had constant pressure on them, a lot. If we're going to win a lot of games that is what we have to do."
One of the keys to the seven-game win streak is the health of MacMillan, who's finally 100 percent healthy again, after missing four games with a lower-body injury.
"Obviously, injuries are always tough, especially lower body ones," MacMillan said. "Kind of hard to skate before Christmas there, but it was good to go home and kind of rest it up, definitely feeling better."
UND extends winning streak to seven games
With Saturday's win, UND is extended its winning streak to seven games. That's the longest winning streak during the regular season for UND, since the 2010-11season, when UND won eight regular-season games in a row. During the same season, UND also had an 11-game win streak counting the regular season and the playoffs. Four of the seven wins have been by a one-goal margin and four of those wins have been one-goal games, all by a score of 3-2.
With the sweep of the Tigers, UND improves to (11-7-2, 7-5-0 NCHC). UND is currently sitting in second place in the NCHC standings, but has played two more games than St. Cloud State, Denver, Nebraska-Omaha, Western Michigan and Miami.
Who's hot for UND
Forward Rocco Grimaldi has seven-game points streak (3g-5a—8pts).
Forward Michael Parks has four-game points streak (2g-3a—5pts).
Forward Luke Johnson has scored points in 5-of-6 games (3g-4a—7pts).
In the last six games, UND defenseman Jordan Schmaltz has (0g-7a—7pts).
In the last five weekend series, forward Connor Gaarder has, at least, a point, each weekend (2g-5a—7pts).
During the seven-game win streak, goalie Zane Gothberg 7-0-0, 1.86 GAA, and a .926 save percentage.
Forward Bryn Chyzyk returned from a month suspension and scored (1g-2a—3pts) last weekend and now has (3g-4a—7pts) for the season.
Moving ahead to next weekend
UND plays a home-and-home series against non-conference foe Bemidji State University, at the Sanford Center in Bemidji, Minnesota. Friday's game is at 7:37 p.m. Central Standard Time. Saturday's game is at the Ralph Engelstad Arena, game time is at 7:07 p.m. Central Standard Time.
Eric is a 1996, 1999 graduate of the University of North Dakota. Eric covers the University of North Dakota Hockey and Division I college hockey. Eric is the Contributing Editor for Inside Hockey.