With the month of February fast approaching, many sports fans will undoubtedly be planning their Super Bowl festivities in the upcoming days and weeks. With plans being made and all types of Superbowl bets being placed, some fans might lose themselves in all of the pandemonium and forget to maintain some of their fantasy teams.
While the Super Bowl and Olympic hockey will most likely keep sports fans entertained throughout the majority of the month of February, there is certainly time to keep up with one's fantasy hockey roster in the meantime. Despite the fact that fantasy hockey managers might be in a rut without having some rosters to manage on a daily basis when the 2014 Winter Olympics roll around, there is no reason for one to relax the reins on their fantasy team for the time being. As a matter of fact, it might be helpful to consider some lesser-owned fantasy options that managers might not have factored in in the past as a number of forwards have become must-own options, especially for managers in deeper leagues.
Forward Progress
Nino Niederreiter (Minnesota Wild – RW)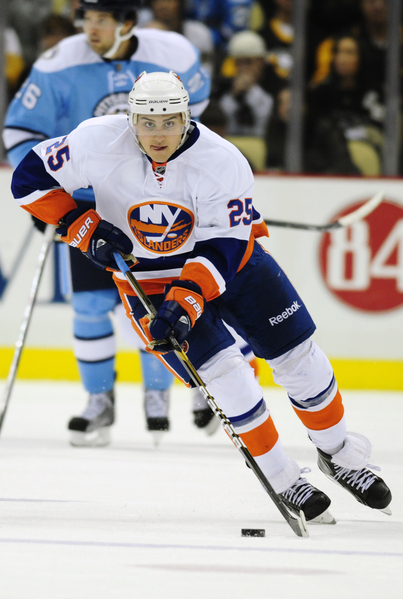 Nino Niederreiter keeps on seeing time on the Minnesota Wild's top line, and he certainly isn't disappointing the 13% of Yahoo! fantasy managers that own him. Even though some managers might not be sold on Niederreiter's ability to maintain his production – especially once Zach Parise returns to the mix – there is still ample reason to add the forward in both deep and shallow formats.
Throughout the first two weeks of January, Niederreiter has only been kept off of the scoreboard once. Since January 2nd, El Nino has lived up to his nickname by registering six points (2 Goals, 4 Assists) in six games played. With the Swiss forward earning his keep on Minnesota's top line, fantasy managers should absolutely consider adding Niederreiter to their fantasy lineups as the forward has been contributing balanced scoring as of late with a steady sprinkling of shots on goal and hits.
Michael Ryder (New Jersey Devils – RW)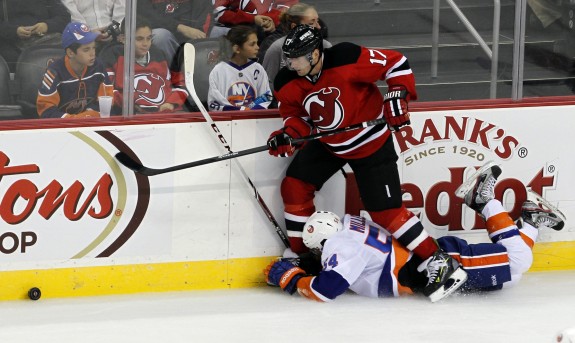 Much like Niederreiter, Ryder is only 13% owned in Yahoo! leagues and has been tearing up the score-sheet lately. Ryder is seeing time on the Devils' second line alongside Adam Henrique and an equally streaky Ryane Clowe, and the forward's uptick in ice-time over the last two games could be directly correlated to his production during the month of January.
Ryder finished off the month of December in strong fashion, but his play in the early stages of January has been just as, if not more, impressive. In six games played this month, Ryder has tallied four goals and 17 shots on goal, and it certainly seems as though the winger is playing with a head full of confidence at the moment. Ryder figures to be an integral part of the Devils' offense down the stretch, so fantasy managers – particularly those in deeper leagues – might want to take a chance on the forward while he is still available in less than one-fifth of Yahoo! formats.
Ondrej Palat (Tampa Bay Lightning – LW)
Some might look at Ondrej Palat's recent success and chalk it up to a rookie going through a hot streak, but that doesn't mean that the left winger should be overlooked. Ever since December 28th, Palat hasn't received less than 17 minutes of ice-time in any one of Tampa Bay's match-ups, and there is definitely an explanation behind such an increase in responsibility for the rookie winger.
Palat extended his point streak from 2013 and carried it over into 2014 as he managed to record ten points (4 Goals, 6 Assists) in eight games played from December 23rd to January 9th. Of course, Palat might be subject to hot and cold stretches as a rookie in the NHL, but his prowess over the last couple of weeks has been hard to ignore, and his time on Tampa Bay's top-line is a testament to his recent production and work ethic. Given the fact that Steven Stamkos has been out and unable to center Tampa Bay's top line, fantasy managers should give Palat a chance as he has done everything asked of him and has fit in very well into the Lightning's top six forward rotation.
Vladimir Sobotka (St. Louis Blues – C)
If fantasy managers wanted to take some prop bets, then it would probably be safe to wager on Vladimir Sobotka recording yet another multi-point game. Sobotka has amassed 24 points (7 Goals, 17 Assists) so far this season and has set himself up wonderfully to establish new career-high point totals.
Playing on the Blues' second line alongside Patrik Berglund and Vladimir Tarasenko, Sobotka is currently receiving anywhere from 16-19 minutes of ice-time per night for St. Louis. The Blues have been operating at a very high offensive level this season and Sobotka has been providing some excellent complimentary scoring as of late as he has put up seven points (2 Goals, 5 Assists) in his last five games – with three of those efforts being multi-point contests. Sobotka will definitely have lots of hockey to play in the coming month as he will represent the Czech Republic on the Olympic stage, but fantasy managers should snag the forward while they still can as he looks like he will be a steady contributor for the rest of the regular season.