If you've watched the University of North Dakota the past two seasons, you might have noticed the play of sophomore defenseman Paul LaDue. The Grand Forks native is a fundamentally sound, skilled defenseman that the UND coaching staff can count on in key situations.
Others are noticing his steady, smart play.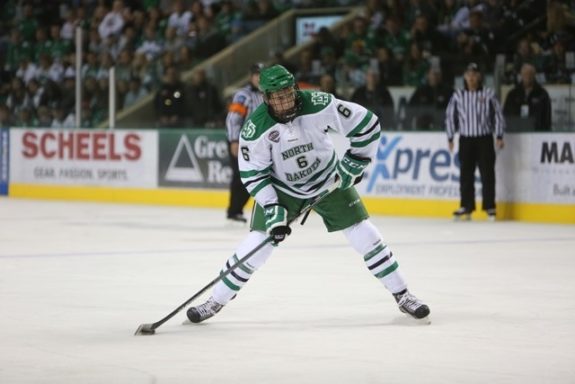 The quiet, mild-mannered LaDue doesn't require a lot of fanfare and prefers to let his play on the ice talk for him. LaDue has great hockey sense and in 36 games has scored (5g-16a—21pts).
LaDue is ranked sixth on the team in scoring and has the second most points by a UND defenseman. On the conference level, LaDue is ranked fourth in the NCHC for points by a defenseman.
According to the UND Sports Information Director Jayson Hajdu, LaDue is UND's first defenseman to score 20-plus points in each of his first two seasons since former UND defenseman Brian Lee in 2005-06 and 2006-07.
Kings take note of LaDue's play
LaDue was drafted by the L.A. Kings in the sixth round of the 2012 NHL Entry Draft, and his solid play is also getting the attention of the Kings media and their coaching staff.
Brittany Patko, Mayors Manor – A quickly rising prospect in the Kings organization, LaDue has his sights set on a return to the NCAA playoffs. Over the weekend, his University of North Dakota team played in the NCHC Quarterfinals, eliminating Colorado College in two straight games to advance to the Frozen Faceoff next weekend. LaDue contributed to the victories, notching an assist, a goal and a plus-2 rating.
Recently, I had an opportunity to sit down with LaDue.
Eric Burton, the Hockey Writers: Is everything falling into place for you?
Paul LaDue: Looking at what I need to do to be successful at the next level, I just have to keep it simple and make the right plays when I can. You try to shut down (the opposition) defensively and not give anything up when I am out there.  Always make the first pass and contribute to the offense when I can.
EB: Defense partners, who do you like playing with the most?
PL: Nick Mattson and I have a little chemistry back there. I played with him last year down the stretch. He's a good buddy of mine. It worked out last year. I was kind of excited when we got the paring back this year and it's working out.
EB: Speaking of chemistry, are you able to tell what the other is going to do on the ice?
PL: We played together before. Experience, we just know. I kind of know where he is. We're good at talking with each other out on the ice. It just makes the game that much better.
EB: How's it going for you this year? Are you having fun out there?
PL: Yes, especially, when we have a good team like this. Growing up here and watching good team after good team. Just to be mentioned with those teams is special. If we could win a national championship; that would be unbelievable to bring one of those back to Grand Forks knowing how  important it is to the community and to the fans, that would be unreal.
EB: It appears this team is more mature than last year's team. There's a good vibe coming out of the locker room, this team seems really focused, is that accurate?
PL: For sure. Coming up short last year, that's been sitting in the back of our heads. What I like about this team is after a win, we're excited, but we're calm and we're not overly excited. We know what our end goal is. We've been waiting for this time all year and I think we're ready.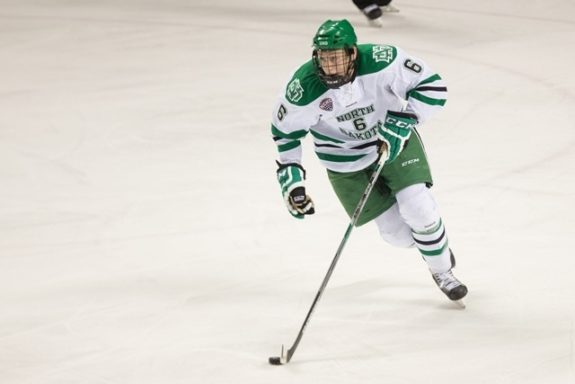 EB: Did last year motivate you and give you a bigger chip on your shoulder?
PL: Yes, for sure. That was one of the worst ways to end a season. We had to live with that all summer. You've got to try and forget about it, but you have to use that motivation. We just know how close we came last year and we know how to get there. We're going to make that sacrifice to get there.
EB: You went to the Kings Development Camp. How did that go for you?
PL: It's great. I love going down there. You hear development things that you've never heard before.  It's kind of a whole new world of hockey. It's good to go down and take all you can from it.
EB: What's your favorite memory to date at UND?
PL: It probably has to be winning the Penrose that was real fun. It's a hard goal, especially in this league. Last year, the double overtime game (against Ferris State) was crazy, the nerves were going. There were chances for and chances against. Every time, I was just cringing. When we scored that goal and punched out ticket to Philly that was something special, I will never forget it.
EB: What's it like playing in front of Zane McIntyre?
PL: It's definitely reassuring knowing that if we do give up something, that he's back there and he's probably going to stop it. It gives our D an extra level of confidence. I hope that we give him an extra level of confidence. It's unreal playing with him.