For the Boston Bruins and Ottawa Senators, the playoffs begin now.
The two clubs will clash on Thursday night in Canada's capital for the fifth and final time this season. Boston has taken six of a possible eight points against their Atlantic Division rivals this year (2-0-2), including a 3-1 victory at the Canadian Tire Centre last week. Bruins prospect and Ottawa native Ryan Spooner scored two goals in his homecoming while goaltender Tuukka Rask made 39 saves in the victory.
The win appeared to set Boston on course for their eighth consecutive postseason appearance, but back-to-back defeats against the Washington Capitals and lowly Buffalo Sabres have opened the door for the Senators to climb back in.
As Things Stand…
Both clubs are right in the thick of the Eastern Conference playoff race with just under three weeks left in the regular season. The Bruins hold a four point cushion over Ottawa for the final playoff spot in the East, but the Sens have a game in hand.
On February 18th Boston and Ottawa were separated by 10 points in the standings. The Bruins have fared well registering an 8-3-3 record in 14 games since. The Senators have caught lightning in a bottle with a 12-1-1- mark over their past 14 contests. Boston is responsible for the lone regulation loss Ottawa has suffered in a month. Even though the Sens have gained just six points on the Bruins over that time, they now have a fighting chance to earn an unlikely postseason berth.
Andrew Hammond aka "The Hamburglar"
Senators fans are hungry for playoff hockey and "The Hamburglar" is helping to satisfy their craving. Rookie netminder Andrew Hammond has eaten up pucks and protected Ottawa's cage since his first NHL start four weeks ago. The 27-year-old is 11-0-1 in 13 appearances this season with a 1.56 goals-against-average and .956 save percentage since his recall from Binghamton in the American Hockey League.
Hammond made 35 saves to carry Ottawa to a 2-1 overtime victory in Carolina Tuesday night, tying a record that went untouched for three-quarters of a century in the process.
#Sens Andrew Hammond has allowed 2 goals or less in each of his first 12 starts, tying the NHL record set by Frank Brimsek in 1938.

— Sportsnet Stats (@SNstats) March 18, 2015
Hammond's stellar saves and strong play have Senators fans dubbing their rookie sensation "The Hamburglar", named for the famous McDonalds character. Instead of stealing fast food, the British Columbia native has stolen games and valuable points for the Sens, originating from a 42-save performance in a 4-2 win against the Montreal Canadiens on February 18.
The Sens have won four straight since their loss against the Bruins when Craig Anderson got the starting nod for Ottawa coach Dave Cameron. Hammond has started every game since then and should get the nod in goal for Thursday night's crucial clash. After all, the Senators are planning a Hamburglar mask giveaway according to TSN 1200 radio host Ian Mendes.
Tuukka Time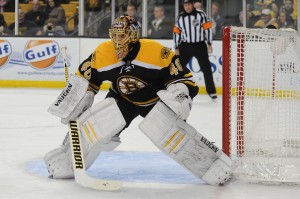 Boston's playoff hopes rest on the shoulders of their franchise goaltender Tuukka Rask. The 28-year-old netminder missed out on Tuesday's contest with the Sabres due to "general soreness" according to the Bruins. He has carried the team on his back for much of the season, appearing in 58 of Boston's 70 games with a 29-17-10 record, a goals-against of 2.26 and a .924 save percentage.
Rask has performed well against Ottawa in his career. The six-foot-two-inch netminder is 7-2-2 lifetime against the Senators with a goals-against of 2.07 and .932 save percentage. He has given the Bruins consistency between the pipes all season, especially during Boston's recent stretch by allowing two goals or fewer in nine straight starts. The team has responded with a 6-2-1 record in those nine games. Coach Claude Julien will turn to him once again in arguably Boston's most important game of the season.
Players to Watch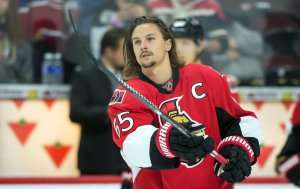 For Ottawa, Captain Erik Karlsson has six points over the past four games while leading all defenseman in goals (18) and points this season (56). Wingers Mark Stone (18 goals, 46 points) and Mike Hoffman (24 goals, 42 points) are quietly putting together solid rookie campaigns in the shadows of Calder Trophy contenders Filip Forsberg of the Nashville Predators and Johnny Gaudreau of the Calgary Flames.
Conversely for Boston, the line of Brad Marchand, Patrice Bergeron, and Reilly Smith have combined for just one goal in the last five games. Carl Soderberg's assist on Loui Eriksson's goal Tuesday night was his first point in seven games. The 29-year-old Swede is mired in a 24-game goal drought, contributing just six assists in that time.
A playoff-like atmosphere is expected inside the Canadian Tire Centre for a matchup that could determine who has the inside track on a postseason berth and who may be left on the outside looking in.
Joe is a writer covering the Boston Bruins. He is a lifelong native of Massachusetts and is currently a content writer/manager for a newsletter at a Human Services Agency. Joe can be found on Twitter: @JoeCherryTHW