Despite having a third consecutive disappointing season aka no playoffs, there is a lot of good that is coming out of the end of the New Jersey Devils 2014-15 season. First and foremost their star netminder Cory Schneider was signed to a 7-year contract extension this summer (which begins next season), and his play since January 1 is proving that the contract may be quite the bargain in the near future. The just turned 29-year-old goalie has made 26 appearances (two in relief) since the 2015 calendar year began and his numbers are quite sparkling: 14-7-3, 3 shutouts, .943 save %, 1.74 GAA.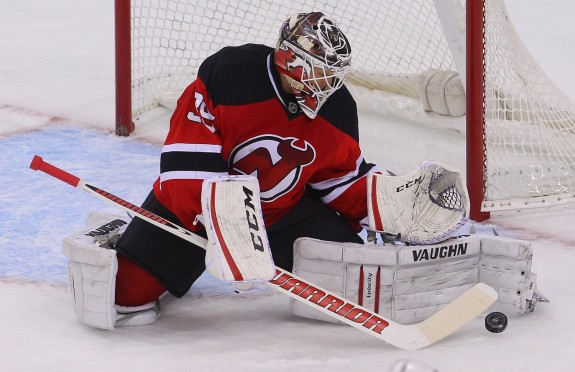 "He's been unbelievable for a while here," said Andy Greene after his goalie shutout the Pittsburgh Penguins 2-0 on March 17. "I've felt pretty good for a while now," Schneider told the media after his third shutout in ten games. "There's been a couple that have maybe just gotten away from me, towards the end there for a shutout or a tight game, or win. I'm just feeling good; feeling confident. I'm trusting (in) my teammates, I think they trust me and when have that kind of synergy I think it makes it easier to close games out and not give one up; or give them any good looks. It's just the ebb and flow of hockey and right now I'm feeling pretty good but you know — I got pulled in Minnesota three games ago, so it's one night you can feel great, and one night you feel you can't stop anything."
Highlights from the fifth shutout of the season for Cory Schneider:
https://www.youtube.com/watch?v=qDHL5ETbV3U
As he told The Hockey Writers during training camp, stats are all well and good, but the most important one is the team stat: wins. As a team the Devils have struggled, more so in the beginning of the season than lately — and because of that hole they dug early on, they find themselves in the unenviable position of believing in an impossible dream of making the playoffs. "I don't think we've ever given up," he told reporters, "I don't think any guy in this room has really packed it in. We've had reasons to, or chances to and everyone works hard. We're not where we want to be by any means and we can definitely improve upon that; overall as a group I think we put an honest effort in most nights."
Overall this season his numbers are among the NHL's elite in most of the major categories.
Games played: 61 (2nd)
Games started: 60 (2nd)
Shots against: 1,768 (1st)
Goals against average: 2.16 (5th)
Save Percentage: .929 (tied 2nd)
Wins: 26 (15th)
Shutouts: 5 (tied 7th)
More often than not in 2015 Schneider has been brilliant and if he can get off to a fast(er) start next season it would put New Jersey in a position of not having to play catch-up in the standings when the second half of the season kicks in. Also, whoever the coaches are will have to manage his workload (unlike the start of this season) and the team (especially the young defensemen) in front of him will have to continue to build upon the strength of their last two-plus months of hockey.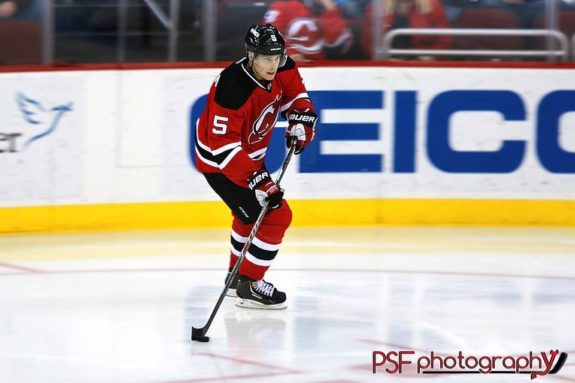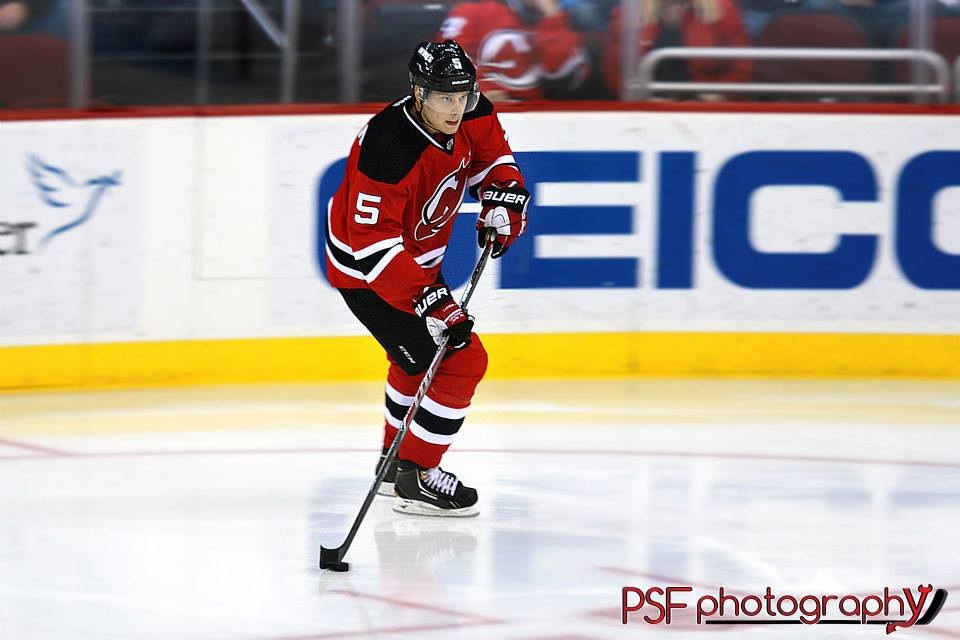 Earlier this month GM (and interim coach) Lou Lamoriello told THW about how pleased he was with the growth of his young defenseman Adam Larsson over the past three months. "Well this is certainly what we wanted to see. I think he's becoming the player we thought he would be," said Lamoriello who drafted the 22-year-old fourth overall in 2011. "He's getting more confidence each and every night. He's been good in taking chances at the right time and he stays within his limitations right now. Those limitations have a, pretty high ceiling."
Schneider also had high praise for Larsson, who paired with Greene have played against the other teams top line every game for almost three months. "Those two, you look at our division; one night it's (Claude) Giroux, then (John) Tavares, then (Nicklas) Backstrom, (Alexander) Ovechkin…(Ryan) Johansen, (Sidney) Crosby; it doesn't matter. It seems like every night in this division we are playing an elite player and often times Greenie & Lars get that assignment and us more so than any other team I think; I don't know how many points we give up to those elite players, but I think we are probably one of the better teams in the league — and they are a big reason why."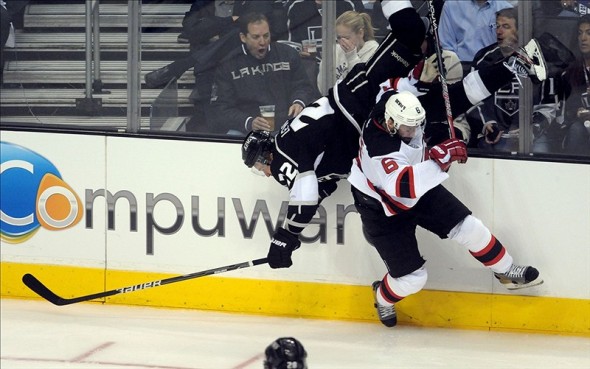 "Cory's going to give credit to everybody in front of him, that's his personality," said Lamoriello after the Pittsburgh game. "But he's right; I think our defensemen work extremely hard and I think that Scotty's (Scott Stevens) work with them and Tommy Albelin on a consistent basis — remember we are dealing with some young people back there and they are coming along each and every night. That's all we can ask."
Cory Schneider made some great saves vs. Minnesota earlier this season:
https://www.youtube.com/watch?v=WfkaLkEr_2E
When THW asked if the progression of New Jersey's young blueliners is about where they want it to be here's how Lamoriello replied. "We had hoped they would and they certainly have; sometimes you have to — when I say 'put up with', it's not a sarcastic phrase – it's just that they are going through a learning experience. I think they're over that right now, it's a case of gaining a high-tempo experience in games like this; where you have to be on the ice when one shot can make a difference and one errant pass or one icing…all the things that you learn through the process."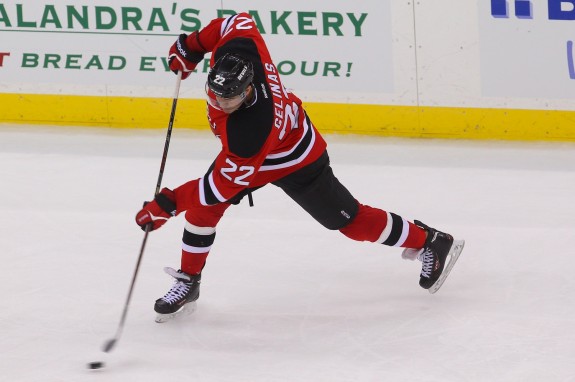 With Larsson, Eric Gelinas (23 years-old), Jon Merrill (23) and Damon Severson (20) all gaining huge NHL experience (and some successes) this year — plus (possibly) Seth Helgeson (24) and (likely 2016) Steve Santini (20) on the horizon the Devils young D-men could shape up to be a very formidable group in the near future with the 32-year-old Greene (possible next captain) as it's anchor. Or maybe one of them is dealt away in a trade to bring in that top-6 forward that New Jersey has been coveting since the departure of two of those individuals in back-to-back off-seasons. Either way the next few seasons have some promise with the stability that Schneider has provided the team with since taking over the starting job. And we all know that Lamoriello's philosophy is to build a team from the goal out; with the defense now seemingly set his attention this summer will be as he's said "two, top-six forwards."
Dan Rice can be reached via Twitter: @DRdiabloTHW or via Email: drdiablo321@yahoo.com
Dan Rice is in his 9th year of reporting for THW & has covered NJ Devils home games for 15+ years at various websites. He began his journey working for legendary broadcaster/writer Stan Fischler from 2002-04 & completed an internship at the ECHL; he also has been writing features for the NWHL (nwhl.zone) website since 2016.