Can the New Jersey Devils salvage their season, climb out of the grave and claw their way into a playoff spot? Unlikely yes, but not impossible. The Undead Devils have gone 6-1-1 since a mid-February four-game slide and a big reason has been the stellar play of goaltender Cory Schneider. The redheaded netminder has been dazzling going 12-5-2 with a 1.66 GAA and .946 save percentage in 21 appearances since 2015 began.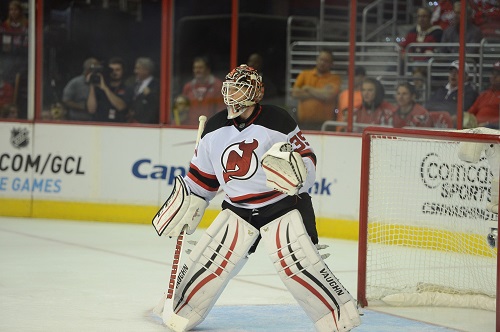 "We want to make this interesting, but I think the main focus (in this room) has been the next game; two points. No one's talking about 'we gotta do this, we gotta do that', said Scott Gomez (24 points in 40 games this season). "I've been on teams where they bring up numbers, what we need to do. No, until they tell you we can't play anymore, we'll come in and give the effort and we'll go from there."
Gomez has been a big part of the Devils turnaround this season, leaving some to wonder why he wasn't signed coming out of training camp. But Schneider has been in New Jersey all season and has played in an NHL-high 56 games (tied with Washington's Braden Holtby) with a 24-23-6 record, four shutouts, a 2.17 GAA & a 9.28 save percentage.
Scott Gomez has been contributing in many ways, even in shootouts:
https://www.youtube.com/watch?v=ynUBI6cse8o
Gomez, who has played alongside some of the best in the game at the position, had high praise for his goaltender's level of play in the 2014-15 season. "He's been unreal. It's almost like you take it for granted; I've had all those years with Marty (Brodeur), and (Carey) Price, (Henrik) Lundqvist. It's like, that's what they are supposed to do because they are so good. Cory's at that level now; if he's not considered top-3 in the league, there's something wrong." He went on to add, "It's been fun to watch him; when you have a goalie like that you know he's going to keep you in it until the end and he's done it all year. Those guys, they don't get rattled; even if something bad happens, that's the last guy that's going to get rattled. When you're playing in front of a guy like that, the confidence he provides for us knowing (we have him) going into every game."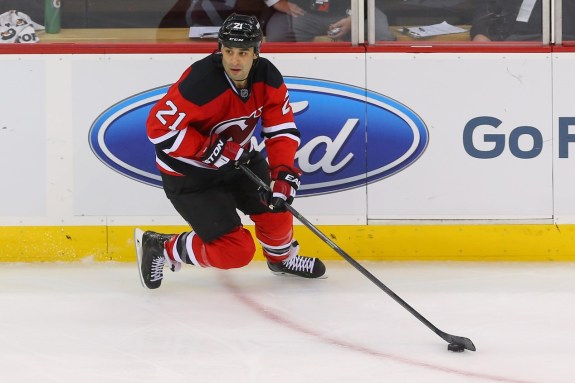 Still, the fact remains that the Devils have likely dug themselves too deep a hole to climb out of with 18 games remaining. They sit seven points back of the Boston Bruins, current owners of the final wild card/playoff spot in the East; and there are three teams (Florida, Ottawa & Philadelphia) between them. The Senators and Bruins have 20 games left each, the Flyers and Panthers have 18 to go.
"As a group, we can't afford to take a night off, take a shift off," said Schneider after beating the league's no. 1 team the Nashville Predators 3-1. "We have to have that energy every single shift and I thought we did for the most part tonight." He went on to pronounce the team is not giving up on this season just yet. "You always have to believe; if you don't believe than there is no point in showing up. You might as well just pack it in for yourself. Who knows what our chances are, what the reality is? But you never tell the guys that it's not possible, that you shouldn't go out there and work hard. We worry about the next one. Tonight was a big one, against a real good opponent. Now we go to Friday; if we win that one, we'll see. We're not going to give up, we're not going to just pack it in because we are a few points out. We'll see what happens."
Highlights of the Devils victory over the Predators at Prudential Center:
https://www.youtube.com/watch?v=Hd9BsfJ5iqM
Even though New Jersey recently traded one of their two main veteran defensemen at the trade deadline, rookie Damon Severson made his return from a broken foot and stepped right into Marek Zidlicky's role without missing a beat. "Obviously losing Zid is tough," Schneider said, "he's a veteran guy and provides good minutes for us, he's a real sparkplug offensively. I think everyone here believes that Damon can step in and replace those minutes; I think tonight he was steady and didn't look too far behind."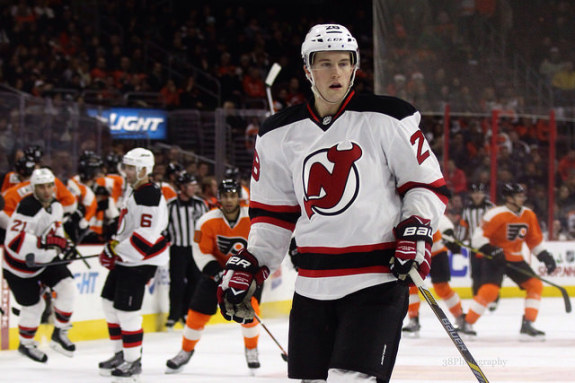 When The Hockey Writers suggested that the 20-year-old Severson would just absorb the minutes that the departed Zidlicky normally played, it didn't even phase the kid. "I guess yeah; if that's what they want me to play sure," he replied nonchalantly. "I never really thought of it that way, I just thought of it as coming back into the lineup and doing what I was doing before I got hurt."
This was always going to be a year for the Devils' young blueliners to gain some experience/go through some growing pains. It was evident when they started the season with four defensemen under the age of 24 on the roster. While Severson has looked brilliant most games before his injury, Adam Larsson has rebounded from a rocky start and become a top pair defender. "Well this is certainly what we wanted to see. I think he's becoming the player we thought he would be," said New Jersey's interim coach and GM Lou Lamoriello of Larsson. "He's getting more confidence each and every night. He's been good in taking chances at the right time and he stays within his limitations right now. Those limitations have a, pretty high ceiling."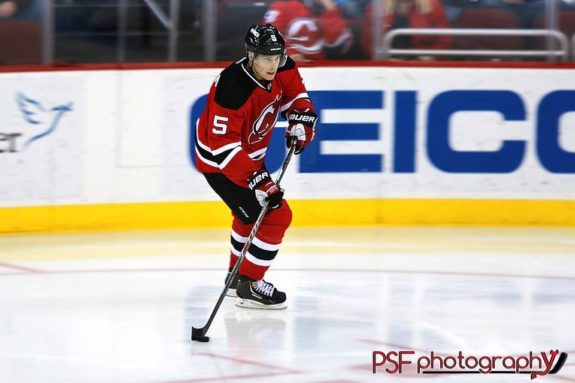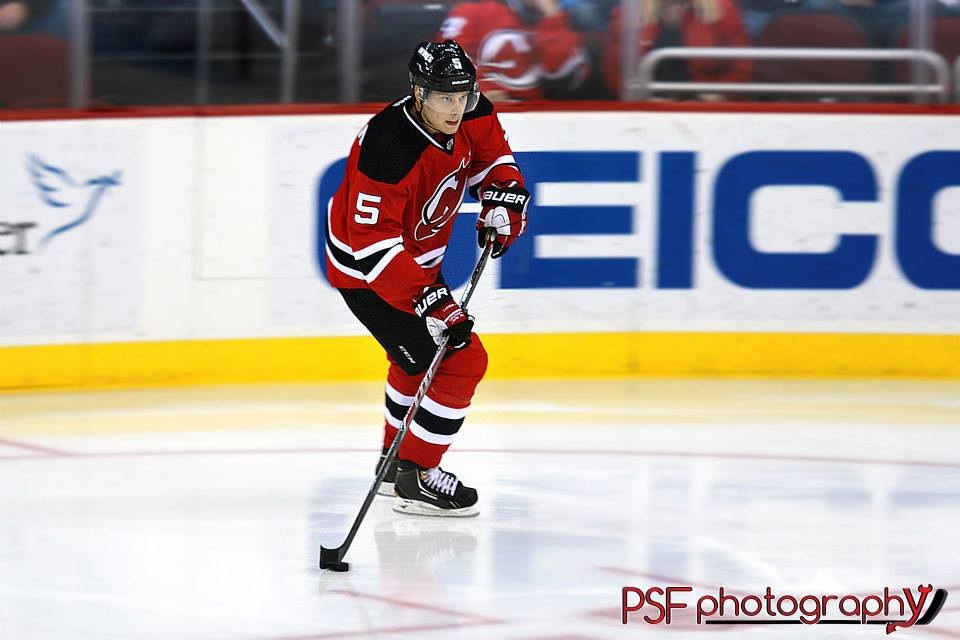 In the 25 games since the 2015 portion of the schedule began, Larsson has played under 20 minutes once (19:55), a clear sign of him earning the coaching staff's trust; in his first 21 games this season he saw over 20 minutes just twice. When a reporter asked him about setting a new career high in goals (three) the 22-year-old who came into the season with three career goals laughed and shook his head. "Yeah. Three," he said with a smirk and then paused before continuing. "It's always nice to score, but I don't really care about personal points at this point of the year. I think it's more important for the team to win. It was a confidence booster to beat these guys for sure; we came out and started tonight like we finished in Columbus (three nights ago). We can't take our foot off the gas; we have to keep it going here. We have to realize it will be tough but we still technically have a chance."
Adam Larsson has come a long way since his first NHL goal on 11/11/11:
https://www.youtube.com/watch?v=o09oi9sH2ts
Again, it's unlikely the Devils will make the playoffs, but it's certainly not impossible. Especially the way Schneider has been playing – and if he does carry them to the postseason, you better believe he will garner votes for both the Vezina and Hart Trophies. But let's watch one game at a time and see how things unfold.
Dan Rice can be reached via Twitter: @DRdiabloTHW or via Email: drdiablo321@yahoo.com
Dan Rice is in his 9th year of reporting for THW & has covered NJ Devils home games for 15+ years at various websites. He began his journey working for legendary broadcaster/writer Stan Fischler from 2002-04 & completed an internship at the ECHL; he also has been writing features for the NWHL (nwhl.zone) website since 2016.