Ask any hockey fan east of the British Columbia – Alberta border if Ryan Miller is a top 10 NHL goaltender and you'll get one of two reactions:
"Hahaha…wait you're serious?"
Or…
"Uhhhhh…what year is it?"
Yet, his .918 save percentage ranks 10th amongst all NHL goaltenders with a minimum of 30 games played this season. The mainstream narrative that Miller is a washed up mediocre goaltender on a mediocre team is only partially true. While the Canucks themselves are indeed mastering mediocrity, Miller's tenure in Vancouver has been mostly commendable. This season especially, Miller has been solid, even spectacular at times, yet the league-wide belief that he's a below-average goaltender persists.
No Respect, No Respect At All
His 2.56 goals-against average this season ranks him 14th in the NHL amongst goaltenders with a minimum of 30 games played. His four shutouts are good for fourth. He ranks ahead of stars Corey Crawford, Henrik Lundqvist, Corey Schneider and Roberto Luongo in almost every measurable way. Over the past three seasons, Miller's statistics are comparable to Pekka Rinne, Tuukka Rask, Semyon Varlamov and Martin Jones.
While I'm not equating Miller's value to any of the above-mentioned goaltenders. He is 36-years old and on an expiring contract, after all — but it's clear that he's at the very least an above average NHL goaltender. In fact lately, he's been one of the league's absolute best. Since the league resumed play after the holiday break, Miller has a win/loss record of 8-4, with a goals against average of 2.05 and a save percentage of .936. Pretty impressive.
RELATED: Analysis of the Miller Trade from Buffalo to St. Louis
The Low Spirit of St Louis
The court of public opinion turned on Miller before he even arrived in Vancouver. After being acquired by the St Louis Blues from the Buffalo Sabres at the 2014 NHL trade deadline, Miller struggled in the Blues' opening round against the defending Stanley Cup champion Chicago Blackhawks. Before winning the first two games of the series at home, the Blues would be swept by the Blackhawks in four straight to lose in six games. The sixth and final game of the series was particularly bad for Miller as he surrendered four unanswered goals in the third period and finished the playoffs with an unremarkable 2.70 goals against and .897 save percentage.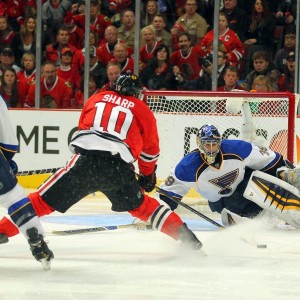 That following offseason, Blues management decided to move forward with a Brian Elliott/Jake Allen tandem and let Miller leave for free agency. There's no doubt that Miller's reputation had taken a hit because of his failure in St Louis, but that didn't prevent new Canucks general manager Jim Benning — who also happened to be the former director of amateur scouting in Buffalo responsible for drafting Miller — from signing the veteran goaltender a 3-year, $18 million contract on the opening day of free agency.
The signing was seen mostly as a desperation move from a franchise that had traded both Schneider and Luongo in the preceding year and was looking for any semblance of stability in goal. Even if that was the case, it's hard to argue that Miller hasn't lived up to expectations. As I've recounted before, Miller, in tandem with Jacob Markstrom, has provided the Canucks with stability and reliability in the crease for the past three seasons.
[irp]
One of the Shining Lights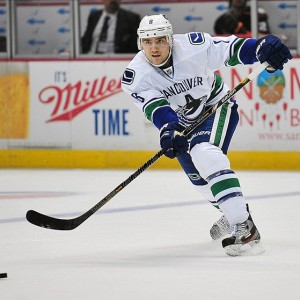 Despite an unexpected playoff appearance in 2014-15, Canucks fans haven't had much to cheer for the past three seasons. During Miller's tenure in Vancouver, the team in front of him has ranked 24th in GF/GP and has amassed only the 23rd most points in the NHL. This isn't the kind of team that gets fans out of their seats cheering.
Because of the Canucks' all-around mediocrity, Miller's performance flies under the radar league-wide. This is understandable as mediocre teams rarely move the meter on media and fan interest. The lack of attention paid to Bo Horvat, Jannik Hansen and Chris Tanev also speaks to this directly.
The fact remains that, in spite of his team's mediocrity, Ryan Miller is having an excellent season and it's reasonable to assume that he'll continue to do so down the stretch and into next season.
So, What Now?
The trouble with mediocrity is that it muddies the water, fogs the lens and clouds judgment. Use whichever metaphor you like, what's clear to most fans and analysts but still not clear to Canucks management is that the team lacks direction.
Jim Benning joined @BMacDonnieMoj & said the #Canucks won't mortgage their future at the trade deadlinehttps://t.co/hx9P3yC1w2

— TSN Radio Vancouver (@TSN1040) February 1, 2017
Would you be surprised if the team traded Miller for draft picks and/or prospects at this year's trade deadline? Would you be surprised if he was kept and then re-signed for next season? At this point, neither development should come as a surprise. There are no foregone conclusions in Vancouver with Benning and president Trevor Linden in charge.
Potential Trade Targets
Let's assume that Canucks management is at least open to the idea of moving Miller at this year's deadline for the right return. Let's also assume that Miller, who holds a modified no-trade clause, is also amenable to a trade. Which teams could provide a landing spot for the veteran?
Los Angeles Kings
Miller has been linked to the Los Angeles Kings in trade rumours for the past two seasons, mostly because a move to Hollywood would enable his wife, actress Noureen DeWulf, to pursue her career with the couple in close proximity. These rumours are mostly speculation, however, and one would imagine that with Kings' starter Jonathan Quick being sidelined for most of this season, this trade would have happened already if the rumours had any legitimacy.
Anaheim Ducks
The same narrative that drives the "Miller to the Kings" rumour also drives the "Miller to the Ducks" rumour. Anaheim is Hollywood adjacent, but the Ducks have had success in goal this season by utilizing youngster John Gibson and veteran Jonathan Bernier. The Ducks are probably a more likely landing spot for Miller, though, given their lack of recent playoff success and Gibson's inexperience. An injury to either of their current goaltenders could make things interesting.
Dallas Stars
The Dallas Stars have massively underachieved this season. With a roster that looked to be on the upswing and just one season removed from a second-round playoff series, the Stars have fumbled their way through the season and are currently on the outside of the playoff picture. Their 21-24-10 record this season is mostly the result of poor goaltending, as well. Stars goaltenders Antti Niemi and Kari Lehtonen have combined for a near league-worst 174 goals against. Only the Winnipeg Jets have been worse in goal and they're starting Ondrej Pavelec. Yikes.
While the Stars may appear to be a fit for Miller, what's the upside for Miller in such a trade? Why would he waive his no-trade clause to be moved to a team that's currently lower in the Western Conference standings than the Canucks? While the future may be brighter in Dallas than Vancouver, that shouldn't matter much to a player on an expiring contract. Mathematically, Miller has a better chance at playing for the Stanley Cup this season in Vancouver than in Dallas.
[irp]
Edmonton Oilers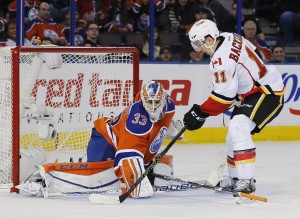 Don't look now, but the Edmonton Oilers are going to make the playoffs. After years of being the laughing stock of the NHL, human highlight reel Connor McDavid is going to will the Oilers back into Stanley Cup contention. McDavid hasn't done all the heavy lifting on his own, however. Goaltender Cam Talbot has impressed this season with a 27-15 win/loss record, a 2.33 GAA and .921 Sv%. The concern with the
Goaltender Cam Talbot has impressed this season with a 27-15 win/loss record, a 2.33 GAA and .921 Sv%. The concern with the Oilers, however, is that Talbot has played 49 of the team's 55 games this season and the team's current backup Laurent Brossoit has played only eight games in the NHL.
Talbot hasn't shown many signs of breaking down under his heavy workload, but one can imagine that the Oilers would feel more secure with Miller as a second option should Talbot falter or need some rest down the stretch. The big question: does Miller think the Oilers are the real deal? Would he waive his no-trade clause to simply watch Connor McDavid from the bench and spell Talbot when required?
A Return to Active Duty
Let's assume that the Canucks decide to stand pat and ride out the remainder of the season with Miller on their roster. What then? Do they attempt to re-sign him and bring him back as a 37-year old for next season?
What might this mean for the development of Jacob Markstrom who begins the first year of a three-year, $11 million contract next season? And what do they do with top prospect Thatcher Demko? The 21-year old has asserted himself well during his first pro season with the Utica Comets. Another season in the AHL may serve Demko well, but it's also likely that the Canucks would like to see how he fares against NHL level competition next season.
[irp]
A Fitting End for Ryan Miller
Of course, there's the possibility that Miller departs the Canucks as a free agent and signs with a new team in the offseason. Canucks fans, anxious for a rebuild, might feel conflicted if this were to transpire. On the one hand Markstrom and Demko would both benefit from the increase in playing time, but on the other hand, management would fail to capitalize on the opportunity to acquire any assets for Miller.
There's the very real possibility that Miller's career as a Vancouver Canuck will be characterized by the proverb, "in like a lion, out like a lamb." The lauded veteran who cashes in only to leave for nothing a few years later. While this may technically be the case with Miller when it's all said and done, you'd be hard pressed to find a Canucks supporter with a negative opinion of the man and his abilities.
Whether Miller is in fact traded or leaves the franchise on his own accord, he may be the first goaltender to leave Vancouver in an understated manner in years. It'll be refreshing and, quite frankly fitting given his career as a Vancouver Canuck.
Copywriter and web developer by day, THW contributor by night. Rabid hockey fan, beer-league defenceman and tyke hockey coach always. Covering the Canucks from BC's Sunshine Coast.