The bar has truly been set low in Vancouver, with mediocrity being deemed acceptable.
Expectations were creeping up as the Vancouver Canucks stormed out of the Christmas break with six-straight wins. It was enough to put them in a playoff battle, with the horrors of last season in the rear-view mirror.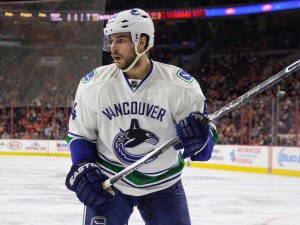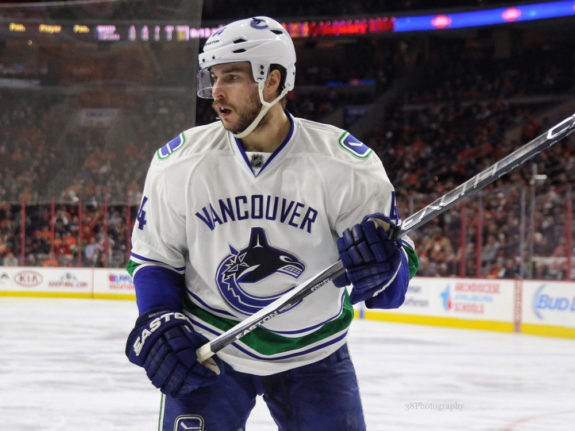 Because, clearly, this version of the Canucks is better than last year's, right? Injuries to Brandon Sutter and Alex Edler derailed the season. Matt Bartkowski was a regular in the top four. Bo Horvat and Sven Baertschi have taken a step forward since last season as well.
Yet, the Canucks are no better than they were last year. In fact, they might be worse.
On Feb. 9, 2016, the Canucks beat the Colorado Avalanche 3-1. They lost both Sutter and Edler in that game. They were three points out of a Wild Card spot but never came close after that as they plummeted down the standings.
Fast-forward to 2017, and the Canucks have two fewer points through 53 games compared to last year. If you want to nitpick, they have two more wins, but they're also seven points out of a Wild Card spot heading into Thursday's match-up against the Columbus Blue Jackets.
Wasn't this team supposed to be an improvement from last year? The Canucks' younger players are maturing and they've had less injuries, yet they still wallow near the bottom of the standings. A couple weeks ago, Vancouver was talking about the playoffs. Now, it's more likely that they're headed towards another 28th overall finish.
Horvat's Emergence Overshadowed
One of the great stories for the Canucks since last year has been the emergence of Bo Horvat as the team's offensive leader. He has 49 points over his last 82 games, one point behind Henrik Sedin for the team lead over that time span.
Therein lies the problem for the Canucks. The Sedins, notably Daniel Sedin, have slowed down over the last two seasons. While Horvat is starting to take the offensive reigns, he's not ready to be a first-line centre. Sven Baertschi's injury also complicates things for a team that has almost no scoring depth.
Ryan White to Loui Eriksson: " Wait a minute, they're paying you HOW much?!"#canucks pic.twitter.com/Eo5rSNuYJp

— Pucks On Net (@Pucksonnetca) January 27, 2017
The Sedins' days as first line players are done, and there are no notable replacements on the roster. Loui Eriksson has had a horrid first season in Vancouver, making Jim Benning look foolish for committing to him for the next six years. Alex Burrows is playing regularly in the top-six despite registering only 16 points on the season.
The Columbus Blue Jackets, in comparison, have seven players with more than 30 points.Fourth-liner Scott Hartnell has more points (30) than Daniel Sedin (28). Scoring depth has plagued the Canucks all season, and there's no end in sight.
Defence-First Follies
The Canucks went into this season preaching a defensive, low-event style of hockey to mask their offensively inept roster. However, to this point the Canucks have actually allowed more goals than last season.
Through 53 games last year, the Canucks scored 127 goals and allowed 146 for a goal differential of -19. This year, they have scored 125 goals while allowing 154, for a goal differential of -29. You can argue that Willie Desjardins needs the team to play this way in order to win, but it hasn't worked. Desjardins has coached a lottery team to reach mediocrity, but it's nowhere near enough for the playoffs.
With a young defence, including two rookies and a sophomore, there is some leeway for mistakes on the back end. Troy Stecher and Nikita Tryamkin have both had some great moments, but they've also been exposed for mistakes. Ben Hutton has also endured some difficulties in his second NHL season after being passed on the depth chart by perennial whipping boy Luca Sbisa.
At even-strength, the Canucks are not improved from last year's lottery team. They averaged 1.87 goals for and 2.31 goals against at even-strength last season. This year, they have 1.88 goals for and 2.3 goals against. The numbers don't lie: mediocrity is the bread and butter of this organization.
Mediocrity Means It's Time to Sell
Despite all the talk about the Canucks contending for a playoff spot in January, February has brought out the true colours of this team. They were outplayed badly by both the San Jose Sharks and the Minnesota Wild, showing that they are a ways away from competing with the best teams in the Conference.
The NHL is a league of parity, and the Canucks are just barely hanging around that glut of teams. If their goaltending was any worse, they would be wallowing with the Colorado Avalanche and the Arizona Coyotes in the league's basement.
With a tough schedule ahead, it looks like the Canucks will continue to fade out of the playoff picture. Barring a miraculous return to form for the Sedins, or a breakout from Loui Eriksson, this team is destined for another high draft pick.
That means it's time to start selling some of the veterans from this team. It's also time to see what the likes of Horvat, Baertschi, Tryamkin and Hutton can do with increased minutes. The Canucks are a long way back to respectability, but they can speed up that process by not settling for mediocrity.
KPU Journalism Graduate. Trevor has been writing for The Hockey Writers since October 2014. He has contributed articles related to the Ottawa Senators, Vancouver Canucks, and other issues/stories regarding the game of hockey. Trevor currently lives in White Rock, B.C.