In general, being a college student is not easy. Those who participate in athletics take on a host of additional responsibilities and time commitments.
Then, there's Luke Kunin.
The Wisconsin Badgers' captain is not only a leader on his college team but in the past year he has worn the "C" for Team USA at the World Junior Championship and shouldered the expectations associated with becoming a first-round draft pick.
In other words, he's not your average college sophomore.
"You just gotta keep your world small, stay grounded day-to-day," Kunin said. "It's obviously been an unbelievable experience, some of the things, how fortunate I've been so far and hopefully the good things keep coming but, definitely enjoying it, enjoying the ride."
A Wild Summer
Kunin's whirlwind year has already included major milestones and success, with potentially more to come. Before the season even started, he experienced what so many hockey players dream about when the Minnesota Wild selected him 15th overall in June's NHL Entry Draft.
Not long after the team drafted him, Kunin became more ingrained into the Wild franchise by attending the team's development camp, skating in front of Minnesota coaches with fellow prospects.
"Development camp was great. They've got a great organization and a great staff, I learned a lot there and look forward to what the future holds with them," Kunin said. "[I] learned a lot from those coaches and those guys and just try to work hard here so I can get there soon."
All the Way with Team USA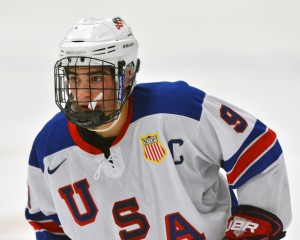 After taking the ice in an NHL setting, Kunin had the opportunity to perform in front of a captive global audience when he captained Team USA at the World Junior Championship. For Kunin and the Americans, the tournament ended in celebration after Team USA topped Team Canada in a shootout to capture the gold medal. And Kunin says that medal isn't all he brought back from the experience.
"I think you learn some things. We had an unbelievable group of guys with tremendous heart and character. You saw that in the last two games being down and coming back and winning the shootouts," Kunin said. "I just think, things like that, I'll take with me to try to help me here at Wisconsin."
On, Wisconsin
Yes, don't forget that Kunin's work with the Wild and Team USA comes on top of his large role at Wisconsin. After leading the Badgers with 19 goals as a freshman last season, he has already scored 17 as a sophomore and leads the team in goals and points this season.
.@lukekunin9 scores a short-handed goal! 1-0 @BadgerMHockey!

Watch this B1G battle on #FOXSportsGo https://t.co/DuwghB2v7e pic.twitter.com/VJBcg5XJTz

— FOX Sports Wisconsin (@fswisconsin) February 5, 2017
Beyond putting up points, Kunin also bears the responsibility that comes with being Wisconsin's captain and is just the second sophomore captain in program history. Speaking of history, the Badgers struggled over the past two seasons, winning just four games in 2014-15 and eight last season. Not quite the numbers one would expect from such a storied program.
This season, however, Wisconsin is 15-8-1 and tied for first in the Big Ten standings. Kunin says that the recent down years have served as motivation for this season's Badgers.
"We take pride in our program and we take pride in being successful and I think all of those players that have been here the past few years take that to heart," Kunin said. "I think we're doing a good job now of turning it around and we just gotta keep building on that."
The Badgers' recent play has matched their captain's words. Our interview with Kunin came after Wisconsin's win at Ohio State on Jan. 26, and the Badgers have won all three games since. On a five-game winning streak overall, Wisconsin has climbed to 17th in the USCHO.com poll and can continue its recent roll this weekend with two games against no. 9/10 Penn State.
Jeff is a college hockey and Columbus Blue Jackets contributor for The Hockey Writers. He is a former TV sports reporter who has covered, broadcasted, coached and played hockey at various levels. You can follow him on Twitter @jeff_schaffer13