The Islanders defense has been bit by the injury bug lately this season, losing most of their already shaky defensemen due to injury at one point or another. Isles defenseman Lubomir Visnovsky returned to action on Monday after missing three months due to a concussion, and not just his first concussion- but his sixth. Brian Strait was also unavailable for some time due to an undisclosed injury. Most recently, Travis Hamonic has been placed on IR retroactive to January 12th. For an Islanders team that was blessed with such great luck in terms of injuries last year, it seems as if these defensemen cannot stay out of their own ways this year.
While Visnovsky has returned from injury, which should help to provide a better power play percentage (that can't get much worse, to be honest) it raises the question- is his return too little too late for an Islanders team fighting for their playoff lives? To answer this, there are a few points to consider- some that have to do with the team as a whole, and others that don't.
Even with Visnovsky and Hamonic, the Islanders defense isn't very good.
This is not to say that there is no hope whatsoever- the Islanders have a few legitimate NHL defensemen right now. Those go by the names of Travis Hamonic, Lubomir Visnovsky, and perhaps Calvin de Haan as well. Past that, there's not a defenseman I would likely take on my team if I were a GM. Andrew MacDonald is a turnover machine, Brian Strait is extremely limited in anything except for providing a physical edge, Matt Carkner has been a disaster at times on the ice, and Thomas Hickey is inconsistent. As for the rest, specifically Matt Donovan and Aaron Ness, I'm not sure they'd crack an NHL roster for any other organization as they've been pretty poor in their times here, despite showing some flashes of talent.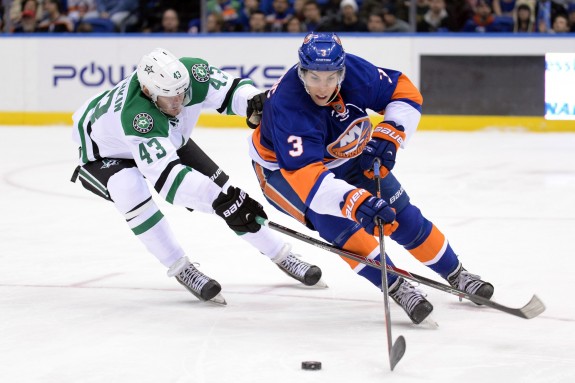 The point here is that the team's defense is not there yet. Can you get away with only two strong pairings? Sure, if they're good enough. The problem here is that at their best and healthiest, the Islanders barely have one good defensive pairing. This team can score but has a severe defensive malfunction and has for quite some time.
If you're an Islander fan, however, you're very aware of the near future of defensive talent with the team- Griffin Reinhart is better than most current Isles defensemen now, and Ryan Pulock also has a great amount of potential. Throw guys like Mayfield, Pedan, Pelech, others, and there's bound to be a few that stick. The defense could shore up quickly and soon, if all goes to plan. It's just not here yet. So does the return of Visnovsky help the team all that much? My answer- he definitely does help, but not enough on his own to salvage what is still a bad defensive unit.
The Metro Division is Playing Better.
This is a problem- the Blue Jackets, Rangers, and pretty much everyone except for the Capitals and the Flyers have been trending upwards with the Islanders, not allowing them to gain much ground in the division. As it stands, the Islanders are seven points behind the Hurricanes for the third spot in the Metro, which would guarantee them a playoff berth. In the last 10 games, the Metro is a combined 45-26-9 with the Caps and Flyers only accounting for six wins between them. The Islanders had been playing lights out hockey for a stretch of games and would be in very good position if it were not for the inconveniently timed runs of the rest of their division rivals.
They now find themselves back down to earth as they go up against arguably the toughest portion of their schedule, which called for a home and home against the Flyers, three Ranger meetings (one in Yankee Stadium) the Blues (which should have been a win), and the Bruins.  My thought process going in was that they needed to stay at or above .500 for the stretch in order to maintain any sort of relevance in the playoff race. They've gone 2-3-1 so far, which leaves them a chance for that .500 number I imposed on them for the stretch. This also makes the Stadium Series game one of the most important games of the year, especially as it is against another division rival. The good news- the Islanders generally play pretty well against the Rangers, so here's hoping they can get at least two points out of the match-ups.
The Team Can Score Goals.
A stat that I find interesting- only one team has scored more goals this season in the division than the Islanders, and that is the Pittsburgh Penguins.The Islanders are actually sixth in the league in goals scored. Despite this, the Isles have allowed the most goals of any team in the Metropolitan and the second most in the NHL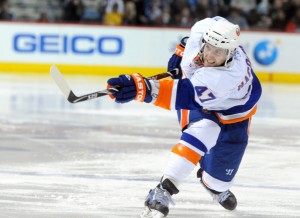 (Edmonton has allowed 190 to the Islanders 185). This has come with a mostly unhealthy Islanders defense and goaltending situation. Does this fall more on defense or goaltending? The easy answer is goaltending, but the defense has been just as, if not more brutal than whoever is between the pipes. Matt Carkner, Brian Strait, Matt Donovan, and Andrew MacDonald in what may be his swan song as an Islander have all played extended time and that's not the role for any of them. When you force players to play roles that might not be for them, you're going to have an issue no matter who's in net.
Many people suggest that the Islanders need to address their goaltending situation immediately and trade for a Ryan Miller-type player, but truthfully this wouldn't solve the issue. A new goaltender would absolutely help the struggling Islanders but would it be worth it when the defense is truly the biggest issue? I can't tell you what to think, but it's pretty clear what I believe.
This team is going to have to outscore every team in it's path in order to make a push, and frankly they might not be good enough to do it. Take Monday's 6-3 loss to the Bruins as a textbook example of what will happen to the Islanders night in and night out with this currently constructed defense- breakdowns, soft goals, and despite scoring three goals, still losing in a blowout. Can this Isles team do it? We'll find out for sure in the coming weeks, but stay tuned for what happens at Yankee Stadium for your answer. The season depends on it.