Prospects Update is a bi-weekly feature that will check in on a few of the Leafs top performing prospects. This edition takes a closer look at newly acquired Brandon Kozun and rookie Marlie D-man Stuart Percy. Last edition profiled Carter Ashton and College junior Eric Knodel. Before that we looked at 1st round pick Frederik Gauthier and Swedish winger Andreas Johnson, and can be found here. The 3rd edition featured Brennan and Herzog, the 2nd featured Finn and Abbott, and the 1st featured Verhaeghe and Brown.
Brandon Kozun – RW Toronto Marlies (AHL)
Kozun was acquired last week from the Los Angeles Kings in exchange for Andrew Crescenzi. It was a simple one-for-one minor league swap. The thing is, it appears the Leafs clearly got the upper-hand in the deal as Kozun is a former two-time 100-point scorer in junior who also has a 0.678 career points-per-game in three and a half AHL seasons. That average translates to 56 points in an 82 game season, very respectable for a 23 year-old in the AHL. This season for the Monarchs he had 29 points in 43 games before the trade, which means he's been plugging along at just about the same level he is accustomed to.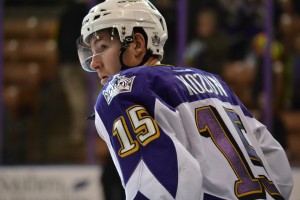 So why swap him for a an undrafted forward who has posted just five points in 50 career AHL games? The answer: size. Crescenzi is 6-foot-5, 208 pounds. Kozun stands 5-foot-8, and weighs a meager 162 pounds. Kozun, a 2009 sixth-round pick, was not going to make it very far in the Kings organization, as they covet big bodies and play a rough and tumble game.
The L.A. native could however do well in Toronto. Though Toronto likes to play a tough game, they have been known to take a gamble on smaller skilled forwards, and new Marlie teammate Spencer Abbott is a good example of this. This isn't to say the Leafs go out looking for smaller guys, but when it's a low risk minor league swap, Dave Nonis clearly doesn't have an issue with getting skill in return for size.
It's certainly a good move in my mind and although Kozun has zero points in his first three games with the Marlies, I expect him to do well and eventually get a shot with the big club. Remember, he's still only 23 (turns 24 in March).
Here is some of Kozun's work from last year with the Monarchs:
Stuart Percy – D Toronto Marlies (AHL)
As many Leaf fans may remember, Percy was a 1st round pick of the club at the 2011 NHL entry draft. Brian Burke used the extra first round pick that he had previously acquired from Boston for Tomas Kaberle, and used it to trade up so he could draft Tyler Biggs at 22nd overall. He then used Philly's first rounder (acquired in the Versteeg trade) three picks later at 25th overall to draft Percy. If Toronto didn't have that second 1st round pick, it's unlikely they would have taken Percy (over Biggs? Yeah right).
#Leafs 2011 Draft:Josh Leivo (86th; 32GP 9G 21P) & D Stuart Percy (25th; 38GP 1G 12P) have more pts than Tyler Biggs (22nd; 34GP 4G 5P)

— Brendan Ross 🇨🇦 (@RossyYoungblood) January 28, 2014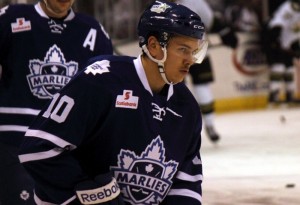 Two and a half years later and Percy has, in my opinion, turned out much better than Biggs (yes it's still too early to say but Biggs has just five points in 34 games this season). Comparing a winger to a D-man may not necessarily be "fair" but I just feel Percy is something the Leafs really need for their future: a smart defenseman, who avoids making mistakes and appears to be mature beyond his years. I emphasize "smart" because Percy is a very quick learner. He had  just four points in his first 20 games, but now has eight in his last 18. Yes it's a small sample size but still an improvement from 0.2 points-per-game to 0.44 points-per-game. I think he will only continue to improve on the offensive end as well.
He even scored his first pro goal earlier this week on a blast right off the face-off:
But it's the not the offensive production that I love so much about Percy. He's not Morgan Rielly and I don't want him to be. Listen to what the scouts said about him when he was drafted:
Bob MacKenzie: "Likes to try to play the game like Nick Lidstrom. He makes a great first pass…he never gets in trouble.[He's] not overly physical, plays well with body positon but doesnt get beat on 1-on-1 or 2-on-1 situations very often."
Pierre McGuire: "He understands what he has to do offensively as well so he's not just a one-trick pony."
At the time, MacKenzie also noted that Percy wanted to work on his shot. I think it's safe to say from his first career AHL goal that he's improved in that regard.
I have high hopes for Stuart Percy, and at the pace that he tends to soak in information, I don't see it being very long before he's called up to the Leafs.
*Notes and Updates:
– Connor Brown made history this past week as he became the first Erie Otter ever to hit the century mark in points. He scored his 100th point of the season on a empty net goal in just his 48th game. Just remember he was in my first profile in the season, so don't say I didn't warn you (I'll admit I didn't think he'd do THIS well)
– Leafs goalie prospect Antoine Bibeau continues to struggle with his new team. He is 3-5-0 with Val-d'Or and has just a 3.91 G.A.A and .876 SV%
– Matt Finn is 2nd in OHL D-scoring with 42 points in 46 games. He has captained the Guelph Storm into the playoffs; the first OHL team to clinch a spot (37-8-2-1)
– Brennan is still plugging away at a point-per-game, good enough for 4th in the entire AHL, including forwards. He has 43 points in 42 games
– Abbott is still 2nd in the AHL in assists (32) and is now 5th in points with 42 in 40 games
Nathan Kanter covers the Vancouver Canucks and Toronto Maple Leafs for The Hockey Writers. He received his master's in journalism from Western University in May of 2015 before serving as the first ever Digital Managing Editor at Western's university newspaper, The Western Gazette, in 2015-16. From 2016-18, he served as the radio play-by-play voice of the Battlefords North Stars in the SJHL. His work has been published in The Hockey News, at Sportsnet.ca and at Dobber Prospects.