This is something I started last season when writing in the minor leagues of online blogging, a website known as Bleacher Report. The award title was a little bit different, it was formerly known as the "Biggest Waste of an NHL Roster Spot Award". But I thought that it would be better to shorten it up a little bit and add new criteria. The first winner of the award went to Ryan Hollweg of the New York Rangers, and you can read all about it here. Last year there were no nominations, I just chose someone but this year I will have some nominees for you to vote on. The nominees were decided based not only on stats but on their salary and if they were heavily injured.
And the nominees are…
1. Anaheim Ducks:  Jean-Sebastien Giguere (G; Salary: $6 million; 19-18-6 3.10 GAA)
Giguere who was one of the top notch players in the league and certainly one of the best goaltenders had one of the worst seasons of his career. He finished above five-hundred but still had a horrendous goals against average. Midway through the season he found himself losing the starting goalie job to an inexperienced Jonas Hiller who is tearing it up right now. Add to that his six million dollar salary and it was a disaster.
2. Buffalo Sabres: Maxim Afinogenov (RW; Salary: $3.5 million; 6 G-14 A-20 P)
Always touted as one of the more exciting players in the league because of his speed, it was always said that if he could only "finish" more he could be a superstar. Well all that touting went by the wayside this season as he had the single worst season of his life on an already bad Sabres' offense.
3. Colorado Avalanche: Scott Hannan (D; Salary: $4.5 million; 1 G-9A-10 P)
Scott Hannan was never an offensive minded defenseman but I believe that was Colorado's expectations when they signed him to a 4 year/$18 million contract. Considering he played all but one game this season, his numbers are putrid and his plus/minus is worse. There aren't many defensive contracts worse then Wade Redden's; this is one of them.
4. Edmonton Oilers: Dustin Penner (LW; Salary $4.25 million; 17 G-20 A-37 P)
The highest paid player on the Edmonton Oilers, thanks to an offer sheet by then-GM Kevin Lowe, has never reached expectations and this season was further proof of it. He was benched and publicly called out by head coach Craig Mactavish and that didn't seem to help him as he had another disastrous season.
5. Los Angeles Kings: Michal Handzus (C; Salary $4 million; 18 G-24 A-42 P)
Never a superstar, Handzus was still offered a nice sum of money by the offensively desperate Kings. Not a terrible season but still a pretty sub-par one when you consider his salary. I haven't seen many Kings' games but the fans aren't crazy over him either.
6. Minnesota Wild: Marian Gaborik (LW; Salary $6.33 million; 13 G-10 A-23 P)
Probably the only nominee to average over a point per game, Gaborik makes one of the higher salaries in the league and continued to battle the injury bug as he missed over sixty games. Looking at that salary it's safe to say he was a bust this year and what is worse for Minnesota, they didn't put him on Long Term Injury, where they could have had that salary not count against the Cap.
7. New Jersey Devils: Brian Rolston (RW; Salary $5. 06 million; 15 G-17 A-32 P
There wasn't a free agent I wanted more this off-season for the Rangers to sign then this guy, but maybe it was better that Sather held off. At 36 years old, this four year/twenty million dollar deal is looking worse by the minute. Rolston not only under performed but was plagued by injury for most of the year. When he returned, he didn't really pack a punch and found himself on the third line.
*8. New York Islanders: Rick DiPietro (G; Salary $4.5 million; 1-3-0 3.52 GAA)*
I will cast my sole personal vote for this man as the biggest bust of the year. What can I really say that you don't already know? He played in only five games this entire season and just had surgery on his oft-injured knees. Hey Garth, how's that fifteen year deal looking now?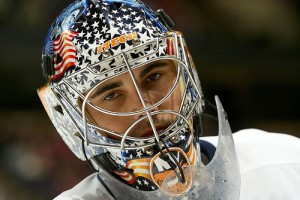 9. New York Rangers: Wade Redden (D; Salary $6.5 million; 3 G-23 A-26 P)
The marquee defenseman that was signed to possibly the worst contract in Rangers' history but was the team's whipping boy this season. He underperformed from the get-go and although maybe not entirely his fault on the offensive side due to Tom Renney, his defense wasn't stellar either. He was close to getting my vote but his play in the first round against Washington showed me that he can step up in pressure situations.
10. Philadelphia Flyers: Danny Briere (C; Salary $6.5 million; 11 G-14 A- 25 P)
One of the more pricy signings of the off-season before, Briere was terrible this season made even worse by the near sixty games he lost due to injury. The team played very well in his absense and fans were livid when the young, energetic players were later cut from the team to make room for his returning, terrible contract.
11. Phoenix Coyotes: Ed Jovanovski (D; Salary $6.5 million; 9 G-27 A-36 P)
The injury plagued "Jovo" finally made it through a full season despite his name being constantly mentioned in trade rumors. Looking at his offensive numbers, the aren't bad, but for that price his contract is nearly as bad as they come for a defensive standpoint.
12. Vancouver Canucks: Mats Sundin (C; Salary $5.63 million; 9 G-19 A-28 P)
The Mats Sundin sweepstakes was on for months and months and finally he made his decision to sign with the Canucks. He got off to a slow start, then got hot, then got cold again. His numbers aren't too bad for someone who played in a half a season but when you look at that horrible, out-of-desperation-contract, it's laughable.
Previous Winners…
2007/08: Ryan Hollweg
When Casting Your Vote…
Please choose someone nominated only. Any write-in votes will not count towards the final winner. Voting will be open for a week when the winner will be announced in a separate article. You do not need to be a writer here to vote, it is open to everyone. So please don't be shy! Step right up and cast you vote!
Photo courtesy of FLICKR.