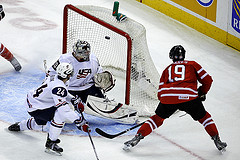 Christopher Ralph – THW columnist for the Toronto Maple Leafs
After returning from the beautiful Mayan Riviera and having evaded the notorious swine flu, even with the exciting and classic playoff races taking place, why am I not surprised to see Brian Burke's mug stealing media limelight.
CBC Sports is reporting the Leafs may actually have a legitimate shot at landing the coveted elite forward prospect – John Tavares. I had touched on the subject of Burke relentlessly pursuing the rights to obtain Tavares in a previous article, Shots From The Slot.
If you have been living in a secluded bunker of some sort hiding from pending pandemics and have no idea who Tavares is, read this bio written by fellow THW columnist, Mike DiFranco. You can also get up-to-date Tavares stats along with a brief description of what he brings to the table and NHL player comparisions by checking out my latest mock draft on my blog (he is ranked #1 overall currently).
On Hockey Night in Canada this past Saturday Night, Pierre Lebrun stated:
"In the last couple of weeks there have been rumblings coming out of Long Island … and suddenly it's not a sure bet, according to these rumblings, that [GM] Garth Snow will take John Tavares as we've been led to believe all along." If that were to happen, he continued, "I'm told the Lightning would immediately go to Toronto's table and say 'Alright, Brian, we're open for business. We want [veteran defenceman Tomas] Kaberle and Luke Schenn."
T.O. Sports magazine recently published a top ten list of why Tavares should be a Leaf.
Let's then take a look at several scenarios, if all the dominoes stack up as Burke hopes, in which Tavares might fall in to the Leaf's lap:
Scenario #1:Islanders select potential franchise blueliner Victor Hedman with the 1st overall pick. Lightning GM Brian Lawton consequently cements a deal with Burke and the Leafs for the 2nd overall pick (and thus Tavares) with Schenn and Kaberle part of the package heading to the Sunshine State. This scenario is likely the most plausible as Hedman has the proverbial "potential" to be a once-in-a-generation d-man. I have previously described the already 6'6″ 220lb 18 year old as a Boumeester-Pronger hybrid. The Leafs may have to include the #7 overall pick as well, but it would be nice if Burke could pull a jedi mind trick of some sort on GM Lawton to hold onto that valuable pick.
Scenario #2:Isles' GM and scouting staff are actually coveting Matt Duchene and trade down to 3rd overall with the Avalanche. The Avs then proceed to offer up the 1st overall pick to the Leafs for a lofty sum including the 7th overall selection and Luke Schenn as a basis for the deal. This scenario is less likely in my mind as the Avs likely covet Duchene themselves as he might be the closest player to Joe Sakic they could hope to snag that could help dampen the loss of Burnaby Joe. He has been compared to Sakic and is actually out scoring John Tavares in the OHL playoffs points-wise 26 to 21, although he has played 5 more games thus far.
Scenario #3:Burkey takes advantage of the less experienced GM Garth Snow and does a deal straight up between the two franchises for the first overall selection – much to the chagrin of Islander Nation. The return would likely be the 7th overall pick with Schenn along with some other valuable asset(s). Although less likely than the first scenario, this one has a chance to play out in this sort of fashion.
Scenario #4:Paint this picture in your mind: Isles GM Snow, Lightning GM Lawton and Burkey swing a menage a trois three-way deal! Sorry if you've just eaten. In this mega-transaction: the Isles would drop back one position to the 2nd overall pick and take Hedman and would receive some other an asset such as the Lightning's 2nd round pick or maybe even the Leafs' 7th overall pick if Snow can get creative; the Lightning would receive a package with Luke Schenn and Tomas Kaberle as the centerpieces; and, of course, Tavares would be heading to T.O.
Burke, who states that no player who is property of the Leafs is untouchable, including backbone blueliner Luke Schenn, stated:
"No player is untradeable," he said. "Wayne Gretzky got traded."
This is quite ironic coming from same bold guy who made the following statement earlier in his career about a decade ago:
"I don't care if we lose every game for the next five years and the team goes broke and moves to Moose Jaw, I will not trade Pavel Bure!"
Then Canucks GM Brian Burke, several weeks before trading Pavel Bure to the Panthers in the late nineties.
In the words of O-Bomber (Barrick Obama), "Let me make this perfectly clear," – I am not stating the Leafs will end up with Tavares, but simply stating potential happenings that may lead to that transaction taking place.
Please post your comments or fabricated scenarios below on whether or not you think the Leafs have a true shot at landing the Next, Next One.
Chris is THW's senior draft/prospect analyst and a Managing Editor. Watch for "The Next Ones" Prospect Profile series, exclusive rankings, mock drafts, as well as the annual THW NHL Entry Draft Guide. Follow @ChrisRalphYQ on Twitter as he infiltrates, dissects and analyzes all happenings of hockey prospects and the NHL entry draft. Email: cralph[at]thehockeywriters[dot]com