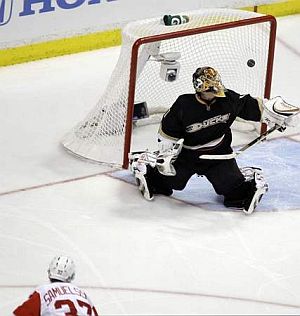 Anaheim Ducks coach Randy Carlyle yanked his starting goalie early in the third period of Detroit's 6-3 win on Thursday night, not because he allowed five goals on 33 shots or because the Wings finally exposed his weaknesses and made him look like an average goaltender, but because he wanted to give Hiller a head start on resting up for Sunday's Game 5.
I smell farm animals.
Meanwhile the Ducks are still stuck on what they perceived to be a dirty hit on Anaheim defenseman James Wisniewski by Thomas Holmstrom during Game 3 on Tuesday. According to Wisniewski:
"I was just hunched over coughing up blood and I get a blatant elbow without even battling or anything. Shows a little bit of a gutless play by one of their players."
I bet if you asked Jiri Hudler what he thought he'd tell you turnabout is fair play. Or to move on. Or that it was hockey and that's the way it's played. Sound familiar? Yeah, I thought it would.
Meanwhile there was a game to be played last night, a game which the Red Wings absolutely had to win if they wanted to continue playing hockey. Of course it wasn't technically a must win situation, but if they dropped another one and went home down 3-1 in the series they might as well have closed up the concession stands at Joe Louis Arena.
Click here for game highlights.
But they won, and they won huge. Anaheim tried to slow Detroit down by throwing big hits, but the Wings came right back with even bigger goals. Marian Hossa, held pointless so far in the series — with the exception of the goal he scored in Anaheim's 2-2 "win" on Tuesday — scored a pair of goals, and this time they both counted. Johan Franzen also contributed a pair, while Henrik Zetterberg and Mikael Samuelsson capped off of the scoring.
But Detroit's win wasn't without a few dark clouds. A horrible line change opened up the ice for Corey Perry, who took a pass down the right side and proceeded to deposit the puck over Osgood's blocker just 42 seconds into the opening period. Did Detroit sweat it? Not at all, according to Osgood.
"I think we just realized we had to have a big push," Osgood said. "I think for a moment we forgot who we were. We needed to play with more confidence, and we did that. We really relied on our experience to play our best hockey."
Played their best hockey indeed. Detroit was buzzing all night and peppered Hiller with shots.
"We played loose tonight, and confident," Osgood said. "I thought we responded a lot better than we have at other times. We were throwing pucks tonight and getting deflections and we were putting more pucks to the net than we have previously."
So it's on to Game 5 on Sunday at The Joe. Detroit knows what needs to be done, as does Anaheim. Both teams feel confident in their own abilities, and as we've seen the blame game is going to continue. Who is going to win this series? No one knows for sure, but one thing is known without a shadow of a doubt:
It's a lot of fun to watch.