The Washington Capitals are in desperate need of quality defensemen for the 2014-15 season. Mike Green is unlikely to be traded and the Capitals want to get him back "on track", according to new Caps GM Brian MacLellan.
"I think our priority is to get Mike Green on track here," MacLellan told the Washington Post. "I think certain circumstances last year might have hindered his performance. I guess I'm open to trading anybody, but as of right now I think we'd like to bring Mike Green back."
There aren't many youthful options that would be able to impact Washington substantially and the top option, Matt Niskanen, is unlikely to have any interest in the Capitals barring a massive overpayment. Other pending blue liners set to hit free agency come July 1st include Dan Boyle, Ron Hainsey, Brooks Orpik, and Kyle Quincey.
The best option available could be New York Rangers defenseman Anton Stralman. At 27 years of age, Stralman should be a prime candidate for the Capitals and Brian MacLellan to go after. He's coming off a two year, 3.4 million dollar contract and is almost guaranteed a sizeable multi-year contract.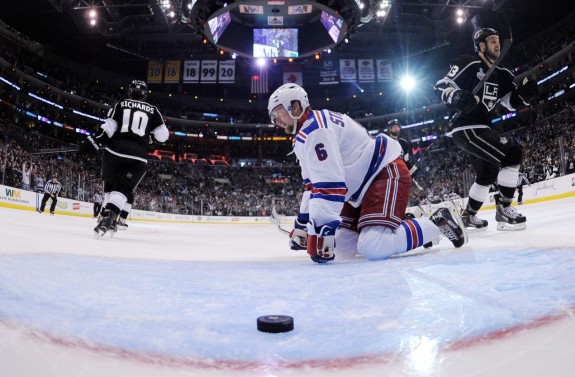 He is not a flashy player, but he's one of the best defensemen in the league at limiting the oppositions' scoring chances. In 81 games last season during a tie game situation, Stralman was one the ice for 309 shots for and just 216 against, an outstanding 58.9% shots for rate. In that situation for defensemen who played in at least 62 games, Stralman ranked second in shots differential percentage, only trailing defensive partner Marc Staal.
One question to ponder is whether Stralman's impressive possession numbers are a benefactor of playing with Staal. Stralman played 944:48 with Staal during five-on-five play, producing a 56.2 corsi percentage during the 2013-14 campaign. Stralman posted strong numbers without Staal in limited action as well, with a 56.1 corsi percentage in 400:57 of five-on-five ice time. Those minutes apart from Staal were split with John Moore, Ryan McDonagh and former Rangers blue liner Michael Del Zotto.
Aside from the possession numbers, what can Stralman provide on defense? He's got a pretty big shot although albeit at just 5'11" along with above average skating ability. CSN Philly described Stralman: "Stralman has plenty of offensive and puck-moving skills. He can quarterback a power play and has a heavy, accurate shot from the point. He has decent size, but tends to shy away from physical play, which hinders his overall effectiveness. However, he can be relied on for big minutes as evidenced by his contributions during the Rangers' run to the Stanley Cup Final."
With the top four defensemen of Mike Green, Dmitry Orlov, John Carlson and Karl Alzner set, bringing in Stralman to take the stress of the Capitals top four blue liners would be a great plan. While they could have future defensemen approaching the NHL level, Stralman gives Connor Carrick a chance to develop in the AHL after a tough rookie year and the Capitals stability on the third defensive pairing. He'd be the third right handed shot on the blue line and could compliment either Jack Hillen or John Erskine on the Caps' defense.
Acquiring Stralman will be no easy task for MacLellan and the Capitals' brass; he's seeking security and a place to call home. Larry Brooks of the New York Post suggested Stralman is hoping for a three year deal between four and five million per season.
| Season | CF% | CF% Relative | ZS% |
| --- | --- | --- | --- |
| 2011-12 | 48.30% | -0.20% | 51.40% |
| 2012-13 | 57.30% | 7.60% | 56.90% |
| 2013-14 | 56.50% | 6.00% | 50.70% |
"The only thing in my mind really is security for me and my family," Stralman told the New York Post. "We've been moving a lot — four teams in seven years. All we're really looking for is stability, to stay in one place. This is obviously where we want. I'd like to stay. I hope it can happen. We'll see."
What should the Capitals offer Stralman if they go after the Rangers defenseman? Stralman is seeking job security and while he's not the top UFA option at defense, he's one of the best available and plays a safe, simple game. If you're the Capitals, an offer of four years, 18 million should be considered.
MacLellan has tons of cap space to work with; even with a whole at the number two center position and a backup goaltender to acquire. Adding Stralman gives them a guy who can play in the top four, although it doesn't have to be the plan if he signs.  In his first year as GM, MacLellan certainly has substantial work to do this summer. Signing Stralman would be a phenomenal start.