Though the Washington Capitals hadn't played since Tuesday, they came out strong in the first period of Sunday's game against the St. Louis Blues, putting on a lot of offensive pressure and taking a 1-0 lead into the second off a power-play goal from Brett Connolly.
"I think we had some starts in the last couple weeks that weren't great, but I think we started pretty decent and got that first goal," forward Lars Eller said. "I don't think we looked that rusty, to be honest. Our first period was good."
While Washington did start off strong, they lost their footing and struggled greatly in the second. The Blues outshot them 17-6, and heading into the third, the Capitals were trailing 2-1. However, thanks to a standout performance from the Capitals power play and third line, as well as goals from Alex Ovechkin and Lars Eller and 31 saves from Braden Holtby, the Capitals eventually headed to overtime, where they won 4-3 on a goal by Nicklas Backstrom.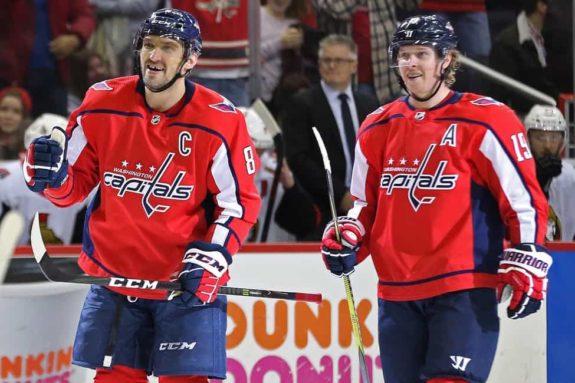 "Maybe not the best game from us execution-wise and system-wise, I would say," Backstrom said. "At the same time, we were still in it and [Holtby] gave us a chance to win… I think we can build off this."
Success on the Power Play
While Washington got even-strength tallies from Eller and Backstrom, the power play came up huge in the Capitals' victory. Toward the end of 2017, the Capitals weren't seeing much momentum on the power play, and halfway through this season, their percentage of just 19.2 success ranks 16th. While the power play has shown signs of life of late, Sunday's game marked a turning point, as Washington went 0-for-4 and had two power-play goals from Connolly and Ovechkin, who is riding a four-game point streak.
"I think we simplified our game," Ovechkin said. "…If I have chance to shoot, I shoot, but again, it's working. I think we have to continue playing like that and we're going to get result."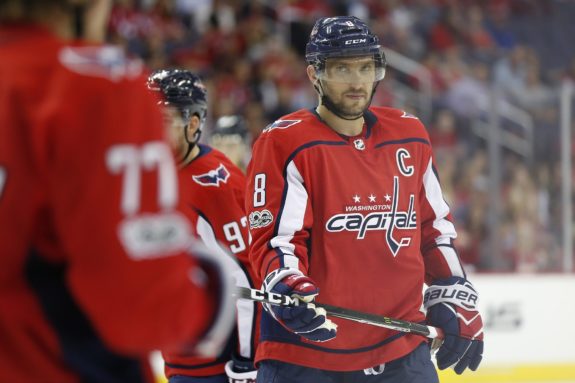 Ovechkin has by far been one of the biggest factors. His signature shot from the left circle not only leads to a lot of one-time tallies but also generates a lot of scoring chances and can also lead to deflections in front, as seen with Connolly's goal.
"It hit my stick really hard," Connolly laughed. "Just a quick, busy play, and I was fortunate to get my stick on it."
In addition, John Carlson has played a significant role on special teams as well. He is second in league scoring among defensemen with four goals and 33 points this season, and not only is he able to play big minutes and move the puck effectively, he also boasts an underrated shot on the man advantage.
Third Line Chemistry
Not only did special teams come up huge for Washington, but Washington got a lot from their third line. Devante Smith-Pelly started on the third line alongside Eller and Connolly, but after the Capitals saw a lack of scoring chances and offense in the second, head coach Barry Trotz shuffled the lines, moving a struggling T.J. Oshie to the third line and putting Smith-Pelly back up with Backstrom and Ovechkin.
"I thought it was really good. I think it threw the balance off where I thought they were getting sort of good matchups where we were just nullifying each other and I think what we did is spread it out and it created a little more sustainability," Trotz said. "I thought [Oshie] was really good I thought Eller was really good, so we made that flip, it was an easy flip… I just think it freed us up a little bit."
Ovechkin agreed, saying that he saw a lot from the third line and was impressed with its chemistry and overall performance, saying that "Lars' line was unbelievable."
After being put on the third line, Oshie, who came into Sunday's game with two points in his last 10 games, showed a lot more energy and speed and appeared to have more momentum and chemistry with that unit. Following the switch, the 31-year-old picked up two assists. Overall, the third line had a number of grade-A scoring chances and proved to be one of the Capitals best lines.
According to Eller, the addition of Oshie not only brought forth a lot of scoring and chemistry but also showcased the versatility that unit has.
"Our cycle game was good in the zone, and we scored one off the rush," Eller said. "We just had a lot of possession and that's where it starts. That's just another combination that's good for the coach to know that it can work. It's a strength for us that we have so many ways we can put this line together."