On Memorial Day the Washington Capitals made two moves that will have an enormous factor on the club moving forward. One was expected to happen and one was a shocking and questionable decision that should worry Capitals' fans. Washington hired Barry Trotz as their 17th head coach in team history after he spent the past 15 years in the Nashville Predators organization. He comes back to the Capitals, previously coaching their AHL affiliate from 1992-1997.
"I am very excited to join the Washington Capitals and want to thank Ted Leonsis, Dick Patrick and Brian MacLellan for this opportunity," said Trotz. "This is a great organization with a strong foundation and a tremendous fan base. I look forward to working with this group of talented players and the quality front office staff this team has assembled."
The questionable hire was Brian MacLellan, who becomes only the sixth General Manger in Capitals' franchise history. MacLellan held the title of assistant General Manager for the previous seven seasons. Washington fired George McPhee, but hired their next GM from within the organization.  MacLellan needs to change a few things or the hiring could be just a shadow of McPhee's last few years in the nation's capital. It should be noted that MacLellan stayed assistant GM for the past seven seasons and has been with the organization for the past 13 season, without ever leaving. It makes you wonder whether he was a legitimate candidate for other GM jobs prior to the Capitals opening this offseason.
Does Brian MacLellan also qualify as the "fresh set of eyes?"

— Neil Greenberg (@ngreenberg) May 26, 2014
"We are extremely pleased to name Brian MacLellan the team's general manager and welcome Barry Trotz to Washington as the Capitals coach," said Capitals owner Ted Leonsis in a press release. "After conducting an extensive search for a general manager, we determined that Brian was the best candidate to help us reach our ultimate goal, winning the Stanley Cup. We have witnessed his abilities firsthand, and we have tremendous respect for how he manages people and situations."
"We feel he has relevant, in-depth knowledge of the strengths and weaknesses of our franchise and will be forceful in addressing them. Brian always has displayed tremendous professionalism, passion and commitment to the Capitals. He has his own unique approach, and we are confident in his abilities to lead this organization to new heights."
Nevertheless, Washington has filled the first two obvious holes that needed a fix. MacLellan will next aid Hershey in hiring their next head coach after Mike Haviland left, along with collaborating with his amateur scouts prior to the NHL draft set for late June at the Wells Fargo Center in Philadelphia.
MacLellan has overseen the pro scouting operations for the Capitals during his time as assistant General Manager along with helping out the Hershey Bears, AHL affiliate of the Washington Capitals. He previously was the director of player development and was a pro scout under former General Manager George McPhee.
https://twitter.com/EdFrankovic/status/471070245634203648
Trotz will bring a more defensive orientated game compared to the recently dismissed Adam Oates and coached with one of the smallest payrolls in the NHL during his time in Nashville. He'll have substantially more offensive talent along with an elite power play in Washington, but the Capitals' blue line is practically the opposite of the Predators' defense. This is where MacLellan will play a huge role.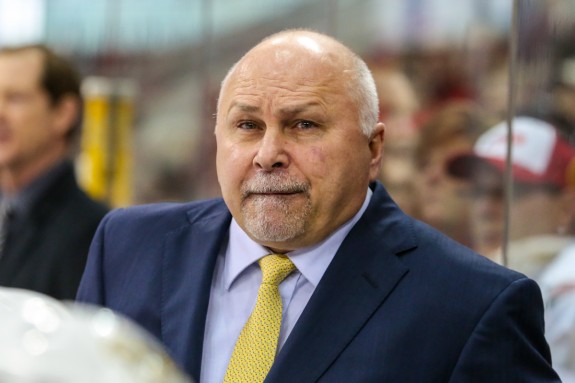 "I get a good sense of the structure, the discipline and the hard work that they [Nashville Predators] put into a game. I think it's a reflection of Barry," MacLellan stated in an interview with Mike Vogel. "Obviously the players change over the years, but it seems like they play the same style over, over and over. There's a consistency to their game."
Rebuilding the Capitals' defense will be the biggest obstacle for the newly promoted MacLellan, who has far too many last pairing defensemen on the roster. Mike Green has regressed significantly over the past few seasons, partly due to constant injuries. Other than the top two blue liners consisting of John Carlson and Karl Alzner, the Capitals have multiple question marks, most noticeably Dmitry Orlov, Jack Hillen and Connor Carrick. Trading offense for defense could be an option and Troy Brouwer has a very cap friendly contract and could have value at the draft in June.
"I think the identity will evolve as a team," MacLellan explained of changes needed. "With Barry coaching I think it's going to be about a work ethic, it's going to be about good two-way hockey, we're going to be more committed in our own end and I think it will evolve as we go. It's important that we're still an offensive club, we're still a skilled team and I think he'll do a very good job at it."
With the evolution of the NHL as the years pass, analytics is becoming more of a focus for teams and the good clubs use data to give them a competitive advantage. The Capitals were one of the worst puck possession clubs in the league last season, with their goal scoring aid by special teams. MacLellan should definitely and likely will consider using more analytics through the player evaluation and decision making process.
"Puck possession is the key to a good team," MacLellan said. "I think we would use it, it's part of the decision process. I still think the eye test, if that verifies it or makes you take another look at it, those are the ways statistics could be used to make effective decisions."
MacLellan has a tough roster to build on with limited flexibility so he should be given a few years to turn the club into a Stanley Cup contender. There is definitely enough talent to turn the 2014-15 Washington Capitals into a playoff team.
Related Stories
You can follow Matthew on twitter @m_speck and email him at mspeck21@yahoo.com with any questions or comments.