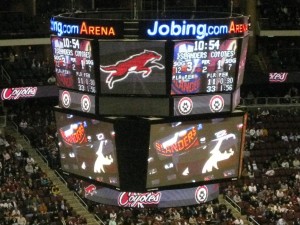 Ladislav Nagy was a three time 20 goal scorer with the Phoenix Coyotes that showed a great deal of promise as a front line offensive talent. Why is he nowhere to be found in the National Hockey League today then?
Scouting Report
"Nagy is a pure offensive winger with terrific anticipation and puck skills. Excels on the power play. Has some aggression in him and can take some bad penalties. However, he's not a big guy and can't out-muscle a lot of d-men." (Ulf Andersson, Elite Prospects)

"Nagy has plenty of offensive upside, and he is red hot. "You just have to see him once to know he's a good, skilled offensive player," an Eastern Conference scout says. Nagy is a pure goal scorer with a creative side and the courage to attempt imaginative plays–a combination some talented players lack." (The Sporting News)
Time with the Coyotes
Ladislav Nagy was originally a draft pick of the St. Louis Blues, drafted 177th in the 1997 NHL Entry Draft. He was acquired by the Phoenix Coyotes when they traded Keith Tkachuk to St. Louis in March 2001 for Michal Handzus, Ladislav Nagy, Jeff Taffe and a 1st round pick in 2002.
He played six games following the trade for the Coyotes getting his feet wet with one assist. The following season he began a run of three straight years scoring 20 or more goals for the Coyotes. During those three seasons Ladislav Nagy was an effective contributor scoring at a rate of 0.72 points per game.
After contributing at a rate of 0.33 goals per game from 2001-02 to 2003-04 Ladislav Nagy appeared to lose his scoring touch to an extent. Between 2005-06 and 2006-07 with the Coyotes he dropped to 0.21 goals per game, with his low point being just eight goals through 55 games in 2006-07.
It was clear by the mid-way point of the 2006-07 NHL season Ladislav Nagy's act was wearing thin on then Coyotes head coach Wayne Gretzky. An article from Adam Proteau in November 2006 has a revealing quote from the ex-Coyotes coach.
Early contender for quote of the year award goes to Wayne Gretzky, who had this to say about benching Ladislav Nagy in the third period of Phoenix's 4-0 loss to Minnesota Friday.

"I think it's pretty obvious," Gretzky said, referring to Nagy's unbelievably dumb decision to skate off the ice on a 2-on-1 shorthanded rush that led to the Wild's third goal of the game. "I didn't think I was gonna miss his three goals this year in the third period."

Ouch. I'm guessing that Nagy, an unrestricted free agent this summer – and a healthy scratch for Phoenix's 2-1 Saturday night win over St. Louis – will be turned into an ex-Coyote long before then."
Traded away
With this drop in production and Nagy at age 28 the Phoenix Coyotes decided it was time to shop him around the league. Especially in light of the fact that they had missed the post season for the prior four seasons the trade of Ladislav Nagy would net some needed rebuilding assets.
With that in mind the Phoenix Coyotes traded Ladislav Nagy to the Dallas Stars in February of 2007 for a package of Mathias Tjarnqvist and a first round pick in the 2007 NHL Entry Draft.
That first round pick would net them Riley Nash who was later traded to the Edmonton Oilers for draft picks that became Nick Ross and Joel Gistedt.
Neither Ross nor Gistedt ever saw time at the NHL level for the Coyotes and Tjarnqvist would play 108 games as a Coyote contributing only 20 points. Overall the trade did not net any true value for the Phoenix Coyotes.
Other NHL stops
The Dallas Stars had traded for Nagy hoping to boost their chances in the Stanley Cup playoffs. However he was only able to put together a lone goal and assist in seven playoff games.
The following season he signed a one year contract with the Los Angeles Kings, however injuries limited him to only 38 games.
This would be his final NHL season and over these two seasons his goal scoring rate continued to decline to 0.19 goals per game. The Kings were clearly disappointed by Nagy's impact or lack thereof on the team that season as indicated by Jon Rosen.
"The Los Angeles Kings didn't make a huge singular free agency splash in the 2007 off-season, though they did sign four players who enjoyed varying degrees of success with the team. On the less productive end of the spectrum was Ladislav Nagy, who posted 26 points in 38 games but missed much of the season due to a neck injury."
Across the Atlantic
After earning over 11 million dollars during his seven year National Hockey League career, Ladislav Nagy signed a two year contract with Cherepovets of the Kontinental Hockey League at a rate of 2.8 million dollars per season in August 2008.
This was only just under one million dollars less than he was paid by the Los Angeles Kings the prior season.
His original intention was to get healthy and show that he can still be an impact player in the NHL according to Andy Strickland.
"Nagy has left the NHL after signing a contract with Cherepovets in the Russian Kontinental League. Nagy has dealt with a few injuries recently and wants to prove he can stay healthy before returning to the NHL."
He has just finished his sixth season over in Europe after leaving the NHL. He spent four seasons in the KHL at 0.17 goals per game, two seasons in the Swedish Elite League at 0.26 goals per game, one season in Slovakia at 0.50 goals per game and last season he played in the Finnish Elite League scoring 0.35 goals per game.
During the past six seasons Ladislav Nagy has also played 51 games for the Slovakian National Team and has been a valued contributor scoring 0.39 goals per game.
Judging by his lower goals per game totals in the KHL and the Swedish Elite League he would not be a valuable offensive contributor at the NHL level. Nagy would have to reinvent his game in order to make the NHL again, however that is a very unlikely possibility.
His general manager, Jari Kurri, in the Finnish Elite League when he played for Jokerit was very pleased in signing him.
"Nagy's team attack from the skill, speed, intrigue and solution strength. He has played in the world's toughest leagues, and the Slovak national team. We are confident that he is very helpful to us."
His future
Currently he appears set to play for HC Slovan Bratislava in the KHL next season. There have not been any rumors of interest in Nagy from across the Atlantic in the NHL. He appears destined to play out his career in Europe at this point where he is a valued offensive contributor.