After releasing their final rankings for the 2014 NHL Draft, some goalies might have found themselves descending or ascending CSS's list based upon the way that they finished off their respective 2013-2014 hockey seasons. Regardless of where certain goalies found themselves on CSS's final list, there were a number of goalies that seemingly came out of nowhere to usurp goalies that had made the midterm rankings.
While goalies such as Thatcher Demko, Alex Nedeljkovic, Mason McDonald, and Brent Moran will likely be considered the best available North American netminders at this year's draft, the goalies that soared into CSS's final rankings certainly could garner a fair amount of interest from NHL teams over the next several weeks. Despite the fact that only a select amount of the thirty goalies on CSS's list will be chosen at this year's draft proceedings, there is no doubting the fact that a number of these young netminders have the skill sets necessary to becomes successful professionals one day.
Late Season Surprises
Kevin Reich (Dubuque Fighting Saints – USHL)
Kevin Reich made a well-earned jump in the CSS rankings with his play in the USHL for the Dubuque Fighting Saints. Even though Reich didn't play in a full USHL season, he appeared in 21 games for the Saints during the '13-'14 campaign and registered a 3.02 GAA and a .897 Save Percentage.
Although Reich's stats could be considered middle of the pack amongst goalies in the USHL, the netminder did have an impressive showing in the playoffs as he played in all seven of the Saints' postseason match-ups. While Reich's statistics in the playoffs (2.88 GAA, .892 Save Percentage) might not look all too impressive, there is a certain amount of merit that the goalie should receive for standing tall against the Cedar Rapids RoughRiders and the eventual Clark Cup winning Indiana Ice.
Given the fact that Reich did not make the CSS midterm rankings and wound up being the number five North American netminder on the Scouting Service's final rankings, there definitely is an upside to Reich.
Dubuque goaltender Kevin Reich is the 5th ranked North American goaltender on NHL CSS Final Rankings. Top ranked USHL goalie.

— Zack Fisch (@zackfisch) April 8, 2014
Seeing as how Reich is the third heaviest goalie in terms of weight in this draft class – only Landon Bow and Kaapo Kahkonen weighed more – it sure looks as though he has properly filled out his current 6′ 1.25″ frame. Reich will have to keep making some adjustments as he keeps adapting to play in North America, but it sure seems as though he has the mold of a goalie that can translate his success from the European developmental leagues to those in the U.S. and/or Canada.
Joel Daccord (Cushing Academy – High-MA)
Another goalie that jumped the CSS rankings in April was Joel Daccord. Sure, Daccord was only playing in his junior year of prep hockey – his second at Cushing Academy – but he made enough of an impression to jump up the rankings and into the no. 14 spot.
During the course of the '13-'14 hockey season, Daccord managed to appear in 32 games for Cushing Academy and played to the tune of a 2.58 GAA and .923 Save Percentage. While the 6′ 2″ goalie might be the same height as a number of other North American goalies entering the draft, Al Jensen of NHL.com summarized Daccord's upside in an article:
"'He's a very good positional goalie who plays a quiet, calm and relaxed style,' Central Scouting's Al Jensen said. 'He spreads out well and plays the top of the paint on most shots, has excellent balance in his stance and lateral movements. He's got great instincts, reads and reacts very well and reminds me a lot of the way Curtis Joseph played.'"
Daccord comes from a hockey family as his father, Brian Daccord, was a former NCAA and NLA goalie as well as a goaltending coach in the NHL and DEL. With Daccord being drafted by the Saint John Sea Dogs, the goalie will have to adjust his game to the pace and play of the QMJHL, but it will likely be a smooth transition as the goaltender has a solid pedigree that will only help him in his development.
Logan Halladay (Janesville Jets – NAHL)
Logan Halladay is slated to play in the USHL for the upcoming hockey season as a member of the Bloomington Thunder and will likely travel to the University of Minnesota for the '15-'16 NCAA season after committing to the University. Despite not being ranked in CSS's midterm list, Halladay was certainly on the radar for a number of scouts.
Per NHL scout, lots of clubs watching Logan Halladay, despite not being on Central Scouting ratings. Story to come for @NAHockeyReport.

— Bill Meltzer (@billmeltzer) March 18, 2014
Not only did Halladay ascend the draft rankings in stunning fashion, he  also became the third NAHL goalie to make the final rankings as he joined Chase Perry and Kasimir Kaskisuo in CSS's top 20 North American goalies. Halladay's strong play also earned him a spot on the NAHL 18U Selects Team this year, and it was plain to see from the netminder's numbers (31 GP, 2.26 GAA, .932 Save Percentage) that he made solid progress during his stint in the North American Hockey League.
Among the factors that probably made Halladay an interesting prospect were his puck-handling abilities as well as his prowess with tracking the puck and plays on the ice. Although Halladay might be a bit undersized at 6′ 0.5″, the goalie makes up for any lack of size with his athleticism, vision, and determined work ethic. 
Jeffrey Smith (Powell River Kings – BCHL)
The second BCHL goalie to make it onto CSS's final rankings, Smith joined Alec Dillon in the top 30 list after a spectacular '13-'14 hockey season. Smith played in 34 regular season games for the River Kings and amassed a 2.25 GAA and .923 Save Percentage before appearing in nine playoff games and compiling a 2.98 GAA and .900 Save Percentage. 
As a rookie playing in the BCHL, Smith certainly excelled in his first year as he posted three shutouts and shouldered a sizable workload. Considering the fact that Smith switched positions (defense to goaltending) at an older age, the transition has not held him back from continuing his hockey career.
With Smith committed to UMass-Lowell for the upcoming hockey season, the goalie will likely get a decent amount of reps with his new team – especially if he will at some point become the heir apparent to Connor Hellebuyck. Making the jump from BCHL to NCAA hockey will be one of the story-lines to follow in relation to Smith's upcoming season, but if history has proven anything, then it is the fact that Jeffrey Smith could adapt to his surrounding environments with relative ease.
Jordan Papirny (Brandon Wheat Kings – WHL)
For an individual that only played in three WHL games during the '12-'13 hockey season, Jordan Papirny definitely opened some eyes with his solid play during the '13-'14 WHL campaign. Papirny played in 46 games for the Brandon Wheat Kings and registered a 3.28 GAA and .900 Save Percentage – which is quite impressive given the goalie's increased workload from the prior season.
Papirny had his fair share of success during the regular season, but he certainly didn't check his play at the door once the Wheat Kings advanced to the WHL playoffs. Papirny had a very impressive showing against the Edmonton Oil Kings and was able to play to the tune of a 3.45 GAA and .914 Save Percentage in nine postseason games for Brandon.
Facing a plethora of shots during the playoffs didn't rattle Papirny, and it is easy to see why the goalie has been held in high regards in some hockey circles.
@bryceunger91 @jordanpapirny I don't think you are taking a chance by selecting him. Strong play & I like his potential. Competes+++.

— Craig Button (@CraigJButton) April 10, 2014
When the Brandon Wheat Kings decided to use their first round pick on Papirny a few years ago in the WHL Bantam Draft, they sure invested lots of stock into a young goaltender – but that move has certainly paid dividends for them thus far. Whether or not Papirny will be selected at this year's draft is yet to be seen, but there is definitely a level of competitiveness that the goalie exudes when on the ice.
Jack Flinn (Owen Sound Attack – OHL)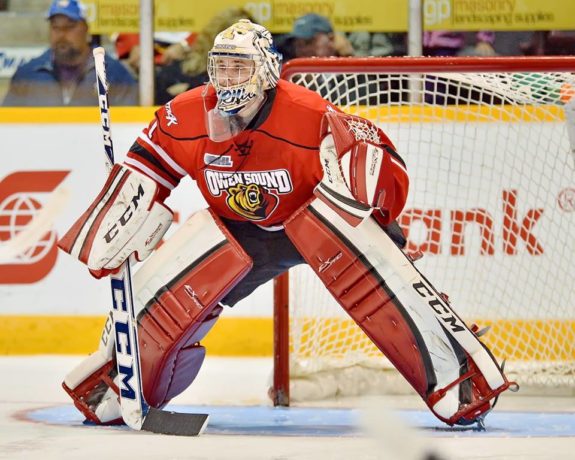 Standing tall at 6′ 7.25″, it's safe to say that Jack Flinn caught the eye of scouts during the second half of the OHL season. Even though Flinn didn't have the best statistics (21 GP, 4.01 GAA, .894 Save Percentage) in his first OHL campaign, he still showed signs of improvement from his first stint in the CHL with Sherbrooke Phoenix of the QMJHL.
Flinn might need to fill out his frame a bit more, but that will undoubtedly happen as a natural progression in the goalie's development. While Flinn will need to round out his game a bit more, he certainly seemed to settle in quite nicely as the OHL season progressed. Since Flinn possesses the height and size that NHL teams covet for prospect goaltenders, a lot will hinge on Flinn's upcoming season as the goalie will probably see an increased workload in his second year of OHL play.
A Meteoric Rise
Predicting which goalie will be selected at which stage of the draft is something that few, if any, people could properly forecast. With this season's draft class being stocked with North American and European netminders, there will undoubtedly be lots of choices that NHL teams will have when it comes to selecting a potential goaltender of the future.
While many of the top goalies on CSS's final rankings will likely be highly coveted by NHL teams, there are definitely some gems that one could find further down on the list. Wherever the aforementioned North American goalies wind up this year, there certainly is enough reason to talk about these masked men that seem poised to make an impact at any stage of play.