This new column will examine what happened in the previous week of the NHL. Focusing on players who are producing great numbers that may be flying under your radar, as well as stars who aren't living up to expectation.
Last Week's Heroes:
Mikael Backlund – Owned 1% of Yahoo leagues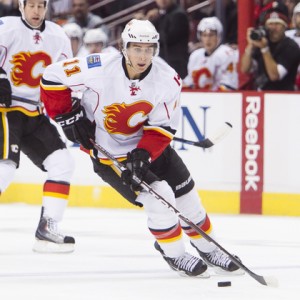 Backlund was red hot for the Flames last week, posting one goal and four assists in three games played. The Flames have four games next week and Backlund might be a productive buy-low option for weekly pools. It is worth noting that prior to this week Backlund only had one point in thirteen games. He is only owned in one percent of Yahoo leagues, but is not producing enough yet to consider picking up for your keeper league. Over his last three seasons in the NHL Backlund has averaged around half a point per game. He is a streaky player that looks to be getting hot.
David Desharnais – Owned in 29% of Yahoo leagues
David Desharnais doubles down. #WPGvsMTL #HometownHockeyhttps://t.co/6DMBvzAN2c

— NHL (@NHL) November 2, 2015
Desharnais has had a great start to his season with the Habs. He is averaging nearly a point per game with 14 points in 16 games. Last week he was particularly strong, posting five points in four games with a plus-four rating. Desharnais is definitely worth adding in weekly pools. He is only owned in 26% of Yahoo pools. With time on the power player Desharnais looks to be a reliable option to pick up in keeper pools as well.
Kyle Palmieri – Owned in 38% of Yahoo leagues
Palmieri has been excellent so far this year for the Devils. He had three points in five games last week for the Devils giving him 12 points on the year – second on the Devils in scoring. He plays nearly 17 minutes a game and he's getting time on the second power play unit. Palmieri also adds value in extended point category pools, with 11 PIM. Palmieri may not keep up his current pace, but will likely set new career bests this year.
Last week's Struggling Players:
Patric Hornqvist
Hornqvist was great last year for the Penguins putting up 51 points in 64 games. He's struggled early on this year only managing four points in 14 games. The Penguins offseason addition of Phil Kessel hasn't helped Hornqvist's fantasy value. Hornqvist has been playing on the third line in Pittsburgh but is still playing on the number one power play unit. In three games last week Hornqvist had no points and was a minus-four rating. If you own him keep an eye on him, as he's not putting up anywhere close to his usual 50-point potential.
Nick Foligno
Foligno had a breakout season last year posting 31 goals and 73 points for the Blue Jackets. This year he hasn't been so hot managing only one point in three games last week and only two points in his last 10. He is minus-eight on the year with six points in 14 games. Foligno will likely pick up his play, but if his play does not pick up he might be decent trade bait.
Jakub Voracek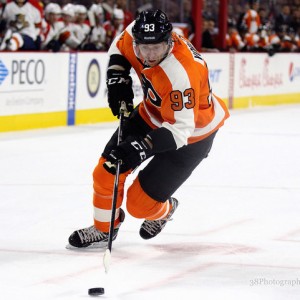 Voracek has been having a tough time consistently putting up numbers this season. He has no goals through 12 games this season and is a minus-five. Despite the goose egg in the goal column, Voracek has 54 shots on goal, good for 12th in the league. He has five assists on the year despite being separated from fellow Flyer Claude Giroux's line a number of times. The Flyers are struggling at the moment but Giroux and Voracek will likely be reunited and his production should pick up once that happens.
So there you have it, three unlikely stars from last week along with three stars that are underperforming. Tune in next week for more heroes and zeros.
I am a recent Carleton Journalism graduate with experience working as a sports reporter for The Charlatan, Carleton's campus newspaper and as an editor for Journalists for Human Rights.