The Montreal Canadiens made a minor behind-the-scenes move earlier this week, but it caused a bit of a stir among Habs fans. Travis Yost of TSN tweeted that the Canadiens had hired a sharp data guy, and a few days later it was revealed that Matt Pfeffer had been brought into the organization as an advanced stats consultant.
Analytics have exploded onto the scene in the past few years, though they were first met with much backlash from the general hockey fan base. It appears they are starting to become more main stream, as even NHL.com has embraced the use of "enhanced" stats on their webpage.
Many doubters didn't see the use of mathematics in hockey analysis as a valuable tool, but once the demise of the 2013-14 Toronto Maple Leafs was predicted by statistics, and several NHL teams hired analytics guys last summer, the use of math in hockey has become commonplace.
After all, math, especially statistics, is just sorting and listing events that took place. It can be applied to predicting things much more complicated than a game, so why shouldn't it work in hockey?
The Canadiens had a solid season last year, winning 50 games, finishing with 110 points and defeating a tough Ottawa Senators team in the first round of the playoffs. They ultimately lost in the second round to the Tampa Bay Lightning in six games, after falling into what proved to be an insurmountable 3-0 hole.
However, though the Canadiens had a great regular season, when Pfeffer looks at the numbers in depth, he will find a much different picture than the one you would expect from a team that was in the President's Trophy hunt.
Looking at the Habs' Corsi percentage, which simply measures the number of shot attempts taken and the number allowed, Montreal ranked 22nd last year among the 30 NHL teams. This tells us that the Canadiens spent a lot of time in their own end last season, and though they won 50 times in the regular season, it suggests goaltender Carey Price had a lot to do with the team's success.
If Price Is Merely Great In 2015-16, Habs Are Doomed
If you watched the NHL Awards in Las Vegas on June 25, you witnessed history as Price became the first player to win the Hart Trophy, Jennings, Vezina and Ted Lindsay Award all in the same season. Having a great goaltender is one thing, but relying on that goaltender to win games night after night is a recipe for eventual disaster.
The Canadiens will have Price again next season, but if he slips from extraordinary to great, the team is in for a steep decline, especially when you look at the few changes they have made to the roster.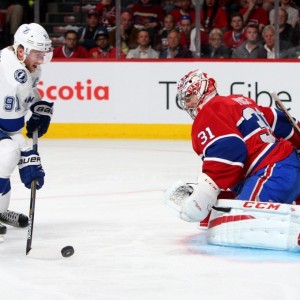 Up front, the only move that the Habs have made involved swapping left winger Brandon Prust for right winger Zach Kassian. The latter is younger and cheaper than Prust, but he has not lived up to expectations since the Buffalo Sabres drafted him 13th overall in 2009.
Since the Habs are going to be using a very familiar lineup next season, they are going to have to find a way to put those players in the best situations. The Canadiens made some puzzling decisions with player usage last season, and clearing that up will optimize their lineup and get even more out of the same group of skaters.
The most puzzling decision continues to be head coach Michel Therrien's insistence that David Desharnais is the team's first line center. The 5-foot-8-inch pivotman scored the seventh most points per 60 minutes of even strength ice time last season among Canadiens, yet his most frequent linemate was Max Pacioretty, who is by far the team's top forward.
Though Pacioretty and Desharnais post solid possession stats when on the ice together, they are also more sheltered with offensive zone starts, and the possession is highly driven by Pacioretty, not the center. Pacioretty played over 705 minutes with Desharnais, and they had a Corsi of 53.5 percent when on the ice together.
Increased Role For Eller Would Lead To More Scoring
Though he was rarely centred by Lars Eller, in the 30 minutes of even strength ice time together, Pacioretty and Eller posted a Corsi of 60.0 percent. This while literally never taking a faceoff in the opposing team's zone together last season. It is a tiny sample size, but it appears Eller is a much better fit with Pacioretty than Desharnais ever was, and worth a much longer look as Pacioretty's full-time center.
Speaking of Eller, he has proven to be an excellent third-line center and penalty killer, but it seems illogical that he never gets to center one of the top two lines. Eller's most frequent linemates last season were Jiri Sekac, who was traded midseason, and Prust, who was traded last week.
Eller posted okay possession stats, including a 47.5 Corsi percentage, but he started 39.9 percent of his shifts in the defensive zone, while playing with grinders like Prust and Devante Smith-Pelly. When Eller had more offensive linemates, like P.A. Parenteau, they combined for 51.0 percent of possession, and he completely dominated in his short stints with Pacioretty.
@RobElbaz There's nothing wrong with Eller's offense that a different role wouldn't solve. Dude carries the third line.

— Mathieu Roy (@Le_Matheux) June 16, 2015
When Eller last played a more balanced, two-way role and not only a completely defensive position, he set career highs in points with 30, which came in just 46 games in the lockout-shortened 2012-13 season. Eller played primarily with Alex Galchenyuk, who was an 18-year-old rookie that season, and either Prust or Brendan Gallagher. He proved to be a solid two-way threat, but hasn't been given a chance to play an offensive role at all in the past two seasons.
Time To Free Up Galchenyuk In More Offensive Situations
Speaking of Galchenyuk, there has been a lot of talk that he needs to be moved to center, but he has been posting solid stats as a left winger. He played primarily with Tomas Plekanec and Gallagher last season, and though it put Galchenyuk with defensively responsible players, it also put him in defensively responsible situations.
Why not unshackle Galchenyuk, who ranked fourth on the team in even strength scoring per 60 minutes, just a fraction of a percentage point behind Gallagher and Dale Weise Last year, Plekanec played against the greatest quality of competition of all Habs, and his linemate Galchenyuk came in second. The former third overall pick is an offensive threat who should be in more offensive situations at this point in his career.
@BWildeCTV Not going to flame you! Therrien's loyalty to #Desharnais has held back development of #Galchenyuk as top line centre.

— David Olinger (@David_W_Olinger) June 28, 2015
It is one thing to not give Galchenyuk the best offensive situations at 5 on 5, but even more baffling is that he was not used on the top power-play unit. Galchenyuk was impressive on the power play, where he scored 3.72 point per 60 minutes, placing second among the Habs forwards (behind Plekanec).
At least Galchenyuk was given some opportunity on the PP. Eller has proven to be among the Habs' best forwards with the man advantage for the past four seasons, but was almost never used on the power play last season. This has to change in the future, and should come at the expense of preferential ice time to Desharnais.
The Canadiens are a team that continues to struggle when it comes to scoring goals. Yet, they continue to use Galchenyuk in defensive situations and leave him off the top power play, though he is arguably their best offensive player behind Pacioretty. All the while, Desharnais, a decent yet unspectacular offensive player, is always the first over the boards on the power play.
Where Does Desharnais Fit?
Though he was awarded ice time in the offensive zone and played primarily with Pacioretty, Desharnais scored 1.64 points per 60 minutes, which ranked 173rd in the league. This tied him with former Habs cast-offs Michael Ryder and Mikhail Grabovski, as well as Peter Holland and J.G. Pageau. Not exactly a who's who of first-line talent in the NHL.
Wasn't obvious? RT @SeanTierneyTSS Desharnais must be one of the lowest ranked 1Cs out there. This is atrocious #Habs pic.twitter.com/MrtdbGl3qS

— HabsWatch (@HabsWatch) July 9, 2015
Though Desharnais is not worthy of first-line ice time, this doesn't mean he should be given away. Desharnais didn't play a lot with bottom-six players last season, but when he did, he posted decent possession numbers. Desharnais was above 50.0 percent in Corsi when paired with Weise, Smith-Pelly and Michael Bournival.
It may be a little unconventional, but the numbers show Desharnais could be a decent third-line center between gritty types like Smith-Pelly and Weise. Desharnais also posted positive possession with Sven Andrighetto and Christian Thomas, showing the Habs could build a good third line of young offensive wingers with Desharnais in the middle.
Thomas actually had exceptional possession numbers in his 18-game stint with the Habs last season. He pretty much only played on the fourth line and was not always put in offensive situations, but the puck always found its way into the opposing team's zone when Thomas was on the ice. His 56.4 Corsi percentage is among the best on the Habs last season and he deserves much more than the 160 minutes he played last year.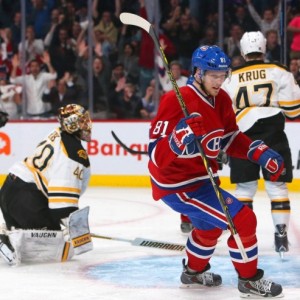 All of this shows that the Canadiens new advanced stats hire will be suggesting an increased role for both Galchenyuk and Eller, and a decreased role for Desharnais. Plekanec and Gallagher both drive possession while playing against difficult competition and should be part of a great two-way line with Pacioretty.
This would open up Galchenyuk to play in more offensive situations with Eller and newcomer Zach Kassian, though they could definitely still be counted on defensively, as well. Desharnais would be left to center a third line with Weise and Smith-Pelly, a decent playmaker between two rugged wingers who have shown flashes of offense in the past. The fourth line would be Torrey Mitchell at center with Jacob de la Rose and Christian Thomas.
The Canadiens lost a good penalty killer when Prust was shipped out, but 19-year-old De la Rose will be a great replacement. The Habs already have a top PK line with Pacioretty and Plekanec, and Eller with Prust was a great second forward pairing. Prust was valuable, and the Habs had a Corsi Against Per 60 Miniutes of 91.77 when he was on the ice in shorthanded situations. De la Rose didn't play as often as Prust while down a man, but he helped reduce CA/60 to 73.33 when he was on the PK.
What Are Ideal Defence Pairings?
As for the defence pairings, it is imperative that the Habs split the duo of Alexei Emelin and Jeff Petry next season. They posted a putrid 38.7 Corsi percentage in 139 minutes together. Petry was excellent in short stints with both Nathan Beaulieu and Andrei Markov, and should stay in the top four with those left shots, as well as P.K. Subban.
@patrick__tallon exactly. Time to put some trust in the next generation of #Habs. Eller, Chucky in top 6. Beaulieu with PK on top pairing

— Father of three (@CJ_Casselman) June 10, 2015
Subban is the undisputed No. 1 guy and will likely stick with Markov, though the 36-year old could use a demotion to keep him rested for the postseason. This would put Beaulieu on the top pairing with Subban, while Petry and Markov serve on the second pairing. Emelin and Jarred Tinordi would battle for ice time as the left shot on the third pair, while Tom Gilbert and Greg Pateryn will do the same on the right side.
Markov was excellent on the power play, scoring 5.21 P/60, good for 9th among NHL defensemen last season and should stay on the top unit with Subban, while Beaulieu and Petry team up on the second PP line. Markov was also good on the penalty kill last season, but youngsters Tinordi and Pateryn had nice showings while down a man last year and should help spread out the tough minutes.
The Canadiens had a great regular season last year, but heading into next season with the same lineup could prove to be disastrous. What they can do is optimize their lineup by reducing the ice time on Desharnais, Emelin and Markov and giving Eller and Galchenyuk more offensive roles. They were a low-scoring team, so getting their offensive players on the ice in offensive situations is going to be imperative next season.
It appears Therrien thinks that Desharnais is one of his top offensive players, but the numbers tell a much different story. Math and hockey haven't been partnered together until recently, but it can happen and can tell us who should be on the ice in every situation for Montreal.
Let's hope Pfeffer can convince Therrien that dusting off his old math books will make the Canadiens a much better team next season.