A Historic Start
For only the 2nd time in the history of the Columbus Blue Jackets franchise, the team is off to a 2-0 start.  The only other time that this was accomplished was back in the 2009-2010 season where the Blue Jackets won their first 2 games, but then lost their next game.  In that season, they won 5 of their 1st 6 games, before finishing the season 32-35-15.  A win on Tuesday night against the Dallas Stars at Nationwide Arena will ensure that the Blue Jackets get off to their best start in franchise history.  As great as that would be for the team, they are looking to do bigger and better things.
But what do we make of this 2-0 start?  Is this a sign of things to come for this season, or is it too early to tell?  Given the current state of the team, with key injuries to guys like Nathan Horton, Brandon Dubinsky, Boone Jenner, and Ryan Murray, it is an encouraging start.  But we do need to be careful.  The 1st game was against arguably one of the worst teams in the NHL in the Buffalo Sabres.  The 2nd game was their home opener against the Rangers.  The Rangers were missing key guys as well due to injury, and backup goaltender Cam Talbot played in the game (since it was their 2nd game of back to backs).  Still, there are many positives to take away from these 2 games.  We will now explore the things that stood out in the Blue Jackets 1st 2 games.
The 4th Line Sets The Tone
This was one of the major storylines of Blue Jackets training camp.  Who would emerge from the pack to play on the 4th line?  Brian Gibbons is now on injured reserve.  Jerry D'Amigo was waived, and then sent down to Springfield of the AHL.  Both of which couldn't distinguish themselves during training camp.  Jared Boll was already slated to be on the 4th line.  Michael Chaput had a great training camp.  His effort earned him a spot on the team centering the 4th line.  Then the New York Islanders waived former Blue Jacket player Jack Skille.  This opened the door for the Blue Jackets to bring him back, which they did via a waiver claim.  He joined Boll and Chaput on the 4th line to open the season.  I had high hopes for this going in, since Boll knows the system, Chaput worked hard to earn his spot, and Skille used to be slotted on the top line.  The end result?  They were the best line in Buffalo, and played a solid game against New York.  In fact, the Blue Jackets 4th line played a majority of the game against the Sabres 1st line, and won.  Jack Skille opened the scoring by executing a perfect water bottle shot.  It was a thing of beauty.  It set the tone for the rest of the night.  Although they were not as noticeable against the Rangers, they were still very steady.  If this line can play like this all season, the Blue Jackets will be a major contender in the Eastern Conference.
#CBJ Jack Skille with the breakthrough. A wrister from the right circle. 1-0 at 13:21 of 2nd.

— Aaron Portzline (@Aportzline) October 10, 2014
Ryan Johansen
For all that happened this summer with his contract situation, all eyes were on Ryan Johansen to see how he would play.  Reportedly, upper management was not happy with his conditioning.  So what does he go out and do?  He more than holds his own. He earned at least a point in both games.  He won 65% of face offs in both games.  Although he did cramp up near the end of the Buffalo game, he did his part.  It was an extremely impressive effort, when you consider he had one practice prior to playing in the regular season opener.  He's gonna be a good one.
The Young Guns Wennberg and Dano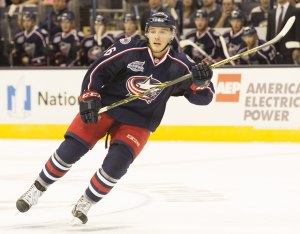 Thanks to key injuries, both Alexander Wennberg and Marko Dano were pressed into action for the Blue Jackets.  They make up 2 of the 3 1st round picks Columbus had in 2013.  A big question going in was, were they ready to play in the NHL, now?  The answer became pretty clear early in the Buffalo game.  Each player more than held their own, even though both players switched lines midway through the game.  I asked coach Todd Richards about the switch after the game, as he had hinted that line shuffling was a possibility.  The move was made as a result of a bunch of early Blue Jackets power plays, and trying to get Wennberg back in the game.  They each didn't miss a step.  Wennberg notched his first NHL point by assisting on Cam Atkinson's goal.  Dano followed up his solid effort in Buffalo by notching his first NHL goal against the Rangers.  It was truly a special moment for him, as his family was at Nationwide Arena for the game.  These 1st 2 games have given us a glimpse of just how bright the future is in Columbus.
The Blue Jackets Had An Arty Party
A major contributor in both games was Artem Anisimov.  He notched a goal in both games, showing off how skilled he is.  The shot he unleashed against his former Rangers was a thing of beauty.  He blasted a slap shot that hardly anybody would have stopped.  This was an encouraging sign to see.  He has always had flashes of brilliance.  He has had the ability to take over games, but not on a consistent basis.  It's early, but these 2 games have shown that Anisimov is on a mission to have a career season.  He's off to a great start.
What's On Tap
The Blue Jackets enjoyed Sunday off in Columbus after their 5-2 win over the Rangers.  They returned to the ice Monday in preparation for Tuesday's game vs. Dallas.  Nick Foligno didn't take part in practice.  Coach Richards stated it was a maintenance day and he expects Foligno to play on Tuesday.  According to the Dallas News, Val Nichushkin left practice early and is questionable for Tuesday.  The Blue Jackets have a nice opportunity sitting in front of them.  Dallas is off to a slow start.  Friday, the Blue Jackets host Calgary, a game they should be favored to win.  Then they travel to Ottawa the next night.  These games are all winnable.  It will be interesting to see if the Blue Jackets can win these games they are expected to win.  They'd better, because their California road trip comes up after the Ottawa game.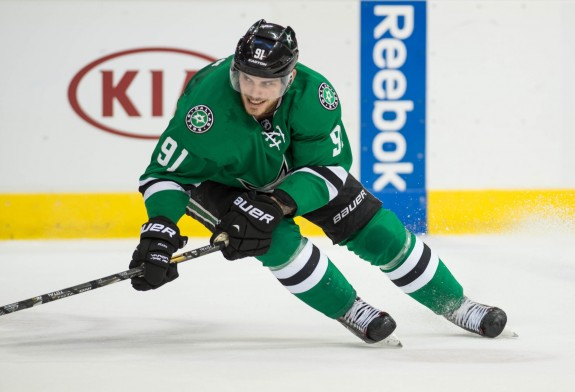 If the Blue Jackets can win on Tuesday against the Stars, it will mark the 1st time in franchise history that the team will have started 3-0.  Expect to see the same lineup as the 1st 2 games.  Ryan Murray has been ruled out for a 3rd straight game, but did practice in full on Monday.  He is close to returning, but is in no rush, given how hard the summer was for him.