What's long been speculated came to fruition on Wednesday as Glen Sather stepped down as the General Manager of the Rangers after 15 seasons at the helm. While Sather will remain the team President, Jeff Gorton – who's been with the organization since 2007 – has been named his successor and will be the 11th GM in franchise history.
End of an Era
Despite ultimately being unsuccessful in bringing the Stanley Cup back to New York during his time as General Manager, Sather leaves the post having done a lot of good for the organization.
After missing the postseason in each of his first four seasons as GM, Sather went on to assemble teams which went on to qualify for the playoffs in nine of the next 10 seasons. Three times those Rangers squads which he put together went as far as the Eastern Conference Final (2012, 2014, 2015), and in 2014 they reached the Stanley Cup Final before falling to the Kings in five games.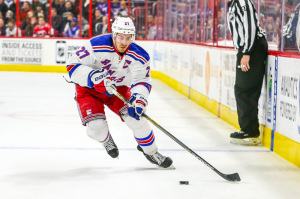 While Free Agent signings weren't always his forte, Sather had a magician-like way with trades, most notably the deal which sent Scott Gomez to Montreal in exchange for, among other assets, Ryan McDonagh.
That's right, fans and observers alike have Mr. Sather to thank for both the Captain, and a decade of high quality, competitive hockey in New York.
In the salary cap era where winning and consistent competitiveness has become harder and harder to come by, Sather made it happen in New York. That, if nothing else, deserves to be recognized, even if he is leaving Gorton with a rather sticky cap situation this summer.
Are Changes Really In Store?
So what does Sather passing the torch over to Gorton really mean for the Rangers?
Probably nothing.
Despite a brief tenure in Boston, Gorton has spent the majority of his hockey management career with the Rangers, as he's been with the team since 2007.
Over the past eight seasons he's been right at Sather's side more often than not, and in recent years it's likely that if you've seen Sather, you've probably also seen Gorton.
He has worked under Sather, he's assisted Sather, and he's learned from Sather, and now that he's naturally being promoted to the GM position, he'll continue to lean on his old teacher who's remaining the President of the club.
"We are going to work together…I am going to use Glen as much as I can." – #NYR GM Jeff Gorton

— New York Rangers (@NYRangers) July 1, 2015
So again, are sweeping changes really around the corner for the Rangers? Doubtful, as Gorton will likely double as Sather 2.0.
In addition to the promotion of Gorton, the team also announced Wednesday that Jim Schoenfeld, a long-time member of Rangers management, has been named Senior Vice President and Assistant GM of the team. Schoenfeld will also be the head GM for the Hartford Wolf Pack of the AHL.
OFFICIAL: Jim Schoenfeld has been named SVP and Assistant GM and GM of the @WolfPackAHL. Glen Sather will retain his role as President. #NYR

— New York Rangers (@NYRangers) July 1, 2015
Beyond the changing of a few managerial titles here and there, it should remain business as usual for the New York Rangers.