It's a well-known fact that the Edmonton Oilers went through a near decade of abysmal performances at the draft table. In June 2009, the Oilers' management and scouting staff added to that with several picks that didn't pan out after the team rolled the dice on some long-term projects. With the 2016-17 season underway, just one player from that 2009 Draft is still with the Oilers. The picture is even direr when you see just two of the seven are playing in the NHL at all.
Just Anton Lander remains with the Oilers, while Magnus Paajarvi (the team's top pick that year) is playing with the St. Louis Blues. The Oilers completely missed the mark on five players that never played a minute in the NHL.
Related – Oilers Draft History (HockeyDB)
At that time in Oilers history, the team was inching towards the rebuilding phase but hadn't made that commitment. With the likes of forwards Andrew Cogliano, Sam Gagner, Jordan Eberle and defenseman Jeff Petry and Tom Gilbert in the fold, the Oilers thought they could retool on the fly and build their way back into the playoffs. It helped that they had Sheldon Souray anchoring the blueline and that Dwayne Roloson and Mathieu Garon were in the crease. Garon looked like a goalie on the verge of breaking out and Roloson still looked quite capable. Ales Hemsky was in the prime of his career leading the team in scoring with 66 points in 72 games. Add to that, the Oilers had pegged Shawn Horcoff as their number one center, and he was coming off a 53-point season.
It looked entirely possible that this team could contend for a playoff spot the following year in 2009-10, but the wheels were about to fall off the bus altogether.
Here's the complete listing of Oiler selections at the 2009 draft table:
| | | | | | | | | |
| --- | --- | --- | --- | --- | --- | --- | --- | --- |
| Round | Num. | Player | Pos | Amateur Club | GP | G | A | PTS |
| 1 | 10 | Magnus Paajarvi | L | Timra IK (Sweden) | 279 | 36 | 45 | 81 |
| 2 | 40 | Anton Lander | C | Timra IK (Sweden) | 196 | 9 | 23 | 32 |
| 3 | 71 | Troy Hesketh | D | Minnetonka H.S. | – | – | – | – |
| 3 | 82 | Cam Abney | R | Everett Silvertips (WHL) | – | – | – | – |
| 4 | 99 | Kyle Bigos | D | Vernon Vipers (BCHL) | – | – | – | – |
| 4 | 101 | Toni Rajala | L | Ilves Jr. (Finland) | – | – | – | – |
| 5 | 133 | Olivier Roy | G | Cape Breton (QMJHL) | – | – | – | – |
Magnus Paajarvi (10th Overall)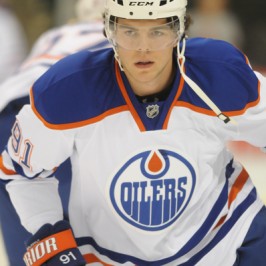 When the Oilers got to the podium with the tenth pick, they had several intriguing prospects available to them. If they went with a forward, they had Paajarvi, a two-way power forward with blazing speed and top-six scoring potential. There was also a Canadian power forward with a nasty streak that had just won a Memorial Cup in Zack Kassian. If they went with a defenseman, they had an offensive juggernaut in Ryan Ellis or a steady Russian defender in Dmitri Kulikov.
The Oilers chose Paajarvi, the best forward available at the time and most of the fan base was excited about the possibility of adding the Swedish star to the likes of Cogliano, Gagner, Eberle, Hemsky and Horcoff to round out a very fast and offensively gifted potential top-six. It didn't exactly turn out that way.
Related – 2009 NHL Draft (HockeyDB)
Fast forward two years and the Oilers debuted Taylor Hall (2010 — 1st overall), Eberle (2008 — 22nd overall) and Paajarvi all in the 2010-11 season to officially kick off the rebuild after the 2009-10 team had the second worst finish in franchise history with 62 points. In his rookie year, Paajarvi scored 34 points in 80 games, but he faltered through his second pro year scoring just eight points in 41 games. His development started to stall, and it was clear evidence of the Oilers putting too much emphasis on youthful exuberance to carry the burden for a team that was struggling to be remotely competitive in the NHL.
This kid has 'Pavel Bure' speed. He's so fast and hits the holes at the right time and has a great shot. I think this guy is a game-breaker. His best asset is definitely his speed.

– Former Oilers Director of Player Development, Mike Sillinger
Paajarvi would then split the next few years in Edmonton between the big club and their American Hockey League affiliates before the team traded him to the St. Louis Blues in the David Perron deal. Perron would have some stretches of success with the Oilers before the team eventually flipped him to Pittsburgh. Paajarvi is now playing inconsistently in the Blues top-nine after undergoing some much-needed redevelopment in their minor league system. Paajarvi has now played 279 NHL games and scored 81 points, with 58 of those points coming with the Oilers.
Anton Lander (40th Overall)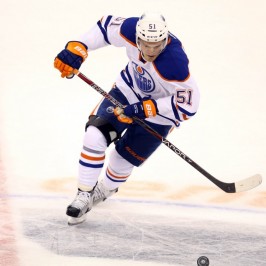 With the 40th selection in the draft, the Oilers decided to take one of Paajarvi's teammates in Timra, Anton Lander. Lander was also heavily heralded as a future two-way defensive center and a steal as he fell into the early second-round of the draft. If you're curious — there wasn't a whole lot available in the next picks after Lander was taken. Zach Budish, Charles-Oliver Roussel, and William Wrenn never played, and both Drew Shore and Jeremy Morin are fringe NHL players at best. It wasn't until 46th overall when the next legitimate NHLer emerged in goaltender Robin Lehner.
The Oilers already had Devan Dubnyk and Jeff Deslauriers in goal and thought the two were blue-chip prospects believing one of the two would emerge as a legitimate starter. So with that in mind, taking Lander wasn't a bad choice. He became a big piece of the puzzle for Sweden at the World Juniors for three consecutive tournaments and garnered quite a bit of luster as a future star.
Related: Is This Lander's Last Year in Edmonton?
The offense never translated into the pro game and Lander has found himself as a fourth-line player with the Oilers. It's taken a longer road, and a big reason Lander is still in Edmonton is thanks to the trust former interim head coach Todd Nelson showed during the 2014-15 season when he took over from Dallas Eakins behind the Oilers' bench. During that stretch, Lander would score 20 points in 38 games with the Oilers and looked like he was ready for regular minutes in the top-nine. He then proceeded to have the worst year of his career, scoring just three points and being a healthy scratch throughout most of the last half of 2015-16.
Lander is an unrestricted free agent (UFA) at the end of the year and his future in Edmonton is very much questionable.
What Happened to the Rest of the 2009 Draft Picks?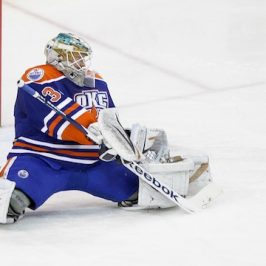 D Troy Hesketh (71st Overall) — In hindsight, the Oilers might've overvalued Hesketh who they thought was a solid defensive defenseman with good upside. They valued his mobility and positioning thinking they had found a gem in the third-round. Critically speaking, they gambled on a 6'2″, 170-pound defender that was playing high school hockey early in the draft.
They got burned when Hesketh joined the USHL and had just one assist in 34 career games. In 2011-12 the writing was on the wall when he struggled with Hamline University in the NCAA playing division three hockey.
---
F Cam Abney (82nd Overall) — Abney was another example of the Oilers overvaluing talent. The organization believed Abney could develop into a power forward and give the Oilers a poor man's Milan Lucic. The problem? Abney's skating was subpar, and he didn't have a whole lot of offensive upside either. Still, the Oilers decided to snag Abney while forwards Cody Eakin, Casey Cizikas and defenseman David Savard were available.
Abney never scored more than 20 points in a junior year playing for the WHL's Everett Silvertips and Edmonton Oil Kings. The Oilers traded Abney to the Toronto Maple Leafs in January 2014 for defenseman Mark Fraser. Abney was held pointless in 18 AHL games but put up 38 penalty minutes and spent a majority of his pro career playing 140 games in the ECHL. He is currently a free agent.
D Kyle Bigos (99th Overall) — At 6'5″, 230 pounds, Bigos was a towering defenseman for the top Junior A team in Canada playing for the BCHL's Vernon Vipers that eventually won the RBC Cup (national title) and led all defenseman in the tournament with nine points in six games. It helped boost his draft stock as he dominated the tournament and was named tournament MVP. That success aside, Bigos was a mediocre defenseman for Merrimack College in the NCAA as the team's number four defenseman.
Once he turned pro he struggled, and the Oilers traded him in July 2013 for another fringe prospect in Lee Moffie. Bigos saw just eight games in the AHL and spent much of his time playing in 102 ECHL games scoring just 26 points. After spending a year overseas, he's currently signed to the ECHL's Idaho Steelheads.
---
F Toni Rajala (101st Overall) — A lot of people were rooting for the undersized Rajala as he was an incredibly skilled forward with agility and a knack for having the puck on a string. At 5'10", 160-pounds, the Finnish forward left Europe and joined the WHL's Brandon Wheat Kings scoring 63 points in 60 games. His junior stint was short-lived as he returned to Finland for the next three years and it took until 2012-13 for the Oilers to see Rajala in North America again.
He didn't disappoint either, putting up a near point per game average at 45 points in 46 games. He also put up 38 points in 29 ECHL games. It was a good campaign, but the problem was his spot on the depth chart. The Oilers already had Nail Yakupov, Taylor Hall and Jordan Eberle playing in the top spots, so Rajala saw the writing on the wall. He ended up back in Finland and never came back. He's currently playing for EHC Biel-Bienne in Switzerland and has been a near point per game player in Europe.
---
G Olivier Roy (133rd Overall) — It looked like the Oilers landed a late round steal. It looked even better two years later when he landed the starting job for Canada at the 2011 World Juniors. That was until he faltered on the big stage and finished with a 3.57 goals against average and a 0.875 save percentage. That's when it became apparent how far off the Oilers draft day projections for Roy were when they selected him.
Roy was incredibly inconsistent once he turned pro and was eventually traded to Calgary along with Ladislav Smid in the deal that landed the Oilers Laurent Brossoit. The Flames buried him in the ECHL hoping a heavy workload would help him develop but after 109 games in the league over four seasons and 44 AHL games, he left for Europe. He's currently playing in the Belarus league for Villacher SV where he's posting respectable numbers.