By Wayne Whittaker, Boston Bruins correspondent.
Just as the New England Patriots signed Tom Brady to a 4-year extension just days before the 2010 season opener, it looks as though the Boston Bruins will try and extend Zdeno Chara's tenure in the Hub before Saturday's season opener against Phoenix.  As reports circulated earlier this week that talks between the B's and their 6'9″ Captain started heating up, the lingering question on everyone's mind is, just how much will the Bruins shell out for the 33-year old former Norris Trophy recipient?
Chara only fueled the speculation when he expressed his desire to play in the NHL for a staggering 11 more years. Now, odds are team owner Jeremy Jacobs and general manager Peter Chiarelli won't be offering any contract that even approaches that length, and realistically Chara can't expect anything different. A more likely scenario would be the Bruins looking at comparable contracts around the league, and then stretching the loopholes in the current Collective Bargaining Agreement for all they're worth.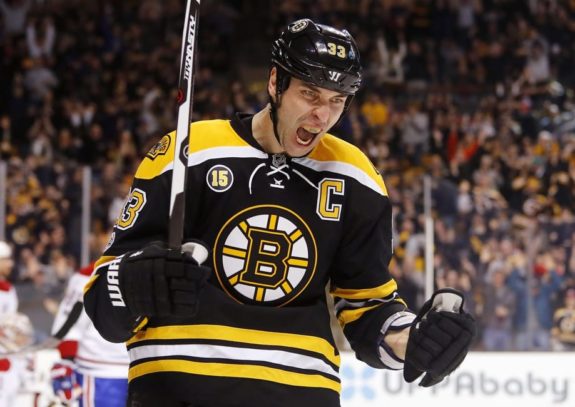 It's no secret that the Bruins are already firmly pressed against the ceiling of the Salary Cap. And although things will open up a bit this off-season with the probable departures of Michael Ryder ($4 million), Marco Sturm ($3.5 million), and Mark Recchi ($1 million), Chiarelli will most likely want to soften the blow as much as he can.
Chara's Contract Comparables
One obvious comparable would be Philadelphia's deal with Chris Pronger. 7 years, $34.45 million with an average cap hit of $4.92 million. Though the league is rapidly closing in on questionable contract signings like this, Pronger's deal was investigated and eventually cleared of any deliberate cap circumvention.
And with the league closely scrutinizing long-term deals like Pronger's, a more likely scenario might be found in Toronto. Dion Phaneuf's 6-year, $39 million (average cap hit of $6.5 million) contract would be considered a relatively "cap-friendly" deal if it was signed by a defenseman of Chara's caliber.
My guess? I think Chara will be locked up for another 5 years, and I look for Chiarelli to aim for a cap hit around $6.5 million.  The deal will most likely be front-loaded, giving Chara a sizable raise for his first few years of service, before slowly dwindling to an average salary.
One possible scenario- 5 years, $34 million:
Year 1: $10 mil.
Year 2: $9.5 mil.
Year 3: $6.5 mil.
Year 4: $4 mil.
Year 5: $4 mil.
Avg. Salary Cap Hit: $6.8 million
During his time in Boston, #33 has seen a franchise go from basement-dwellers to Stanley Cup contenders, and much of that improvement can be traced back to Chiarelli's initial signing of the then free-agent Chara. With just 4 days before the 2010-2011 season begins, the clock is ticking for the Bruins to truly rule out the possibility of a lingering distraction for the B's mountain of a blue-liner.  And while both sides are claiming that nothing is imminent, you've got to think the B's are looking to bring home this lasting souvenir from their trip to Prague.
—
Wayne Whittaker has been a Boston Bruins Correspondent for TheHockeyWriters.com since 2010. As a Berklee College of Music graduate, and Massachusetts native, Whittaker has been around Boston, the Bruins, and the game of hockey his entire life. His work has also been featured in Sports Illustrated, Huffington Post, CBSSports.com, and Yahoo.com.