Christopher Ralph is THW's prospect and draft analyst.
To qualify for this list, a prospect has to be drafted or signed as a free agent and is eligible for the Calder Trophy:
*Eligibility rules (as per NHL.com):

1. 26 years old or younger by September 15 of their rookie season.

2. A player cannot have played any more than 25 games previously in any single season, nor have played in more than six games in two separate preceding seasons in any major professional league.

*This criteria results in probable Top 5 candidate prospects such as Alex Pietrangelo and Nikita Filatov not qualifying for this list, as well as others who would've otherwise placed in the Top 100.
Legend:
POS = Position
Draft:  Year prospect drafted followed by pick number which they were drafted overall
"One-Timer" heading is meant to be a quick and concise synopsis of each prospect. (Some are taken or are excerpts from my draft profiles for the respective prospect.)
Notes:
The list has been compiled with an emphasis on long term, top end potential. NHL readiness is taken under consideration as well.
The pattern of ranking goaltenders particularly tough is evident in my entry draft rankings and is again the case here.
When available, prospects are linked to their respective detailed prospect profile, which I have completed over last couple of seasons. Otherwise, the links will take the reader to HockeyDB.com or Hockeys Future.
As noted above, to qualify for this list, a prospect has to be drafted or signed as a free agent and is eligible for the Calder Trophy
The Top 100 will be released in a series of 4 articles.
After the Top 100 prospects have been released, stay tuned for a mega listing of the Top 250 NHL prospects in a searchable and sortable table format. Find out which players narrowly missed getting into the Top 100 rankings.
*This article contains prospects ranked 26 to 50.
* To view prospects ranked 51 to 75, click here for Part 2.
*To view prospects ranked 76 to 100, click here for Part 1.
RANK  PROSPECT                               TEAM  POS     DRAFT
26 Lars Eller MTL     F          2007-13th
One-Timer: Eller is in the process of making a strong case for himself to be a key element in the Habs lineup right from the get go this season. THW's own Habs correspondent and voice of morning sports on the Andrew Carter Morning Show on CJAD 800 and cjad.com., Abe Hefter, chimed in on Eller this week:
"The Habs are hoping that Lars Eller, the other half of the package to come to Montreal for Halak, is.  Eller has been interesting to watch during the pre-season. He's been accused of being lazy by some, while labelled as crafty by others.  He did manage to pick up three assists in Montreal's 6-2 win over the Florida Panthers last night, but it might have been the quietest three-point performance I've seen in some time.  Regardless, Eller is still with the big team, and the Canadiens will give him as much rope as he needs to prove to hockey fans in this town that they picked up a bona-fide NHLer when they sent their best player in the post season, to the Blues."
The playmaking, versatile forward who is equally adept playing the wing or center, was second amongst AHL rookie scorers last season, his first in North America. To close out the season, he was sparking, scoring 21 points in his last 18 games, with a plus 7 rating.
27 Derek Stepan NYR     F          2008-51st
One-Timer: To say Stepan's stock has sky rocketed this past season, might even be an understatement. He continues to make headlines this preseason, as Rotoworld notes:
"Derek Stepan recorded a goal and an assist in New York's 5-1 win over Detroit on Wednesday night. He lost 10 of 15 faceoffs in the contest, but is challenging for a roster spot to start the season."
All he did last season was captain Team USA to gold at the WJCs, leading the tournament in scoring along the way with 14 points in 7 games and a plus 9.  All he did in the NCAA was lead Wisconsin in scoring and helped bring them to within one game of the national championship.
Though not overly big, Stepan is deceptively strong. He is an excellent playmaker, savvy puckhandler and very poised. Derek is also an effective defensive forward, making him an all-around threat.
28 Brendan Smith DET      D          2007-27th
One-Timer: Smith and Stepan happen to go back to back in these rankings. Their connection is inevitable as well. Like Stepan, although Brendan is a former 1st round pick, he has absolutely exploded both production-wise and developmental-wise this past year. He emerged as the top scoring defenseman in the NCAA with a phenomenal 52 points in 42 games. With Stepan, he helped bring Wisconsin to within one game of the national championship.
While he has impressed in training camp, as per Red Wings protocol he will likely spend some seasoning in AHL. This will definitely be good for Smith to help further develop his strength and defensive game, as well as maturity on and off the ice (he has had some off-ice incidents over past couple of years).  He is a tremendous skating, puckmoving blueliner with unlimited offensive upside. Perhaps inevitable, but he has been favourably compared to Nik Lidstrom in training camp. Red Wings fans can only wish…but Smith sure does seems like another crafty pick.
29 Emerson Etem ANH    F          2010-29th One-Timer: This is likely a higher position where most would see him ranked. He definitely has a lot developing to do, but with his blend of speed, scoring ability and ability to effectively shield the puck, I predict he will have Ducks brass even more ecstatic that they were able to land him at the end of the 1st round in the 2010 draft. Etem played for one of the best coaches in the CHL last season in Willie Desjardins who marvels over the explosive forward: "Emerson is a great skater who opens up the ice real well. He is a real professional already. Everyday he prepares like a pro. His biggest strength is he wants to improve as a player. When you tell him something he is prepared to do it." (NHL.com)
In his WHL rookie campaign, Etem scored 37 goals. Dynamic skating speedsters with a goal-scorer's touch are simply not a very common commodity.
30 Louis Leblanc MTL     F          2009-18th
One-Timer: The offensive centreman has an excellent work ethic, is  good at both ends of the ice and is quite an evasive stick handler. In his draft year, he did register nearly a point per game in the relatively low-scoring USHL, and tied for the league lead in plus/minus rating at +33. He was the rookie of the year as well. He acclimatized well to the NCAA and had a solid year. He had a very good training camp with the Canadiens and has gotten off to a torrid start in the Q, notching 5 points in 2 games. Leblanc is an excellent skater with great hockey sense.
31Kevin Shattenkirk COL      D          2007-14th
One-Timer: As the Denver Post reported yesterday:
Kevin Shattenkirk had a good training camp with the Avalanche and likely has a solid future with the team. But his NHL future will begin a little later than he'd hoped. Shattenkirk, 21, played three exhibition games with the Avs, getting a goal and an assist. But Sacco said the 2007 first-round pick needs to keep working on his defensive game. "We want him to make plays, we want him to be creative offensively, but he needs to be able to be more abrasive in his own end and a little more difficult to play against,"  Coach Joe Sacco said.
Shattenkirk is an excellent puck moving defenseman with all around upside. He'll be the PP QB on the youth-infused Avalanche in the not so distant future.
32 Jared Cowen OTT     D          2009-9th
One-Timer: From my 2009 draft preview:
The towering all-around defender unfortunately had his season cut short in February with a knee injury. He has already won a Memorial Cup at age 16 and was a valuable shutdown defender on that squad. While the injury may hurt the big and mobile d-man's stock on draft day, if he does drop at all he will likely have GMs who passed him over regret their decision in the future. I only have him outside of the Top 10 because of other prospects I like more. He likely comes back from the knee injury unscathed and could easily land in the Top 6 of this draft.
The potential all around blueliner with outstanding size and surprising mobility came back strong last season and even had a cup of tea with the Sens, playing 1 game. He has some offensive upside, but will be known more for his defensive game, in which he will be extremely tough to play against.  He is strongly contending for a spot on the Sens blueline to begin the campaign with his impressive training camp and solid preseason play.
33 Kyle Beach CHI       F          2008-11th
One-Timer: From my profile at Paint It Blackhawks:
NHL Potential: 2-way physically dominant, agitating power forward (Top 6 forward)
Beach's notorious reputation for attitude problems, immaturity and lack of discipline precedes him. However, this season Kyle seemingly is growing as a person and a player. The Pipline's Guy Flaming talked to his head coach in Spokane, Hardy Sauter, who felt "he felt the criticisms directed at Beach early on in his WHL career were "fair" but again pointed out that the player has matured and there hasn't been a problem with him whatsoever this year." Flaming "also asked Mitch Wahl who confirmed that he and Beach have become friends. Wahl described Beach as a person and player who every team in the league (and their fans) might hate but all of them would love to have him on their roster… once they got to know him."
Strengths:
As NHL Central Scouting's Blair MacDonald stated:
"Kyle Beach is one of the top forwards in this year's draft and is probably the most competitive – from the blue line in there is no one that competes like him. He's feisty, he's got a reputation for being physical and agitating a little bit, but he definitely ranks in there as a power forward and is the power forward in this year's draft. He has good scoring skills and a very accurate shot, and from the blue line in, once he gets the puck, he almost owns it."
Flaws/Things To Work On: His agitating ways can occasionally go too far, which can negatively impact his team and lead to issues with team-mates. He could use more work on his defensive play, his on-ice focus, as well as skating (which he addressed over this past summer).
34 Joe Colborne BOS     F          2008-16th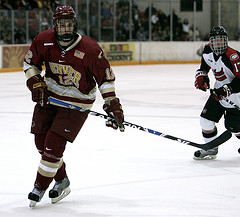 One-Timer: 2008 RBC Canadian Junior Hockey League's Player Of The Year Award winner, Joe Colborne, was a wild card in the entry draft a year ago until the Bruins selected him 16th overall, becoming the first AJHL 1st-rounder since Brent Sutter in 1980.
Two seasons ago, Colborne joined the NCAA ranks, suiting up for the University Of Denver Pioneers where he was named to the 2009 All-WCHA Rookie Team. Last season, his sophomore year, he was even better, averaging a PPG.
Colborne possesses outstanding hockey sense, on-ice vision and play-making ability. "Big Joe" has an underrated and still developing physical game. Joe continues to polish and fine tune his current elite hockey skill set and add even more weapons to his arsenal. The Bruins will have to find room for this young gun in the not so distant future. For now, he will spend time in the minors working on consistency and getting stronger.
Last year, I was able to do an in depth interview with this promising young centre.
35 Vladimir Tarasenko STL      F          2010-16th
One-Timer: Perhaps the biggest question when considering prospects such as Tarasenko is a phrase I have coined "Russian Roulette", rather than simple the Russian factor which many other scouts/writers use. This places an even great emphasis on the potential risk involved with Russian prospects, even more so in recent years.
A potential offensive dynamo, there is no doubting Vladimir's all-around talent. In evaluating the 2010 draft years down the road, should he make the trek to North America, he could very well be discussed amongst the best players out of this past draft – in the same vain as Hall and Seguin. Taking his birthplace out of the equation, I'd easily have him ranked in the top 7 in this past draft.
36 Jeremy Morin CHI       F          2009-45th
One-Timer: One word — Sniper! There were some issues in his draft year with respect to his attitude and certain aspects of his game (skating and physical fitness – although the latter seems fine as note by his scouting combine performance in his draft year), but he has oodles of potential, and the kid simply knows how to fill the back of the net with his lethal shot. Morin is also not afraid to play in traffic and grind it out in the tough real estate on the rink in order to score his goals. In his draft year, Jeremy notched 48 points in 46 games for the NTDP-U18 Team. Last season, his first in the OHL, he lit up the scoreboard with 47 goals and 83 points in 58 games. He had a strong playoffs as well with 21 points in 20 games.
Morin has been very impressive in training camp with the Hawks and in the preseason and is forcing Quenneville, Bowman and staff to make some tough decisions. The Byfuglien trade looks to be a steal of a deal for Bowman.
I was very high heading into the 2009 NHL draft, having rated him 18th overall.
37 Jonathon Blum NSH     D          2007-23rd
One-Timer: CBC Sports Elliotte Friedman in his article discussing AHL impact players (he asked 10 NHL/AHL coaches for their opinions) had this to say about Blum:
"Sent down earlier this week. But the Predators remain very high on him, as well they should. High-quality person compared favourably to Paul Martin."
Blum put on some solid mass in the offseason, but definitely could still use some AHL seasoning. With the Preds depth on defense, they are not going to rush him along. Jonathon has a ton of offensive potential and while not a physical blueliner, he is an effective defender. He projects as a future PP QB.
38 Mikael Backlund CGY      F          2007-24th
One-Timer: This is an important year for Backlund. I would not go as far as saying it is a make or break year, as he's still only 21. Injuries to Flames centremen Langkow and Stajan, however, have opened the door for Backlund to step in and seize an opportunity to be even a 2nd line two-way centre.
Backlund can score and be a go to guy. He proved that at the WJCs and in his brief WHL stint. His AHL and NHL numbers last season were anything but spectacular. The AHL stint was about focusing on defensive play. Glimpse of his potential were definitely shown down the stretch and there is reason for Flames fans to get excited. The two-way versatile forward has outstanding hockey sense and is a very good playmaker. He can be just as effective on the penalty kill as on the powerplay. Consistency will be the key this upcoming season.
39 Chris Kreider NYR     F          2009-19th
One-Timer: From my 2009 Draft Preview:
High schooler has NHL frame and possesses a great touch around the net.  The power forward is also a beautiful skater — likely the best skater in the draft and could even go up and handle himself against theNHL's best. He'll need some time to develop, but is an intriguing sleeper. From various scouting reports, he is noted to see the ice well, is a good playmaker, and has a nice shot with a quick release.
On the surface, Kreider's production did not blow anyone away last season. However, Kreider's parts are more than a sum of his numbers. He tied for the team lead for USA in goals at the WJCs with 6 – which was very impressive. In the second half of the season, after scoring just 5 points in 14 games, Kreider had 13 goals and 5 assists for 18 points in 24 games for the Boston College Eagles.
40 John Moore CLB      D          2009-21st
One-Timer: From my 2009 draft preview:
An intriguing combination complete package of skills and size. Out of the USHL, will he be the John Carlson of this year's draft? I read that Moore cites Scott Niedermayer as a major influence, and considers himself a puck-moving defenseman.  He also play a relentless physical game and should be a gem if he the whole delevops from the sum of his parts.  His skating is what truly gets scouts energized and eager to draft this kid. He finished with 39 points in 57 games in the relatively low-scoring USHL. He was also named USHL defenseman of the year.
Moore had a decent year in the OHL last season. He had 47 points in 61 contests, but elevated his game in the playoffs and it showed in the numbers – 16 points in 20 games and a plus 3 (versus -5 in the regular season). The Columbus Dispatch reported "having a difficult camp and will likely start the season in the minors. The Blue Jackets were hoping that Moore , who is an excellent offensive defenseman, would make the squad and eventually quarterback the power play but that will likely be left for Kris Russell once again this season. Moore is still highly regarded and his poor training camp should just be a blip in his career. He is worth owning in keeper leagues and will likely make his NHL debut at some point this season."
41 Cory Schneider VAN     G          2004-26th
One-Timer: Deferring to the expertise of The Goalie Guild on this veteran prospect, who exemplifies the patience that needs to be shown netminder prospects:
"Three solid seasons at Boston College. Three solid seasons with Manitoba. And even though he only averaged around 43 games over those six seasons, Cory is primed to have a great rookie NHL season behind Luongo. And did you know Cory is listed as only being one inch and 10 pounds smaller? Optimal size, optimal development, optimal upside…he's got it all, baby."
42 Mattias Tedenby NJD      F          2008-24th
One-Timer: Five things quickly come to mind when thinking about Tedenby: Small. Offensive creativity. Speed. Speed. Speed. Okay, maybe three things, but oh is Mattias fast. Kind of like a Darren Sproles on ice (San Diego Chargers, NFL – have to get the football references in where I can!).
As NHL.com reported:
Despite the depth the Devils possess on the wing, Langenbrunner feels Tedenby shouldn't be ruled out. The 5-foot-10, 176-pounder, selected 24th by the Devils in 2008, also signed a three-year, entry-level contract in May. He completed his second season with HV 71 with 12 goals and 19 points in 44 games. He's already being touted as one of the organization's best skaters.

"He's a very high-energy guy, extremely gifted with the puck," Langenbrunner said. "You can tell he's going to be a dynamic talent."
43 Beau Bennett PIT       F          2010-20th
One-Timer: Beau Bennett should have felt right at home at the Staples Center during the draft – the California native first stepped on the ice for the El Segundo Regents, was part of the 2006 Under-14 National Champion California Selects, and played for the LA Junior Kings during the 2008-2009 season before going to the BCHL.
Beau was one of the true wild cards in the 2010 draft. He has a tantalizing offensive skillset and game breaking ability and just completed one of the best rookie seasons in the history of the BCHL. The problem was it was in the BCHL. The league has been producing players at a higher rate in the past number of years and is one of the top junior tier 2 leagues, but there is still the question of competition and how Bennett's game will translate against tougher competition. However, his elite skating and scoring ability is garnering plenty of attention and he shouldn't have to wait too long to hear his name called in the City of Angels. Bennett will start as a freshman at Denver University in the fall.
44 Austin Watson NSH     F          2010-18th One-Timer: The burgeoning power forward is an intriguing mix of size, hockey sense and grit.  Last year he won a Memorial Cup as a rookie with the Windsor Spitfires. This year he struck gold with Team USA at the WJC-U18s in Belarus.
While 20 points in 10 games after his trade to the Petes got scouts excited about his offensive potential, it's his all around game that make him a valuable commodity. If you read on to find the players I compare him, you will find that Watson is that type of player winning teams need and cherish.
Austin has the potential to be one of the most complete from the 2010 draft. He is a fearless, determined and energetic versatile forward willing to fill whatever role his coach wants him to play. Score, kill penalties, block shots, drive the net, physical – Watson can do it all and is a relatively safe pick with, dare I say ridiculous upside.
45 Evgeny Kuznetsov WSH    F          2010-26th
One-Timer: A talented forward with an elite skillset and penchant for highlight reel goals, Kuznetsov has three main question marks – consistency, maturity and the Russian Roulette Factor. He is an explosive skater with great hands who might just be the most talented Russian from this year's draft.
46 Jacob Josefson NJD      F          2009-20th
One-Timer: From my 2009 Draft Preview:
The well-rounded, smooth skating two-way centerman had an up and down year in the SEL, but finished strong with 5 pts in his last 6 games. He has a good level hockey IQ and doesn't shy away from the physical side of the game. Josefson is a slick stick-handler and uses is superior ice vision in distributing the puck to teammates effectively.
NHL Player(s) Comparison: Henrik Zetterberg-Lite
As NHL.com notes:
"As a center, Josefson may have the inside track on nailing down a roster spot right out of training camp. Not only because the Devils are in need of fresh legs down the middle of the ice, but because he's been that impressive.

"I think Josefson has been playing beyond his years as far as his maturity out there," Devils captain Jamie Langenbrunner said. "The way he handles the pace of the game and play at that level he wants to, he can control things pretty well."

Devils General Manager Lou Lamoriello traded up three spots to select the 6-foot, 190-pound Josefson with the 20th pick of the 2009 Entry Draft. He signed a three-year, entry-level contract in May after scoring  8 goals, 20 points and 20 penalty minutes in 43 regular-season games with Djurgardens."
47 Kirill Kabanov NYI      F          2010-65th
One-Timer: Let the eyebrow raising and face-palming begin…
From my 2010 Draft Preview: "Kabanov's epic hockey journey this past season is well documented. To say his hockey season has not gone according to plan would be a monumental understatement. Unfortunately for him, where he lands will be more of a result of his (or his father's) off-ice antics than what he is capable on the ice. His talent level is right up there with elite prospects Taylor and Tyler Seguin.
Perhaps no athlete could have an impact on where they are drafted than Kirill at the NHL Scouting Combine. He did have an amazing performance, at least physically (see results below). How he performed in the interviews, and thus his mental state may just be one of the biggest deciding factors in where he falls in the draft.
Despite everything, if by some struck of luck, I happened to find myself as GM of an NHL team drafting in the latter part of the first round (LA cough Kings), I think I'd take the route of a riverboat gambler and bet on Kabanov. The kid wants to play in North America. He is a phenomenal talent. He is in great shape and a superb athlete. Pair him with a patient mentor and the maturity will come. The wildcard might just be Kabanov's father."
Note: Kabanov's position in these rankings is a hunch that he'll eventually mature and simply figure it out. I'm hoping he and his team embraces his return to the Moncton Wildcats this season. He may not even put it all together this season. When he does (notice no "if" in this statement – brave, huh?!?), the Islanders will have a heck of a scoring winger on their hands.
48 Scott Glennie DAL     F          2009-8th
One-Timer: From my 2009 Draft Preview:
A consistent scorer with pure goal-scorers touch, the speedy and talented forward unfortunately had his season cut short with a broken elbow. At the time, he was tied for 6th in the WHL scoring race. He came back with relentless determination and had a very strong playoffs, notching 18 points in just 12 games. Some wonder if his stock is elevated because of playing with the likes of Schenn and Matt Calvert, but others argue it may, in fact, be Glennie helping the offensive stats of the other two. My personal feeling is they are all strong players in their own right.
Glennie came back last season to post great regular season numbers with 89 points in 66 games, but his production tailed off slightly in the playoffs. The hard-working, well-rounded, scoring winger was recently returned to Brandon (WHL) to continue to grow as a player.
49 Jaden Schwartz STL      F          2010-14th
One-Timer: While size maybe somewhat of an issue for USHL top prospect Jaden Schwarz, talent is certainly not.
NHL Central Scouting's Jack Barzee sums it up nicely as he reported on NHL.com: "Some people may look at his size and consider it an issue. But I like to ask those same people, 'How big were Scott Gomez and Joe Sakic in their draft years?' Look how good they turned out."
While I am not saying Jaden is the next Sakic, I do not think size will impair the Saskatchewan native's ability to play and compete in the big leagues. He has tremendous offensive upside and plays bigger than his size in an effective manner. He has committed to playing in the NCAA at Colorado College for next season, joining his older brother, Rylan.
By now, you might have heard the touching story of Jaden's sister and her latest battle against leukemia. Here's a feature article on the subject:
50 Dylan Olsen CHI       D          2009-28th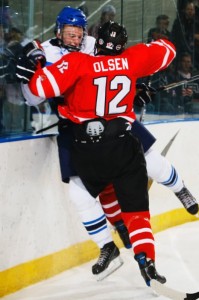 One-Timer: From my prospect profile of Olsen at Paint It Blackhawks:
As the University Of Minnesota-Duluth media guide notes regarding the premiere Blackhawk prospect Dylan Olsen: "Seldom was his name mentioned in the Alberta Junior Hockey League circles with­out the word 'impact' in the same sentence." While Olsen is on many Blackhawk fans' radar, having him is as the number 1 current prospect is not a consensus by various ranking systems out there. Hockey's Future, for instance, has him ranked as the #4 prospect in the pipeline.
I had the 28th overall 2009 1st rounder ranked 16th overall in my Draft Preview Rankings.  As I reported back in June of this year:
"Olsens' stock is rising with his recent great performance at the WJC-U18s, where he was Canada's best defenseman. Whereas fellow prospect Simon Despres floundered under the international spotlight, "Oly" seized the moment! Subsequently, where Despres draft position fell, Olsen should definitely go higher than projected mid-season. Given he played in the AJHL this year, he is somewhat of unknown commodity, but is described as having a complete game. He has good size and is equally adept at playing in the offensive or defensive zones. He also possesses a good level of toughness and has that "umph!" to his game. Add to those components a bullet-like shot! He could be a real 1st round sleeper, although scouts are not hitting the snooze button when it comes to this young gun any longer."
Western College Hockey Blog previewed Olsen's impact at UMD back in August and stated: "Not only is Olsen tremendously talented, and very well-developed for his age, but he'll be stepping into a situation at Minnesota-Duluth where he'll be expected to play big minutes right away, including using his big shot on the powerplay. It's a case of a really good player finding a perfect situation. He'll give UMD an elite defenseman that plays every situation and will make life easier for new starting goaltender Brady Hjelle.
* To view prospects ranked 51 to 75, click here for Part 2.
*To view prospects ranked 76 to 100, click here for Part 1
*Follow The Hockey Spy on Twitter as I infiltrate, dissect and analyze happenings of hockey prospects and the NHL entry draft.
This document is the intellectual property of Christopher Ralph and cannot be used or duplicated in any way without expressed written consent. Any use of this document without the expressed written consent of Christopher Ralph will result in public exposure and legal prosecution.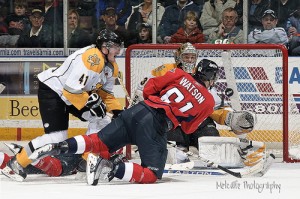 Chris is THW's senior draft/prospect analyst and a Managing Editor. Watch for "The Next Ones" Prospect Profile series, exclusive rankings, mock drafts, as well as the annual THW NHL Entry Draft Guide. Follow @ChrisRalphYQ on Twitter as he infiltrates, dissects and analyzes all happenings of hockey prospects and the NHL entry draft. Email: cralph[at]thehockeywriters[dot]com