Christopher Ralph is a hockey writer with a focus on prospects and the entry draft, as well as the Leafs' correspondent here at THW.
"Full Potential" Prospect Profile: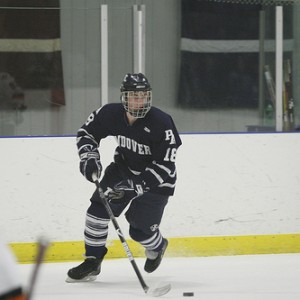 Please "Click Here" for "Notes Up Front" and the "Legend" for various topics covered below, as well as a running live updated NHL 2009 Draft rankings.
26. Chris Kreider – Boxford, MASS – 6'2" – 200 lbs – HS-MASS – Andover – LW
One-Timer: High schooler has NHL frame and possesses a great touch around the net.  The power forward is also a beautiful skater — likely the best skater in the draft and could even go up and handle himself against theNHL's best. He'll need some time to develop, but is an intriguing sleeper. From various scouting reports, he is noted to see the ice well, is a good playmaker, and has a nice shot with a quick release.
NHL Player(s) Comparison: Travis Zajac
Bio/Interview Links:
http://www.matchsticksandgasoline.com/2009/6/15/910086/scouting-the-09-draft-chris-kreider?ref=CBS&source=rss_teams_Calgary_Flames
http://www.habseyesontheprize.com/2009/6/17/911983/for-the-canadiens-chris-kreider?ref=yahoo
Scouting Combine Performance:
Sorokin stated : "Another  overgrown highschooler, I think he impressed a lot of people in the room, me included. Threw up for an hour after if I believe, but performed well all around. A lot of teams are really high on him."
TSN staff stated: "has a very lean body.  He's listed at 6'2, 201 pounds but there is no way he weighs that much. Kreider achieved a very strong vertical. He then proceeded to throw up at the end of his VO2 Max test – it should be noted that this doesn't weigh against Kreider in the eyes of the GMs.  People generally see this as a sign that a player pushed himself to the limit."
THN's Ryan Kennedy stated: "One of the first to go through the combine fitness tests, Kreider was also one of the first to tear it up, adding to his already impressive resume. A high schooler with wheels, Kreider is a sure first-rounder at this point."
Kreider's own report form the scouting combine: (sorry – link busted)
International Tournaments: n/a
ETA = 3 to 4 years
Risk-Reward Analysis: Risk = 3.5/5   Reward = 4/5
NHL Potential: Offensive power forward
Fantasy Hockey Potential: Offensive = 8/10   Defensive = 7.5/10
Other Rankings:
ISS: 24
CSB: 14-NA
TSN: 20
THN: 24
Video Links: n/a