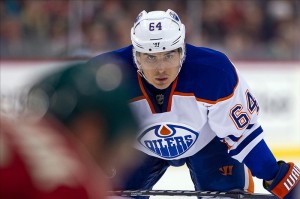 When a player is drafted first overall, he makes the jump to the NHL right away. That's the privilege that goes with being the number one guy. And normally a big part of selecting a player first is their NHL readiness. But not everybody is Sidney Crosby, who's rookie season looked more like a seasoned veteran rather than an 18 year-old. He scored 39 goals and 102 points in 81 games played.
Here's a look at the stats of the past five first overall picks:
Patrick Kane (2007) 21-51-72 in 82 games (Won Calder Trophy)
Steven Stamkos (2008) 23-23-46 in 79 games
John Tavares (2009) 24-30-54 in 82 games
Taylor Hall (2010) 22-20-42 in 65 games
Ryan Nugent-Hopkins (2011) 18-34-52 in 62 games (Nominated for Calder Trophy)
Nail Yakupov started off the season with a bang. He scored some memorable goals, although it was his celebration that stuck out more than the actual goal, but he hasn't scored since February 25th, and has just two assists since then. He's got six goals and 13 points in 26 games, which are decent numbers considering he doesn't get top ice time. But Yakupov often looks overwhelmed on the ice. He's struggling a little with the defensive side of the game, which again isn't uncommon for young forwards. He tends to hang out high waiting for a break-out, although he certainly isn't the only the player in the league to do that.
Yakupov has a lot of talent. He has nothing more to prove at the Junior level. He can't go to the American Hockey League, and the Oilers certainly don't want him in Russia. But Yakupov may not be totally ready to be an everyday NHLer. The only problem is no one wants to talk about it, and there's really nothing that can be done other than sitting him out, but that won't help his development.
So what do the Oilers do with Nail Yakupov? His average ice time is usually in the 11-15 minute range. He's a minus -11 on the season, but then again the rest of the Oilers aren't exactly having stellar campaigns. Yakupov is so young, so raw and so inexperienced. He can't be expected to carry the team on his shoulders. But he's still learning the nuances of the game, and will make mistakes along the way.
The Oilers coaching staff is being patient with their young star, and trying to guide him. It's been a tough year for the franchise, and Yakupov is learning what it's like to be on a bad team. The skill is there. The drive is there. His coach likes what he sees in Yakupov, but acknowledges he's got a long way to go.
"He's a big, exciting project. He's still looking for a way to break his skill into this group. But if you're willing, you're going to learn, and he is. He's very coachable. He misses his ice-time in certain stretches," said Krueger. "But I tapped him on the shoulder with eight minutes left and said, 'If you're not going to play here, watch every shift, pick a player, let's learn and let's grow." (Edmonton Sun)
Drafted 7th overall in 2011, Winnipeg Jets forward Mark Scheifele failed to make the team last season despite a strong pre-season, and was sent back to Junior once again this year. Drafted 10th overall in 2008, forward Cody Hogdson had to wait three years before making it to the NHL full-time. Bobby Ryan was drafted second overall in 2005, yet also had to wait three years before he got a permanent spot on an NHL roster. Rookie standout Jonathan Huberdeau had to spend another year in Junior after being selected third overall by the Florida Panthers in 2011. The Buffalo Sabres just sent their first round pick Mikhail Grigorenko back to his Junior squad.
Obviously, you can't always compare one player to another because they're all so different, but if Yakupov wasn't the first overall pick, would he still be in the NHL right now? It's a tough question because he's not going anywhere, and maybe Yakupov has more skill than the three players mentioned above. Or maybe he doesn't. In any case, it's Yakupov's draft position that is keeping him on an NHL roster. He could do with some more seasoning, and that's only going to take place with the Oilers, whether it's the best option or not.