Over the course of the off-season, I'll be examining the essential questions facing the Anaheim Ducks in the 2012-13 season, as they look to regain elite standing in the league. Stay tuned as the pieces start to role out!
Management vs. Coaching vs. The Core
Earlier in the Summer I started out on a series of pieces that would examine the three key elements tied to the Anaheim Ducks' fortunes. The first two pieces dealt with Anaheim's management and coaching respectively (to read these pieces, click here and here). The question of whether Anaheim's core group of players as currently assembled have what it takes to win is a much deeper question, however, and I'll be dividing the pieces into individual spotlights on the following six players: Ryan Getzlaf, Corey Perry, Bobby Ryan, Cam Fowler, Luca Sbisa, and Jonas Hiller.
Last time out I explained how Jonas Hiller's consistency will be key for the Ducks going forward.
This week? It's time to shine a spotlight on 20-year-old Ducks defenseman Cam Fowler.
Realistic Development Goals for 2012-13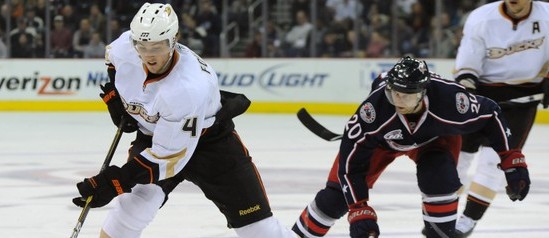 It's June 25th, 2010. The scene is the floor of Staples Center in Los Angeles, California – 30 NHL General Managers sit at the head of 30 team tables, each with handfuls of amateur scouts and assistants surrounding, scheming, strategizing. Bob Murray, GM of the Anaheim Ducks is sweating bullets. There's a player he covets – a player he didn't plan on having a chance to select without first having to trade up – way up – from the 12th slot on the draft board.
Somewhere in the lower bowl of seats, young Cam Fowler sits and waits. He's also sweating bullets. Ranked as the 5th best North American skater heading into the draft, and coming off a superb rookie season in the OHL for the Windsor Spitfires, Fowler was supposed to have been drafted by now. But he hasn't, and all the "experts" are scratching their heads. After all, in his first season of Major Junior hockey, defenseman Fowler racked up 55 points in 55 games, played a key role for the Gold Medal winning United States U20 squad at the World Junior Championships, and capped it all off with a Memorial Cup win for Windsor. But no one seems to want him – or at least want him above other players still available.
The Minnesota Wild have the 9th pick, and with it they select Finnish offensive dynamo Mikael Granlund – he ought to fit in well with Minnesota captain Mikko Koivu. The New York Rangers are scheduled to pick at 10 – surely, this must be it. But no, the Rangers go off the board and select big, bruising defenseman Dylan McIlrath of the WHL's Moose Jaw Warriors. The Dallas Stars are now on the board, and rumor on the draft floor has them targeting a goaltender – sure enough, they take American Jack Campbell of the USNTDP.
The Anaheim Ducks pick at 12. Bob Murray can barely contain his excitement as he approaches the podium flanked by team owner Henry Samueli, head coach Randy Carlyle, head of amateur scouting Martin Madden, CEO Michael Schulman, and the recently retired Scott Niedermayer. Murray can hardly get the words out fast enough: "With the 12th selection, Anaheim is proud to select, from the Windsor Spitfires, Cam Fowler."
In one sense, all the hours of sweat and dedication that it took for Fowler to reach this point in his career have finally paid off. But in every other sense, the hard work is just beginning.
Welcome to 'The Show'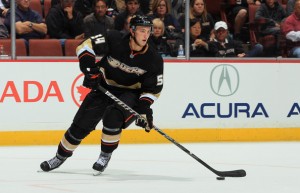 Cam Fowler would come to training camp in Anaheim later that summer and impress the coaching staff enough to earn himself a spot on the opening night roster as a fresh faced 18-year-old. His offensive instincts and smooth skating would keep him in Anaheim beyond the first ten games of the season, and indeed for the entire year – a year in which he'd play 76 games and score 40 points (10g, 30a), good for tenth among all rookies league-wide and second among rookie defenseman, behind only Kevin Shattenkirk's 43 points.
However, Fowler would also finish the season with an ugly-looking -25 rating on the season – a statistic that looks bad no matter how fervently one argues the merit (or lack thereof) of the plus/minus metric in rating a player's on-ice contributions.
Coming in to his sophomore campaign in 2011-12, Fowler was told to simplify his game – focus on being sound defensively, which will eventually allow the offense to come. In reality, Fowler appeared to regress pretty drastically. He finished the 2011-12 season with 29 points (5g, 24a) and an even worse -28 rating.
Yes, Anaheim struggled mightily as a team last season, and their misadventures in the defensive zone have been well-documented, so it's not difficult to see how Fowler's +/- statistic may be unfairly inflated. And no, it's not fair to pin so much of the blame on a defenseman that, let's face it, is still only 20-years-old, and has some significant development ahead of him if he's ever to become the elite puck-moving defenseman many pundits think he can be.
That said, Fowler will be entering his third year as a professional hockey player, and with a career +/- of -53, it's becoming increasingly difficult to see him as the bedrock who, along with young d-man Luca Sbisa, will be the foundation for Anaheim to build around on the backend for years to come. Fowler may have dynamic offensive instincts and game breaking skating ability, but he has to take a major step forward in his defensive zone skills, and fast, or else he runs the risk of becoming career power play specialist. Potential is an awful thing to waste, and one thing that Fowler possesses boat loads of is potential.
Realistic Expectations
Although his numbers may not immediately suggest it, Cam Fowler did actually make significant strides between his rookie and sophomore campaigns. A quick look at some advanced statistics will tell us all we need to know.
Where in 2010-11, Fowler posted a Relative Corsi of -8.4 (second worst for Anaheim behind only Andreas Lilja), at the end of the 2011-12 season, Fowler boasted a team-best 9.2 Relative Corsi (a metric that essentially measures puck possession effectiveness). That's a significant swing in the right direction. Even more impressive, Fowler found himself playing against better players than in his rookie season (Quality of Competition for 2010-11: -0.039 vs. QoC for 2011-12: 0.044). Finally, the disparity between Fowler's Offensive Zone Starts versus Offensive Zone Finishes saw a slight, but impressive uptick. In 2010-11 Fowler started 50.5% of his shifts in the Offensive zone but finished only 48.6% of his shifts there. In 2011-12, Fowler  again started 50.5% of his shifts in the Offensive end of the ice, but also finished 50.8% of his shifts there as well.
The difference between these numbers may seem minuscule, but they tell a larger story. From his rookie season to his second year in the NHL, Fowler improved his ability to drive play and posses the puck, while playing against better opponents, and maintaining position in the zone where he can put his offensive gifts to the test. That's an impressive feat for the young player.
Now, as for some attainable goals for Fowler to strive for during the 2012-13 season?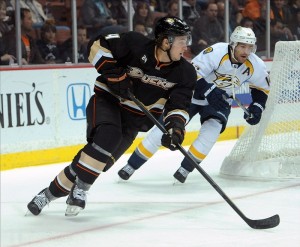 I don't think that it's unrealistic to expect Fowler to start even fewer shifts in the offensive zone, while likewise finishing even more there. With Lubomir Visnovsky gone (maybe), and an aging Sheldon Souray filling in (and let's be honest, he's perhaps the very definition of the term "power play specialist"), Cam Fowler will, even more than before, be asked to act as the engine that drives Anaheim's offense from the back end.
Fowler formed a nice pairing with veteran Francois Beauchemin last season, and with the third year man another year stronger, another year wiser – another year better – it would not be shocking to see Fowler post the first even (or, hey, maybe even plus) +/- rating of his young career, which would be a major step forward.
As for more instantly measurable offensive contributions? Bruce Boudreau made an offensive star out of Mike Green, and with a full year behind the bench, it ought to be interesting to see what Boudreau can coax out of Fowler. Is a fifteen goal, 45 assist season too much to ask for? Maybe. But is it within Fowler's ability? Oh, most definitely.
Time will tell whether Cam Fowler can indeed become the elite, dynamic, game changing player that Bob Murray thought he was getting at the 2010 NHL Entry Draft. For now, though, Fowler need only focus on what he can do to become an even more serviceable work-a-day NHL player. It should be fun to watch.
As a lifelong hockey fan and resident of Southern California, he recently started a blog called SoCal Puck, which aims to explore all things hockey in Southern California. He grew up playing roller and ice hockey in the Orange County area and currently plays on several beer league teams. Collin also contributes at Sunbelt Hockey Journal.