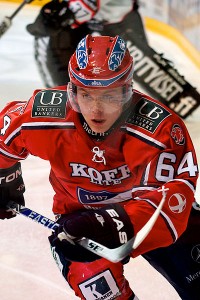 Before the Minnesota Wild made a huge splash in the NHL free agent market by signing both of the major free agents in Ryan Suter and Zach Parise to long-term deals, young center Mikael Granlund was considered the key to the franchise's success. The 20-year old was the ninth overall pick in the 2010 draft and has played the last three seasons in Finland's top league SM-liiga. He is currently considered the organisation's top prospect.
He has gone from strength to strength and posted career highs in 2011-12 scoring 20 goals and 51 points. He was signed to an entry level deal by the Wild and is fully expected to compete for a spot on the opening night roster after playing senior level hockey for the past three seasons.
There is of course a huge adjustment period when moving from European hockey to North American hockey, even for a talented player like Mikael Granlund. However, many still felt that Granlund could be the player who adds that extra offensive depth that could help the Wild end a playoff drought.
The team's offensive game completely collapsed from mid-December onwards as they were clearly missing the top end talent that Mikael Granlund possesses.
The signings of Parise and Suter change the ambitions and expectations of this franchise dramatically, but they do not diminish Granlund's significance. This team now has a far clearer top six forward group and looks like a much more dangerous offensive roster overall. However, they are now one of the biggest spenders in the league, and with that comes the expectation that they will not only compete for a playoff spot, but will make a serious run at the Stanley Cup.
Parise and Suter cannot carry this team single-handedly. As of right now, Minnesota lacks that quality second line center and it isn't impossible that Mikael Granlund could play just that role in the short-term. He isn't a big, physical player, but he has great speed and wonderful on ice vision. He has shown that he can compete physically with fully grown men in the Finnish league. He may just be the perfect fit alongside one of, or both of, Devin Setoguchi and Dany Heatley. Neither had particularly strong first seasons in Minnesota, and neither meshed particularly successfully with the team's top line center Mikko Koivu.
Head coach Mike Yeo will enter training camp with the hope that Mikael Granlund can earn a roster spot. At this point, it isn't at all unreasonable to pencil him in as either the team's second or third line center.