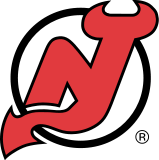 The end result of this season is clear: For the first time since 1996, the New Jersey Devils will be sitting at home while eight other Eastern Conference teams compete for the Prince of Whales Trophy as well as earn their spot in the Stanley Cup finals.
With four games remaining there may not be hope of a post season appearance, but the Devils still have a few things they could play for collectively and on a personal level.
As a team, if they can win at least two of their final four games and force the others to be extra-time losses, they will finish above .500, and while missing the playoffs is a bitter pill to swallow, having a winning record is something to be proud of.
While 8th place is completely out of reach, as is 9th place, the Devils have a snowball's chance at catching the 10th place Toronto Maple Leafs and are within a point of the 11th placed Atlanta Thrashers.
A small demographic of fans want the team to pack it in so that they can have a chance at earning a top 5 draft pick, and while the future of the team may benefit from that approach, the team mentality especially going into next season would be hurt badly by a tank job.
What this team needs to do with the remaining four games is restore their confidence that they had for the better parts of the past 3 months. They need to find that offensive spark that is not entirely dependent upon the success or failures of Ilya Kovalchuk.
Friday night they were led by Patrik Elias, who netted his 8th career hat trick, and Brian Rolston who earned the primary assists on all three Elias goals. But as quickly as they seemed to find their offensive prowess, it failed them just when they needed it the most a night later against the Habs.
Going into next year, it will be that offense that will need show up game in and game out if they hope to avoid the same disastrous start which they endured this season. Over the course of the first 41 games, the Devils scored 3 goals or more only 9 times. In the modern NHL, you cannot be that offensively challenged and expect to win on a consistent basis.
On an individual level, two Devils are approaching seasonal milestones in the goals category. With one more goal, Elias will surpass his last season total of 19 and hit the 20 goal mark for the first time since 2008-09. Meanwhile, Kovalchuk could hit 30 goals with one more as well. Should he do so, it will be the eighth straight season in which he reached that plateau.
One player who could definitely use a point over the course of the final four games is center David Steckel. Steckel, who was acquired from the Washington Capitals along with a 3rd round pick for Jason Arnott at the February 28th trading deadline, has had zero impact on the scoring sheet.
Even though he has only been part of the team for 15 games thus far, he leads the team in face-off percentage with an impressive 58%. While his job is just that, to win big face-offs especially those in the defensive zone, nothing could improve his morale more than earning a single point.
Zach Parise could use a point or two before the season's end. Parise said of his return, "I want to be a part of it [the comeback]" but now that they're eliminated, the next best thing is to return to the score sheet and regain some of the scoring touch before the long off-season begins. A big reason for this motivation is undoubtedly his impending restricted free-agency, and while there is no question of Parise's natural abilities, seeing him pick up from where he left off pre-injury can only help his value.
Lastly, a career milestone is on the line during the final four games as David Clarkson has a good chance to hit 100 career points. He sits one away and is long overdue for a Clark-around goal or at least an accidental assist.
So as we sit back and watch the majority of the league continue to battle for playoff positioning, the New Jersey Devils still have a few things left to play for.
Milestones, pride, a chance at being a spoiler come next Saturday, and even an outside chance at 40 wins on the year are all ways the Devils can continue to save some face on arguably their most disappointing season since arriving in New Jersey.