The Islanders have a problem. It is a statement that has been true for over 20 years now. Finally it's a good problem to have. The Islanders have an abundance of forwards. One player who may be on the outside looking in is Michael Grabner.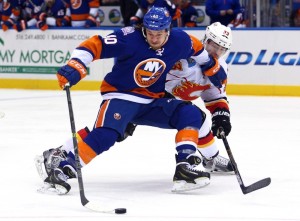 General Manager Garth Snow claimed Grabner off waivers from the Florida Panthers at the start of the 2010-11 season. The 2006 first-round pick by the Vancouver Canucks finally lived up to his potential and scored 34 goals in his rookie season, garnering him a Calder Trophy nomination. Snow rewarded Grabner with a five-year, $15 million dollar contract. His production has steadily declined since that breakout rookie season.
The former 30-goal scorer's 2014-15 season was marred by injuries, playing just 34 games. Grabner underwent his second sports-hernia surgery early in the offseason. The Islanders were actively shopping the winger at the draft last month but there were no takers, largely due to his $5 million dollar salary and $3 million dollar cap hit. His salary is a lot for a team to take on for a player who has scored just 36 goals over the past 3 seasons.
The 2006 first-round pick by the Canucks was once the fastest skater in the league. His rash of injuries derailed that. You could count on at least a breakaway attempt a game for Grabner. Has the league caught up with him? Despite the lack of scoring, the Austrian was a contributor on the penalty kill.
Their Options
The Islanders can bury the 27-year-old in the press box like what they did with defenseman Matt Donovan last season. Donovan was a healthy scratch for 70 games. Heading into the 2014-15 season the Islanders were able to send forward Anders Lee to Bridgeport, even though he clearly had a strong training camp, because he was the only forward who did not have to pass through waivers. Their top 13 forwards this season including Lee, must pass through waivers in order to be sent down to Bridgeport (AHL). Although with Grabner's salary it is unlikely that a team would claim him. It would better suit him to play on a nightly basis in Bridgeport than play once every 2 or 3 weeks with the big club. Unless injury strikes, I don't see any scenario where Grabner cracks the top 12.
Follow me on Twitter @thefirstnoel19