The Anaheim Ducks, led by superstars Ryan Getzlaf and Corey Perry, are one of the most successful teams in the entire NHL over the past few seasons. And thanks to some savvy maneuvering and smart drafting by GM Bob Murray, the team is well-stocked with young players and prospects and looks poised to continue their winning ways long after Getzlaf and Perry can no longer carry the team to deep playoff runs.
Despite the graduations of top prospects Frederik Andersen, Rickard Rakell, Sami Vatanen, and Hampus Lindholm in recent seasons, the Ducks' prospect pool still boasts many quality youngsters. While the likes of Andersen and Vatanen are already making big impacts for the Ducks, this list attempts to rank the top five prospects in the Anaheim Ducks system currently possessing rookie eligibility, which is explained in greater detail on NHL.com.
5. Nic Kerdiles, LW
A second round pick in 2012, Nic Kerdiles has enjoyed an up-and-down start to his professional career. Entering his draft year as a highly-touted junior scorer for the United States Development Team, Kerdiles then played two seasons at the University of Wisconsin. At Wisconsin, he finished second on the team in scoring both seasons, despite playing less games than the top scorer due to his participation for Team USA at the World Junior Championships. Kerdiles turned pro in 2014, joining the AHL's Norfolk Admirals and submitted a rocky first season, with only 9 goals and 26 points in 51 games.
Possessing good size at 6'2″, 200 pounds, Kerdiles has the size, physical game and scoring ability to make an impact in any role in the Ducks' lineup. Expect the 21 year old Kerdiles to take a large step forward in his second AHL season, and could even be looked at for an NHL call-up if injuries strike Anaheim.
4. Marcus Pettersson, D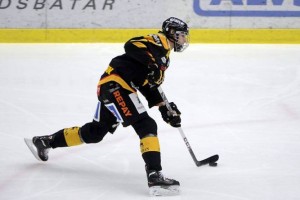 Taken with a draft pick acquired from the Peter Holland trade with Toronto, Pettersson was one of the least flashy defensemen available when the Ducks called his name with the 38th overall pick. Pettersson showed his advanced defensive acumen and hockey IQ, however, as he played in the Swedish Hockey League (SHL) against men at the tender age of 17. He split time in 2014-2015 between the SHL and the Allsvenskan, Sweden's second division, posting 0 points in 14 SHL games but adding 2 goals and 4 points in 10 games in Allsvenskan.
A tall, lanky defender at 6'4″, but just 176 pounds, Pettersson uses his long reach to his advantage and is almost always positioned well to make a smart play on the puck. He also possesses great passing ability and an improving shot, making him a two-way threat on the back end. While he may take a few years to develop and fill out his slender frame, Pettersson may well prove to be a second-round steal down the road.
3. Nick Ritchie, LW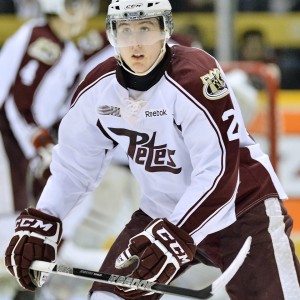 Another example of smart asset management from GM Bob Murray, Ritchie was selected 10th overall in 2014, with a pick acquired from Ottawa in exchange for Bobby Ryan. A highly-regarded player throughout his junior career, the 6'2″, 225 pound Ritchie thoroughly dominated his OHL competition last year with the Sault Ste. Marie Greyhounds and Peterborough Petes, totalling 29 goals and 62 points in just 48 games. He also captured a gold medal as a part of the Canadian World Junior Championship team, showcasing his physical and offensive abilities for a stacked Canadian team.
Ritchie is one of the top power forward prospects in the game, displaying a rare combination of scoring touch (102 career OHL goals) and a mean streak (359 penalty minutes). At a very young 19 years old, Ritchie still has yet to join the pro ranks, but after showing he's too good for the OHL anymore, the Ducks could send him to their AHL affiliate before having him join fellow power forwards Getzlaf and Perry after a couple of seasons.
2. Shea Theodore, D
Another member of the 2015 World Junior Championship team for Canada, Theodore played a much bigger role in his final season of junior eligibility. Playing alongside fellow WHL captain Madison Bowey, Theodore showcased his great two-way ability while logging minutes in all situations for the gold medalists. Theodore also racked up an impressive 48 points in just 43 games for the Seattle Thunderbirds, captaining them to a playoff berth. Theodore's impressive season didn't end there, however, as he was assigned to the AHL for 9 games at the end of the season, and tallied 4 goals and 11 points playing against much older players.
A very solid two-way defender, Theodore has an strong and athletic build at 6'2″, 185 pounds, but could still stand to add some strength to his frame. Right now, however, Theodore is already a highly intelligent and swift-skating defender who has both the passing skills and intelligence to be a force on the power play. With one or two AHL seasons to round out his defensive game, Theodore could become a dangerous part of Anaheim's young defensive core.
1. John Gibson, G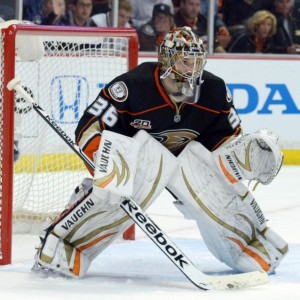 Another player taken with a pick acquired from the Maple Leafs (sorry, Toronto fans), John Gibson has quickly proven that his draft position of 39th overall in 2011 has been a steal for Anaheim. Gibson first made national headlines when he lead Team USA to the 2013 World Junior Championship gold medal, winning tournament MVP after posting fantastic numbers with a 1.36 goals-against average and a .955 save percentage. Gibson has put up impressive numbers at every level he's played, making two OHL all-star teams and cracking the Ducks lineup when he was just 20 years old.
Standing 6'3″, Gibson has the perfect frame for a durable, workhorse starting goaltender in the NHL. Now 22, Gibson endured a tough rookie NHL season, as he was injured for much of the season before being returned to the AHL. While he ceded his starter's position to Frederik Andersen, don't expect the talented Gibson to remain a backup for much longer.