What used to be a position of weakness for the Toronto Maple Leafs is now full of depth. The question is what will they do with it?
In the last game of the 2014-15 season, the Maple Leafs defense consisted of Dion Phaneuf, Morgan Rielly, Jake Gardiner, Eric Brewer, Andrew MacWilliam and Tim Erixon. Roman Polak and Stephane Robidas were injured at the time. The defensive group in the 2015-16 season opener will look quite different.
Brewer and MacWilliam became free agents while Erixon was dealt to the Pittsburgh Penguins in the Phil Kessel deal. During the off-season, the Leafs acquired Martin Marincin and Scott Harrington in trades and they signed Matt Hunwick as a free agent. That leaves eight defensemen on the current roster, at least on the Leafs website. They don't even count a defenseman like Stuart Percy.
Who makes the top six will obviously have a lot to do with who does well in training camp, with Phaneuf, Rielly, Gardiner and Polak pretty much have their spots locked up. The other two to three spots will be up for grabs. Robidas might have the veteran experience and make more money, but he's also quite injury prone. That might necessitate the Leafs carrying a seventh defenseman.
Changes Throughout The Season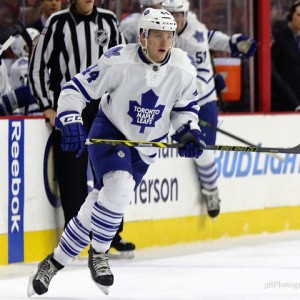 No matter what happens at the beginning of the season, more questions will come at the trade deadline. With Phaneuf sticking around for now, we can all assume that Mike Babcock wanted to at least see if he can rehabilitate the captain's career. However, there is still a chance that he could be moved at the deadline if they can find a team that can take on his deadline. Polak is also a candidate to be moved at the deadline since he is in the last year of his contract and teams in playoff contention will be looking for that type of defenseman.
Of course, the Leafs are a rebuilding team and you can expect any team in this situation to be changing constantly. Rielly is really the only Leafs defenseman that we know has a long-term future in Toronto because it would take a massive return to lure him from the Leafs. Gardiner could get back into that realm if he can improve his defensive play under Babcock. Everyone else has a load of questions surrounding their future with the team, be they about their play or their contract.
Out of everything, the Leafs' defense might be the most intriguing situation to watch this season.