In a series of features where we look into the Hamilton Bulldogs past to check on their progress, we will catch up with Duncan Milroy next. He was a second round pick in the 2001 NHL Entry Draft, 37th overall.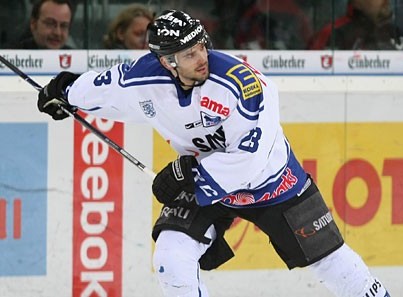 He spent four years in the Western Hockey League split between the Swift Current Broncos and the Kootenay Ice. During the regular season he accumulated 132 goals and 155 assists in 264 games. He would add 34 goals and 40 assists in 64 playoff games.
The Assistant General Manager of the Swift Current Broncos, Elden Moberg had this to say of him "Duncan is a very good offensive player with excellent potential. He understands the game well, is a very good skater and has an extremely accurate shot." 
He did however have an issue with his reputation after a rumored party after a Kootenay Ice game. He served a two game suspension and a fine imposed by the team. His commitment to the game and his teammates was called into question.
This is what he had to say about the suspension and the rumors from Hockey's Future "Sometimes it's tough but at the same time I like to thrive on a situation like that. I think the suspension's going to help me to regain my focus. I felt like I was at a standstill and I think it looked like it out there too. The work ethic was there but sometimes my brain wasn't. In light of the suspension and the agreement that the coaching staff and myself have come to, we'll move forward. I feel confident that me and my individual goals will start picking up and me and my team goals, which is getting back to winning a Memorial Cup championship, is definitely back on track." 
As a member of the Hamilton Bulldogs from 2003-04 to 2007-08 he contributed 75 goals and 104 assists in 346 games. He also provided five goals and 12 assists in 35 playoff contests. In 2006-07 he was a  member of the American Hockey League Calder Cup champion Hamilton Bulldogs.
Duncan Milroy's best season as a Bulldog came in 2006-07 when he score 25 goals and 33 assists in 64 games player. He added two goals and 11 assists in 22 playoff matches.
He would only see five games of action at the National Hockey League Level with the Montreal Canadiens during the 2006-07 season. He managed to contribute one assist in those five games.
He was allowed to leave as a free agent at the end of the 2007-08 season. He spent 2008-09 in the German DEL League with the Inglostadt ERC. After showing well with 14 goals and 34 assists in 49 games he would return to North America to continue his career.
The Minnesota Wild offered him a one year contract, however he would not see any NHL time during the 2009-10 season. He spent the year at the AHL level with the Houston Aeros contributing 12 goals and 24 assists in 74 games. This was not enough to gain him another pro contract in North America.
He went back to Europe and played in the top pro hockey league in the Czech Republic with Mlada Boleslav BK. He put up three goals and three assists in 20 games in an overall disappointing season.
From there he spent two seasons back in the German DEL league with the Krefeld Penguins. He provided nine goals and 34 assists in 77 games, while adding two goals and six assists in eight games.
Duncan Milroy er klar for Vålerenga. #VIFpuck #vif100 #2get Mer om nysigneringen på VIF-hockey.no i løpet av kvelden pic.twitter.com/SgtrFXMe

— Vålerenga Hockey (@VIFhockey) January 22, 2013
He spent the 2012-13 season with Valerenga of the GET-ligaen, which is the top Norwegian professional ice hockey league. While there he had three goals and five assists in nine games and had no points in three playoff games. There has been no indication that he has been resigned, however he did show well there and could well return.
Hopes were much higher for his pro hockey potential however thinks have not turned out as planned. He is likely to remain in Europe is he continues his pro hockey career.
Now at the age of 30 it is much less likely that an American Hockey League team or National Hockey League team would take the chance on signing him in place of one of their prospects.
We may see him end up in the Central Hockey League or the ECHL one day. However it appears he will not have another chance at the NHL level.
Once again another former Hamilton Bulldogs player continues to make a solid living as a professional hockey player. Surely there are much worse fates than that.