The Calgary Flames announced their training camp schedule and roster on Wednesday, as the team dives head-long into the post-Kiprusoff, post-Iginla era. The club has split their team into three groupings for their camp, named after former captains Lanny McDonald, the late Brad McCrimmon and Jim Peplinski. On the whole, 54 players were invited to main camp (five goalies, 18 defensemen and 31 forwards), along with three injured prospects.
Here's a quick break-down of their chances.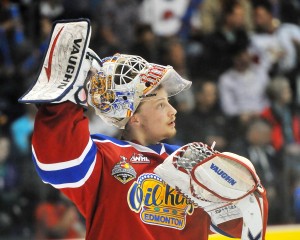 GOALTENDERS
Locks: none
Contenders: Joey MacDonald, Reto Berra, Karri Ramo
In The Mix: Joni Ortio
Longshots: Laurent Brossoit
Who will be the successor to the most talented goaltender in Calgary Flames history? Five guys from three countries will try out for the job. Ortio got into the mix through his excellent play at the YoungStars tournament, but he'll need to keep that up during main camp in order to compete with the big dogs. Ramo and MacDonald may be the front-runners heading into camp, but in reality any two of these five could start off the regular season in Calgary and it wouldn't be too shocking – even former WHL playoff MVP Laurent Brossoit.
DEFENSEMEN
Locks: Dennis Wideman, T.J. Brodie, Mark Giordano, Shane O'Brien, Kris Russell, Chris Butler
Contenders: Derek Smith, Patrick Sieloff, Tyler Wotherspoon, Mark Cundari, John Ramage, Chris Breen
In The Mix: Chad Billins
Longshots: Brett Kulak, Zach McKelvie, James Martin, Brady Lamb, Keegan Kanzig, Ryan Culkin, Eric Roy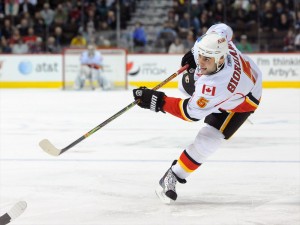 The defensive core is much more defined than things in net. Brodie and Giordano anchor the top four, along with Wideman and…somebody else. The seventh job is up for grabs, with incumbent Derek Smith being challenged by five youngsters. Breen is rehabbing a shoulder injury and might not even participate at camp. Ramage, Sieloff and Wotherspoon all impressed at prospect camp – Ramage may have the inside track due to age (22), leadership (captained Team USA and University of Wisconsin), genetics (his dad won two Stanley Cups) and international experience (U18 and U20 golds).
FORWARDS
Locks: Tim Jackman, Matt Stajan, Curtis Glencross, Lee Stempniak, Mikael Backlund, Mike Cammalleri, David Jones, Brian McGrattan, Jiri Hudler, T.J. Galiardi
Contenders: Roman Horak, Ben Hanowski, Max Reinhart, Corban Knight, Sean Monahan, Michael Ferland, Lance Bouma, Sven Baertschi, Markus Granlund
In The Mix: Blair Jones, Paul Byron, Ben Street
Longshots: Carter Bancks, Greg Nemisz, Steve Begin, David Eddy, Coda Gordon, Emile Poirier, Morgan Klimchuk, Turner Elson, Brett Olson, Josh Jooris
Ten guys come into camp reasonably sure they have forward jobs locked down, by way of previous experience or by way of being established role guys – if a young guy is pushing for ice time, McGrattan or Jackman could easily become the 13th and/or 14th forwards. As such, four jobs are probably up for grabs. Horak spent the most time in the NHL out of anybody not named Baertschi last year, but Ferland, Monahan, Reinhart, Hanowski and Granlund all had great prospect camps. Granlund in particular came into camp with a lot of confidence, while Ferland has lost weight and came into camp looking to prove himself. Long story short? Baertschi's "spot" in Calgary is in dispute, and there will likely be five or six really good players in Abbotsford to start the year just waiting to get their chance in Calgary. A big question-mark is how well Bouma – a favourite of Flames management for his rough-and-tumble play – can bounce back from a knee injury that sidelined him for almost all of last season.
The NHL regular season schedule was released on Friday. Check out our partners at TiqIQ for the best deals on Calgary Flames tickets for all 2013-14 games.