By losing back-to-back games, the Washington Capitals failed to earn a single point for the first time since Dec. 3. Much of their success during that multi-week stretch was due to Braden Holtby's phenomenal performance in goal. But in Saturday night's matchup with the Dallas Stars, Holtby sat in favor of backup Justin Peters, who played in his seventh game of the season.
In the process, the Capitals dropped their second straight game in regulation. It's easy to blame Peters for this particular loss, but what is right and what is easy are often different things. Don't point fingers at the goalie–the Capitals' two-game skid merits a closer examination.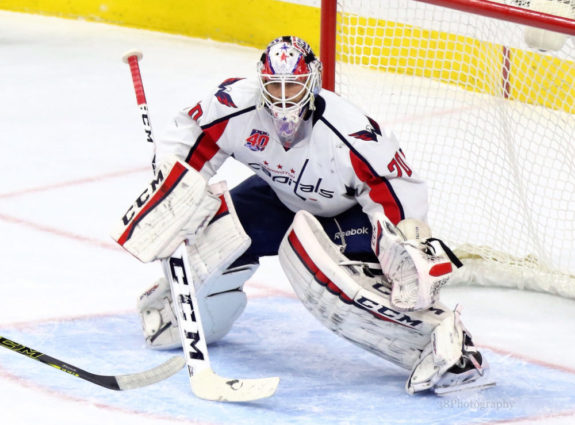 Should Holtby have played both games?
The Capitals went on an epic tear while Holtby delivered a string of otherworldly performances. This is not a coincidence, and it's not a knock on Peters' performance against the Stars. In 22 straight appearances, Holtby posted a save percentage of .938.
This astronomical number contributed to the Capitals' high PDO (a proxy for puck luck, measured through save and shooting percentages.) While the Capitals showed definite signs of improvement during their run, they also have Holtby to thank for consistently great showings.
But here's the thing about unsustainably high numbers: they're unsustainable for a reason. Holtby's numbers are bound to regress, and we caught a glimpse of this inevitability Friday night. In allowing four goals on 30 shots, Holtby posted a .867 SV%–quite the turnaround from the .949 SV% he posted during his incredible run until that game.
Instead of focusing on that (ugly) number, let's look at how many shots the Capitals allowed. During Adam Oates' tenure, the Capitals would allow upward of 30 shots per game. This was fifth-worst in the NHL and put them in terrible company (think Carolina, Edmonton, Toronto, and Buffalo.)
Thanks to Barry Trotz and an improved blueline, the Capitals typically allow 27 shots per game. They've gone from fifth-worst to fifth-best in this department. In the Capitals-Predators matchup, however, the defense allowed 30–an indicator that this game wasn't the strongest of showings on their part. Obviously, this doesn't mean the defense was bad as a whole, nor does it mean Holtby is incapable of handling a large workload. It just demonstrates how fickle hockey can be–the Preds won by a single goal, after all–and this extends to goalies.
Is Peters to blame for the second loss?
The following evening, Washington was again defeated by a small margin–this time at the hands of the Dallas Stars. The visiting team again out-possessed their hosts, yet managed to dig themselves into a multi-goal hole. Eric Fehr began Washington's comeback early in the second period, and the score was tied after Alex Ovechkin's one-timer just 21 seconds into the third.
However, the Capitals went on to allow two goals in just 16 seconds. Nicklas Backstrom scored the Capitals' fourth and final goal of the game–just one shy of tying the Stars at five.
Given that the Capitals allowed just 26 shots and five of those shots became goals, it's easy to point the finger at Peters in light of his disappointing season thus far. It's also unfair to judge Peters' performance in this particular game on the basis of previous performances. The game was chock-full of tricky odd-man rushes. Is a goalie to blame for defensive deficiencies? No.
Trotz on Peters: ""I don't have any problem with his game. I have more problem with our overall game in segments."

— Alex Prewitt (@alex_prewitt) January 18, 2015
Peters also hadn't played in an NHL game since November 29–a disappointing 6-2 loss to the Toronto Maple Leafs, the beginning of Holtby's grand appearance streak, and the second half of a back-to-back. The Capitals came out sluggish and never improved, and a rout at the hands was admittedly deserved for the skaters. Peters? Not quite.  
Capitals must improve in back-to-backs
Had the Capitals faced the Stars after a day of rest, the outcome might have been different. Why? They've been horrendous in back-to-back games. Per Alex Prewitt, the Capitals are 1-6-1 in the second half of back-to-back contests.
Capitals drop to 1-6-1 in the 2nd games of back-to-backs. Three of their five regulation losses since Thanskgiving have come this way. — Alex Prewitt (@alex_prewitt) January 18, 2015
Not only was the game the second in as many days, but it was also on the road. CSN reported that the Capitals didn't arrive in Dallas until 2 a.m. from Nashville. The game was also their eighth in two weeks.
The Capitals were a tired team, and playing back-to-back road games did not mitigate this. However, winning these games will be crucial to racking up points. There are eight back-to-backs remaining, and with the season past the halfway mark, each game counts more than ever. Furthermore, five of these eight games are against division rivals–some playoff teams, others not. The Capitals have a slew of back-to-backs in February, which looks to be a trying month.