There weren't a lot of positive developments for the 2022-23 Flyers, but Owen Tippett was certainly one. He had flashed potential in the past; you don't become a top-10 draft pick without quite a bit of talent. Though he struggled to carve out a role with the Florida Panthers and didn't score at a stellar clip after being dealt to the Flyers in the Claude Giroux trade, he showed signs that he could be a consistent NHL contributor.
Last season, Tippett finally put it all together. The 24-year-old wasn't just a full-time NHLer, he was a pretty darn good one. On a Flyers team devoid of much offensive talent, he more than doubled his career NHL goal total in about a third of the games. He finished the season with 27 goals and 22 assists and was one of only three Flyers forwards (min. 10 games played) to clear a 50% expected goals share. Whether you're an analytics fan, go strictly by the eye test or keep it simple with counting stats, everyone can agree that Tippett took a big leap last season.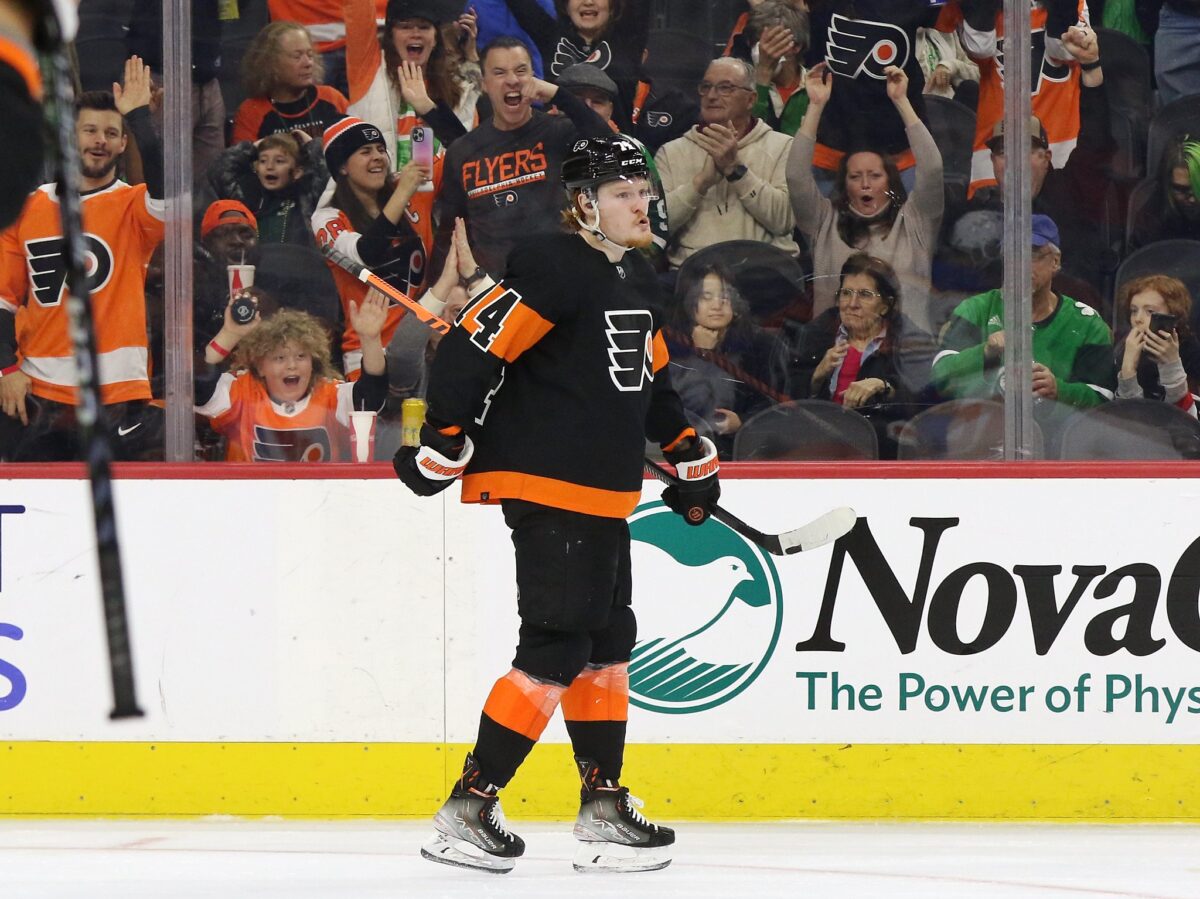 That brings the Flyers to an interesting crossroads. Tippett put up all of those numbers at a bargain $1.5 million cap hit. He'll cost the team the same amount in 2023-24, after which he'll become a restricted free agent (RFA) with arbitration rights. He's eligible for an extension right now, though. General manager Danny Brière has made some big moves in his few months on the job but has yet to make a long-term commitment to any player. Is Tippett the right choice to be the first?
The Case For
The biggest reason to commit to Tippett right now is because the Flyers think last season wasn't just a sign of things to come, but a building block to better horizons. As of now, he is viewed as a second-line scoring winger who isn't a defensive stalwart nor an outright liability. Is there reason to believe that perception could change for the better?
While it's not a guarantee, the answer is yes. For starters, the talent around Tippett should be better this season. He is a candidate to play alongside Sean Couturier, who before missing the last year and a half due to back surgeries, was one of the top two-way centers in the league. Couturier used to be called Dr. Coots because of his ability to fix players whose game needed a lift (from 'Sean Couturier is our Selke Trophy pick. Evaluating his case vs. top contenders.' The Athletic, Mar. 23, 2020). Tippett certainly isn't a struggling player, but a little extra help certainly couldn't hurt. Even if Couturier isn't his center, Noah Cates and Morgan Frost could take a step forward in their second seasons as full-time NHLers.
The other reason is a bit more of a long-term one. Right now, Tippett is the team's second-line right winger behind Travis Konecny. But Konecny's got some contract uncertainty of his own. He'll be an unrestricted free agent at the end of the 2024-25 season, and given his slightly older age (currently 26, but he'll be 28 by the time he hits the open market) and incredibly high trade value, it's certainly possible at some point in the next two seasons the Flyers decide to part ways with him. At that point, Tippett would likely become the team's top-line right winger.
Extending him before that jump in ice time — and likely production — would almost certainly be better than waiting in that scenario. And the Flyers have already started ramping up Tippett's opportunities dating back to last season. He became someone the team depended on against tough competition. His usage ranked in the 90th percentile of players in The Athletic's Dom Luszczyszyn's model (from 'NHL Player Cards: Philadelphia Flyers,' The Athletic, April 3, 2023). His ice time increased as the season progressed, and the team even started using him as a penalty killer later on.
| | | | |
| --- | --- | --- | --- |
| | Time on Ice | PP TOI | PK TOI |
| October | 14:02 | 3:12 | 0:05 |
| November | 14:44 | 2:54 | 0:03 |
| December | 14:56 | 1:35 | 0:05 |
| January | 15:33 | 2:25 | 0:05 |
| February | 15:44 | 1:35 | 0:12 |
| March | 17:04 | 2:29 | 1:31 |
| April | 20:18 | 2:44 | 0:35 |
Time will tell if Tippett truly is a 20-minute, all-situations player. But the Flyers believe there's a chance he might be, and if they're correct, signing him as soon as possible is optimal. After committing bridge deals to their RFAs last offseason, it might make sense to go long-term with somebody.
Related: Flyers' Offensive Depth Will Be Pivotal to Success in 2023-24
Plus, it would avoid a repeat of the Travis Sanheim situation, when the team would've been better off signing him at least somewhat long-term, as opposed to two bridge deals that forced them into a corner, and eventually, an eight-year deal that will take him into his mid-30s, far later than the team probably wishes. The Flyers can't sign Tippett any longer than past his age-33 season, so they'd largely avoid having to worry about age-related decline.
The Case Against
Taking the jump from fringe NHLer to solid NHLer is a lot harder than the leap from solid to outstanding. And while Tippett isn't old, he wasn't even a prospect coming into last season having played over 100 NHL games and already being 23. Make no mistake, he beat the odds in making the improvements he did last season, even if context made it more likely than it otherwise would have been. His taking another step would be the same thing, just to a greater extent.
In truth, the argument against extending Tippett long-term is similar to the argument against extending Konecny. The Flyers have a log-jam of quality young right-wingers, from Tyson Foerster to Bobby Brink to (especially) Matvei Michkov. All three of those players have a chance of jumping Tippett on the depth chart at some point in the near future (slightly longer out for Michkov due to his Kontinental Hockey League commitment, of course).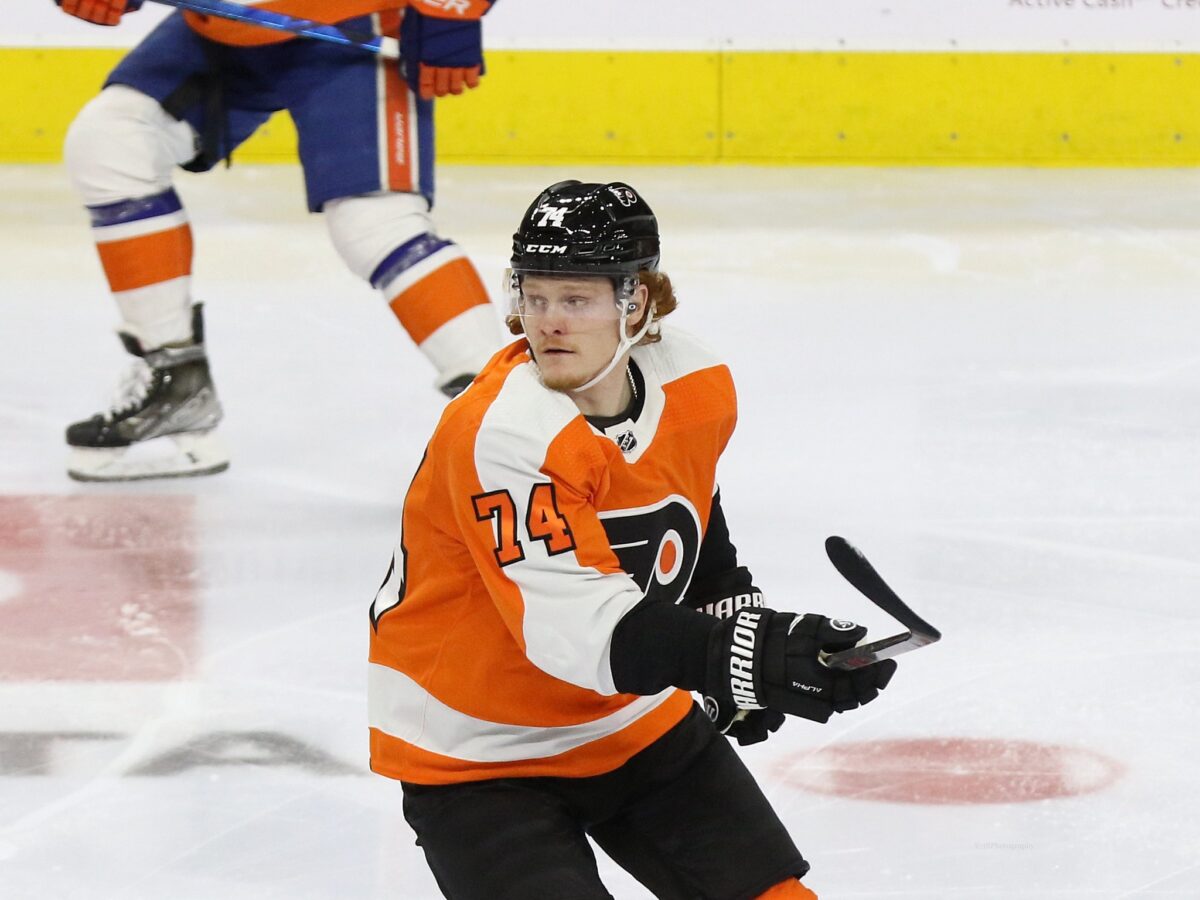 Tippett is a good player. But is he a 20-minute jack of all trades? That seems less likely. The Tippett on the PK experiment may have been just that — an experiment to try and make something from otherwise meaningless games, like when the team (unsuccessfully) tried Joel Farabee at center in late 2021-22. Making a big commitment now to Tippett could leave the team's hands tied when those aforementioned prospects are ready for big contracts of their own. And if there's one position you don't want to make an unnecessary long-term commitment to, it's the wing.
Finally, there's the sample size argument. We're talking about a player with one season of quality play here. The Flyers look like they got similarly burnt when they extended Farabee after his breakout 2020-21 season, only for him to stagnate (in significant part due to injuries) the last two seasons. There's always a risk when signing a player long-term, of course. But there's probably an extra element of it in Tippett's case.
The Verdict
All signs point to Tippett having another solid season. He should occupy a top-six role from the jump, with there being no questions about his ability to contribute to an NHL team's success. He's a John Tortorella favorite as well, which certainly doesn't hurt matters.
Given that another good season would largely eliminate the small sample size caveat (and therefore drive his price up further), the Flyers should strongly consider seeing if Tippett's camp is interested in an extension at some point during the season. Obviously, Tippett has to agree to that — it may very well make more sense for him to wait until the offseason when the cap officially jumps up, even if the deal won't kick in until that happens.
Signing a player to a huge contract with just one season to justify it is rarely a smart decision. But if — and probably when — Tippett continues to produce this season, the Flyers should try to get ahead of the curve. Even acknowledging the risks, the potential of giving the team its first long-term "steal" of a contract since Wayne Simmonds is just too good to pass up.
Advanced Statistics via Natural Stat Trick