On Monday, the New Jersey Devils unveiled a new marketing campaign featuring the slogan "We're All Devils Inside." Goaltender Scott Clemmensen, who signed a one-year deal with the Devils on July 1 after two prior stints with the team, definitely knows that feeling.
"Even if I had not re-signed with New Jersey, I still would have looked back at my career once it was over and thought I was probably a Devil at heart the whole time anyway," Clemmensen said Wednesday in an exclusive interview with The Hockey Writers.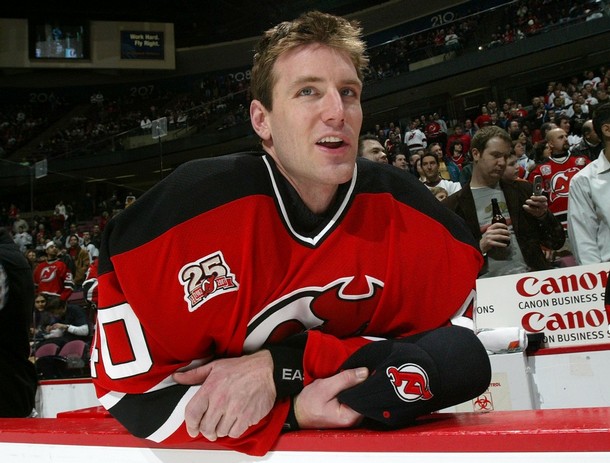 Despite drawing interest from a "handful of other teams" as an unrestricted free agent this summer, Clemmensen's soft spot for the Devils lead him back to New Jersey for the third time in his career, a decision that he referred to as a "no-brainer." The possibility of returning to the organization someday was something he thought about when he left the Devils, and occasionally throughout his tenure with the Florida Panthers, so when the opportunity presented itself he knew it was the right choice.
"Even after leaving, there was still a part of me that knew that somehow, some way, I would be back in a Devils uniform," Clemmensen said. "I think most players feel a connection or identify their career with one team in particular, and for me, it has to be the Devils. They were the team that drafted me, they were the team that gave me my first contract, things of that nature. I was with them for so long, so when I left, it was definitely not a situation where I thought I was saying goodbye forever. For some reason, I thought that I would be back, and obviously that's what happened in this situation."
After a stellar 2008-09 season with New Jersey in which he posted a 25-13-1-2 record, a 2.39 goals against average, and a .917 save percentage, Clemmensen drew some attention on the free agent market and signed a 3-year deal with the Florida Panthers. Three solid seasons led to another 2-year deal with Florida, but things didn't end the way Clemmensen hoped. He was ultimately placed on waivers by the Panthers and finished the last month of his contract with the AHL's San Antonio Rampage.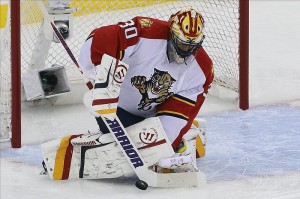 "It was obviously disappointing," he said. "It was difficult for me in the sense you want to keep your career moving forward, and a situation like that I thought was a backwards step for me. Whether I agreed with it or not, it was a situation where I respected the decision of the management there and I went down and did the best I could."
Determined to keep his career moving forward, Clemmensen weighed his options this summer and felt that there was an opportunity to solidify himself as an NHL player in New Jersey.
"I had five good years down in Florida, but at the same time, I was ready to move on, and the situation here was a good one for me in all aspects," he said of his return to the Devils. "I was very excited to re-sign. I knew I would get a fair opportunity and be treated very well."
The Battle for the Backup Job
Even though the goaltending situation in New Jersey this year may very well push Clemmensen back to the AHL, he is looking forward to the opportunity to battle for the team's backup goalie position. Cory Schneider is firmly entrenched as the Devils' starter, but the backup job is up for grabs. While there are a total of six Devils goalies in training camp this year, realistically, that second goalie spot on the big club will go to either Clemmensen or rookie Keith Kinkaid.
"All you can ask as a player is to be given an opportunity, and I believe the Devils will give me an opportunity, as well as the other goalies that are here in camp," Clemmensen said. "I have no problem with that at all. This is the best league in the world. You're always going to be pushed and there's always going to be good players at your position, regardless of what it is."
While some believe that the 37-year-old Clemmensen has the upper hand over the 25-year-old Kinkaid due to the veteran experience he brings to the table, Clemmensen was given no guarantees of a spot in New Jersey when he signed his latest deal. His two-way contract means the Devils can easily send him down to the Albany Devils of the AHL.
"My mindset going into camp is one of which I'm going to go and do the best I can and show them that I can play and still play at this level, and then at that point, let them make those tough decisions," Clemmensen said. "I expect it to be a tough decision because I expect every goalie in camp to play well. All you can do as a player, all you can control, is how you play. I'm going to do my best and let the cards kind of fall where they lie."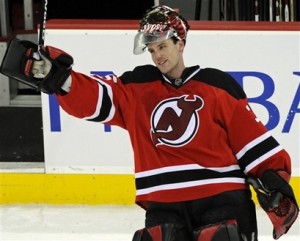 Clemmensen is no stranger to the situation he's facing. In the summer of 2008, he signed with the Devils for his second stint in the organization and found himself third on the goaltending depth chart behind Martin Brodeur and Kevin Weekes. He started the season in the AHL, but an injury to Brodeur and sub-par play from Weekes thrust Clemmensen into the starting role on the NHL squad, where he flourished. While the goal is to start this season in New Jersey and stay in New Jersey, even if Clemmensen does end up in Albany to begin the year, he certainly isn't writing off his chance to play in the NHL again. He knows firsthand how quickly a team's goaltending situation can change.
"The one thing that this crazy game has taught me, the one thing that I know for sure, is you never know. That's the only thing that I do know: you never know," Clemmensen said with a laugh. "In this game, you always have to be ready."
Clemmensen is ready for whatever role his future holds.
"Whether it's pushing Cory Schneider to be a better goalie and competing with him on a friendly basis, or mentoring a younger guy in the minors, or helping out younger non-goalie guys on the New Jersey team, I've been around the block a couple of times and I can kind of show these guys the way a little bit," he said. "It's something that's fun to see and fun to do as an older guy, helping out the younger guys. They're good people and we're all in the same kind of boat and we're all pulling on the same rope and it's something where I believe that whatever situation I'm put in, I can be very useful."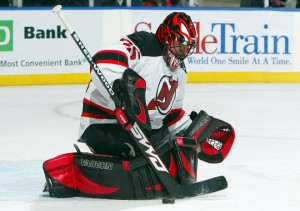 Clemmensen comes to Devils camp knowing a number of players on the team, and he has a past relationship with head coach Pete DeBoer, who coached the Panthers during some of Clemmensen's time there. Despite reports of "friction" between Clemmensen and DeBoer when the two were in Florida, Clemmensen said they have put any issues behind them and are moving forward.
"We were in a tough spot in Florida and we were under a lot of pressure down there, both of us," Clemmensen explained. "Having said that, what's in the past is in the past at this point, and I think we both really respect each other on a professional level and personal level."
It also helps that the two will now be working together in an organization that has a bit of a different track record.
"I'm very much looking forward to working with him here, in the New Jersey Devils-type atmosphere here, which is a much different environment than the one we were in down in Florida," Clemmensen said. "I've talked to him on several different occasions [this summer]. It's us moving forward. We still have very much mutual respect for each other. I've always thought he was a good coach and I'm looking forward to hopefully playing for him this year."
Even if Clemmensen does end up in Albany to start the season, he will still be proud to play for a team bearing the Devils' name.
"No matter what team you play for, no matter the circumstances, you're a professional and you go and you play like one and you do your best," Clemmensen said. "I'm going to take every day as a gift. I'm not going to take it for granted. That's regardless of where I start day one at, in Albany or in New Jersey. That's going to be the case every day."