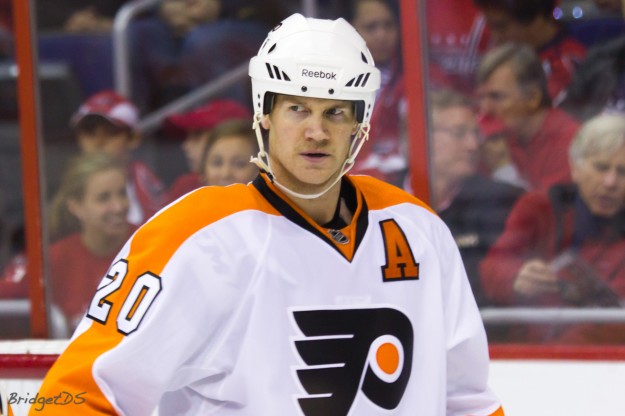 Will the real Flyers #1 defenseman please stand up?
Chris Pronger (may his career RIP) was the glue that held the Flyers blueline together for the better part of two NHL seasons – three if you want to be generous.  Although Mike Richards was the captain during Pronger's tenure as a Flyer, everyone knew Philadelphia was very much Pronger's team.
With the puck on his stick, Pronger was able to slow the game down, look for outlet passes, make wise plays up and down the ice, and all of this seemed to rub off on the Flyers' defensive corps.  In one fell swoop, all of it was gone.
Pronger sustained a concussion early in the 2011-12 season that has kept him sidelined for the past two seasons, and the effects have already started trickling down.
The year Pronger entered his first full season with the Philadelphia Flyers, the team would go on to post the 14th best goals against per game average.  The following year, they came in 5th overall.  In 2011-12, they finished in 9th.  The team hasn't been in the top 10 in goals against per game since.
Furthermore, Philadelphia has always been a team that could score.  During the years 2009-10 to 2012-13, they were top 10 in goals per game – twice in the top three.  The year following Pronger's injury, the Flyers were able to be the 9th best goals per game team, but they failed to make the playoffs.  This season, they currently sit at a modest 16th overall in that category.
The reason Philadelphia was so successful under Pronger's reign was that much of the offense was created by the defense.  With Pronger gone and the dynamic of the blueline changed, no defenseman has stepped up to fill the void left by the future hall-of-famer.
As it stands now, the Flyers defense has scored a total of 75 points.  On offensive production alone the defense ranks 21st in the league.
Kimmo Timonen has been a serviceable defenseman his entire career.  However, he isn't getting any younger.  Timonen hasn't "lost a few steps".  Instead, he's "lost a few strides" and can't be relied on to be the all-around defenseman you could count on every year.  Plus, this is likely his last year in the NHL anyways.
Paul Holmgren signed Mark Streit in the offseason to make up for the offense lost by Pronger's absence.  What Holmgren failed to realize is that Streit is a very one-dimensional player isn't able to contribute in many situations.  For a defenseman, he does everything but and has been caught on the wrong side of the puck more times than any Flyers fan cares to remember.
The best defenseman this season has been Braydon Coburn – which isn't something you hear often (if at all).  I can't quite put my finger on it, but Coburn hasn't had nearly as many mental lapses this season as we've seen in years past.  He's certainly not impressing on the scoresheet, but he is noticeable in just about every play making simple smart plays that lead to offensive breakouts.  But he's still not a #1 defenseman.
There isn't much point in arguing Niklas Grossmann, Luke Schenn, or Andrej Meszaros as top pairing guys either.
Although the Flyers have been on a bit of a hot streak of late, it's still blatantly obvious this team is missing something.  Having a #1 defenseman is vital to any team.  It makes the defense cohesive and run like a unit.  While the Flyers defense has had its decent outings, they are still in desperate need of that defensive zone presence.  And Paul Holmgren needs to find that #1 defenseman now before it's too late.
Charlie O'Connor of Broad Street Hockey put it best when asked who the Flyers' #1 defenseman was: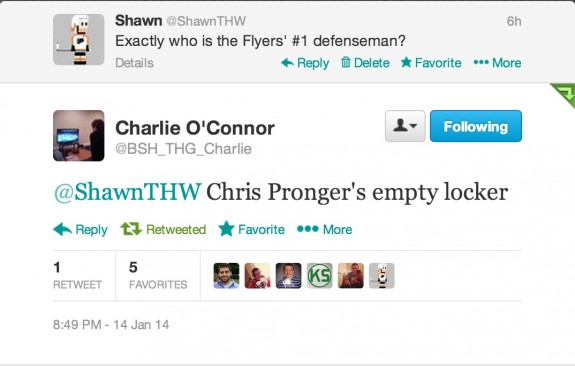 Follow Shawn Reznik on Twitter: @ShawnTHW