By Mike Miccoli
It almost felt like we had been there before.
We have, actually. Last spring. The Bruins were down 4-2 in a game against the Toronto Maple Leafs where they looked sleepy and sloppy. They couldn't sustain pressure and couldn't carry over momentum from shift-to-shift. Then, a goal. Pause, right there.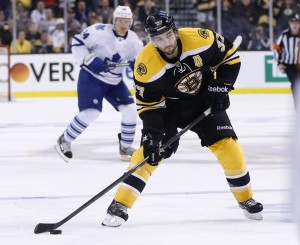 As soon as Gregory Campbell dangled from behind the net and put the Bruins within one against the Maple Leafs on Tuesday night, it all felt familiar. Maybe it was because the Bruins looked sleepy and sloppy. Maybe it was because they couldn't sustain pressure and couldn't carry over momentum from shift-to-shift. Whatever it was, Campbell's third period goal gave the Bruins life, followed by a surge that we've seen a few times before this season when down by a goal, and of course last season, a certain Game 7 against a certain Maple Leafs team.
They all had the same results–comebacks. It's why you play a 60-minute hockey game. It's why you watch until the very last whistle. The problem was, Tuesday night was nothing like these past surges. On Tuesday night, the Bruins came up empty, unable to overcome the deficit and unable to put up another come-from-behind victory.
The late third period surge that had been so successful in games past wasn't the answer. A full-60 minute effort was and it was something the Bruins have been missing quite a bit this season.
Instead of relying on playing all three periods and giving a consistent effort when trailing, the Bruins are leaning far too heavily on something else: a third period surge.
"We tried," said Bruins head coach Claude Julien when asked about the late third period surge. "It's not surprising. I mean, this is the kind of team we are. We're not always good, but I never question the character of this hockey club. That's never been a question for me, anyways. They've always been resilient, and they will continue to be resilient. Like I said, it's just going through that situation that I think our team has got to pick its game up and be better."
This is why it's so worrisome. The Bruins go through these spurts in the third period of games where they truly believe that they're invincible because they've gotten out of that hole so many other times. It's a dangerous habit and a crutch that the team has seemed to be using all too often.
The Bruins have to once again learn how give a consistent effort. Once they do that, they'll be able to put an end to their reckless abandon that has them going on all cylinders in the third period, doing almost anything to steal a win. Maybe you don't have to steal wins if a 60-minute effort is there.