Rankings:
Minnesota
Clarkson
Wisconsin
North Dakota
Cornell
Boston College
Quinnipiac
Harvard
Boston University
Robert Morris
The Round-Up
1. Minnesota Golden Gophers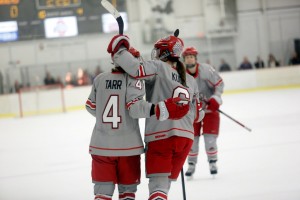 After beating the Buckeyes 6-0 on Friday night, Minnesota could only earn one of three WCHA points against Ohio State on Saturday as they lost in a shootout after tying 2-2. The Gophers' top players carried them to the blowout victory once again, with Hannah Brandt recording a hat trick and Kelly Terry and Dani Cameranesi each recording three points in that 6-0 win. Minnesota would face a much more opportunistic team on Saturday, however. The Buckeyes found themselves ahead 1-0 heading into the third, and though the Gophers eventually took a 2-1 lead, they were able to tie up the game with less than two minutes remaining. Though those are two points that Minnesota would like to have, Ohio State has proven that they can skate with the nation's best when they're on their game, so the shootout loss isn't disastrous by any stretch.
2. Clarkson Golden Knights
The Golden Knights swept St. Lawrence this weekend, winning in a 6-0 rout on Friday and then beating them 3-0 on Saturday. Jamie Lee Rattray continues to be Clarkson's best player, but the Knights also got some important goals from players in more of a secondary scoring role, including two from Olivia Howe in that second victory. Their defense was superb, holding the Saints to just 36 shots on the weekend and shutting them out in both games. Also, they've developed some significant offensive depth as the season's gone on. Clarkson now has 11 players on the roster who have reached double digits in points.
3. Wisconsin Badgers
The Badgers split with North Dakota this weekend, falling 4-1 on Saturday and then winning by the same score on Sunday. Wisconsin's defense was under a ton of pressure in that first tilt, and it was hard for them to establish much control because of that. They were able to stay in the game despite that, but a very good final frame from North Dakota saw them skate away with the victory. A much stronger defensive effort propelled them to a win on Sunday. They did a better job of limiting UND's chances, and were able to generate their own shots instead of spending so much time pinned in their own end. Also of note: rookie goaltender Ann-Renee Desbiens was able to step up again as Alex Rigsby recovers from an injury.
4. University of North Dakota
In their series against Wisconsin earlier in the year, North Dakota had trouble converting their chances to goals, which led to the Badgers taking five out of six points from those two games. UND was much improved on Saturday as they frustrated Wisconsin's defense and breakout. They came out flying in the third period, outshooting the Badgers 16-3 and scoring twice to pull away and clinch the victory in what was a must-win in a lot of ways. North Dakota ran into trouble again on Sunday, though, as Wisconsin seemed to regain their composure. UND was still able to get some offense going, but they couldn't recover from giving up three unanswered goals in the second period after having a 1-0 lead after a good first period.
5. Cornell Big Red
Cornell tied with Mercyhurst on Friday, 4-4, before beating the Lakers 6-4 on Saturday. It was a pretty back-and-forth series, especially in that first game, in which neither team had more than a one-goal lead. The Big Red were able to jump ahead 3-1 in the first period on Saturday, helping propel them to a victory even though the Lakers hung around all game. Cornell's offense can match any in the country, but their problem this year has been stopping opponents from matching theirs. They've been perfectly capable of scoring goals when needed, but if they ever hit a dry stretch, they're going to be forced to rely more on strong defensive play, which could pose a problem.
6. Boston College Eagles
The Eagles skated to a 1-1 tie against an inspired Northeastern squad on Saturday, then came from behind to win 3-2 on Sunday. Every Hockey East game from here on out is huge for the Huskies, and they certainly were ready for that first game against Boston College, when they fired 40 shots on goal. The Eagles were able to fight back from a 2-0 hole the next day, however, scoring three straight to come away with the victory. Northeastern has a lot to play for, and despite whatever problems they've had this season, they're a fast team. Boston College has had trouble handling speed up front, which is what made this weekend so difficult for them.
7. Quinnipiac Bobcats
Quinnipiac fell to Rensselaer in a 3-2 upset, but would bounce back to win 1-0 at Union. The Bobcats found themselves down 3-0 after two periods against RPI, and they weren't able to complete the comeback despite two goals from Shiann Darkangelo in the third. Those first two periods really hurt Quinnipiac; they had just nine total shots after 40 minutes, and although they were able to generate some chances in the last frame, they just couldn't make up enough ground.  The Bobcats could only get the one goal against the Dutchwomen, but their effort as a whole was much better in that second game.
8. Harvard Crimson
The Crimson shut out Brown 3-0, but then fell to Yale 2-0 on Saturday. Harvard played well against the Bears, putting in a dominant team effort with multiple players chipping in on the scoresheet. They did not have the same success against the Bulldogs, however. Yale has been one of the bigger upstart teams this year, and their win was historic-it was their first victory at Bright-Landry Hockey Center since Feb. 28, 1981. The Crimson had a hard time preventing the Bulldogs from getting chances, and they ended up being outshot, 31-29. On the plus side, this is the first time this season that Harvard has been shut out, so scoring goals hasn't been a problem for them so far.
9. Boston University Terriers
After falling 4-1 to Boston College on Wednesday night, Boston University was able to earn a 5-3 victory over Maine on Saturday. The Terriers just could not match the Eagles' offense, and though they were able to beat the Black Bears, they had some issues against them, too. They were outshot 34-14, and were down 2-0 before scoring three unanswered. BU's defense is starting to show some cracks, and it's affecting their ability to create offense for themselves, with Boston College really starting to control things in the third and Maine able to outchance the Terriers for the better part of that game.
Three Stars of the Week
1. Lisa Steffes, Senior, Goaltender, Ohio State: She made 28 saves in the game and then stopped all nine of the Gophers' shooters in the shootout to help the Buckeyes take an extra point from top-ranked Minnesota.
2. Hannah Brandt, Sophomore, Forward, Minnesota: She netted a hat trick to help the Gophers win their first game of the weekend against Ohio State.
3. Nicole Paniccia, Senior, Goaltender, Penn State: She made 39 saves on 40 shots to help lift the Nittany Lions to a 2-1 overtime win against Colgate.
Play of the Week
This deke and backhander from Vermont's Amanda Pelkey.