As much as Flyers fans hoped Bill Daly would give them the golden ticket to the Connor McDavid sweepstakes, Philadelphia fell in line with where they were likely going to pick anyways. The 7th overall pick isn't a bad one. Having watched many of the prospects that will be selected come June, the talk of this draft being particularly "deep" is not off base in the slightest. There will be immensely talented players going off the board in the first three rounds alone, much less at 7th overall, where the Flyers currently sit.
I haven't done an article like this before, but thought now is as good a time as any start give my opinions on what players the Flyers should considering taking at the draft in June. This article is based upon my viewings of each prospect, overall potential, how they fit into the Flyers future plans, which prospect will likely be available at 7th overall, and team need. The article is also written on the general consensus that Connor McDavid, Jack Eichel, Noah Hanifin, Dylan Strome, and Mitch Marner were selected with the top 5 picks. The 6th overall pick is a tossup, so I've ranked them in the order I would select them.
Let's begin:
Ivan Provorov – D – Brandon Wheat Kings – WHL
Prospect profile link (here)
Offense is one of the Flyers' biggest needs at this junction. Hextall already hinted that they'll likely be taking a forward with their 1st pick. I personally feel it'd be a mistake if Ivan Provorov were still on the board.

As problematic as forward scoring may be for Philadelphia, a more glaring issue that's been staring them in the face all season is defense. I'm under the firm belief that if you fix the defense, the rest of the team will fall into place. Granted they have Travis Sanheim, Samuel Morin, Robert Hagg, and Shayne Gostisbehere waiting in the wings, but the only one who I feel is ready to play in the NHL right now is Robert Hagg. That said, I don't feel Hagg can change the dynamic of the defense alone, where as Provorov very well could.
Philadelphia doesn't have a good relationship with Russian players, but Provorov is mature, poised, and ready to make the jump to the NHL next season and contribute. A few months ago, my gut feeling was Werenski was the best blueliner available, however after having watched Provorov with Brandon in the WHL and with Russia in the WJC, it's my firm belief that he's the best defenseman in the draft (yes, better than Hanifin).
Mikko Rantanen – RW – TPS – SM-liiga
Prospect profile link (here)
I was lucky enough to find streams to a handful of TPS games this year and was blown away by the size and skill Rantanen showed against older, wiser, and better competition. Twenty-eight points may not seem like a lot in the Finnish league, but for an 18-year old, it's more than impressive.
Rantanen came on strong at the World Juniors this year and was easily Finland's best player. He led the team in goals and points (4) and seemed to be around the net waiting for that next scoring opportunity. Rantanen's stick work and balance on his skates allows him to easily get around defenders and crash the net.

While right wing may not a top priority for Philadelphia, it's hard to pass up a kid of Rantanen's stature and skill set. He split time playing RW and C, and as a left-handed shot, it might be possible to ease him into the left-wing slot the Flyers desperately need.
Lawson Crouse – LW – Kingston Frontenacs – OHL
Prospect profile link (here)
Another big-bodied forward, Lawson Crouse is versatile in the sense he can fill any role you ask of him. He's a go-to offensive left winger, but was utilitzed in a checking role with Team Canada in the WJC that helped them secure a gold medal.
You're bound to find over a point-per-game pace for many top-ranked skaters in the draft, but that was not the case with Lawson Crouse. He only scored 51 points in 59 OHL games this year – which isn't a whole lot – yet, he was still consistently ranked in the top 5 or top 10 all season.

The Kingston Frontenacs were a goal-starved team without their biggest factor, Sam Bennett almost all season. Even still, Crouse managed to put up 29 goals on a team that was bottom-five in goals-per-game. Physically, he's ready to take the next step into the NHL and the Flyers could use a 1st line LW.
Mathew Barzal – C – Seattle Thunderbirds – WHL
Prospect profile link (here)
It's the same discussion that's been said for the past few weeks: "If Barzal hadn't been injured this year, he'd be in the top 5 discussion."
That statement isn't wrong. He probably would be, but he was injured and he still finds himself in the top 10 discussion – even more so after his impressive U-18 performance where he had 12 points in nine games for Team Canada.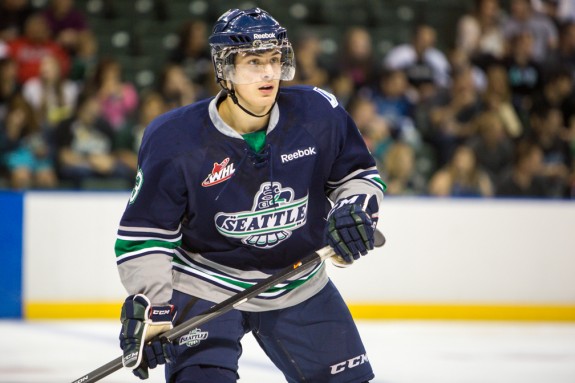 A 5'11" center, the playmaker with elusive puckhandling and breakneck speed is a player the Flyers could use sooner than later. With Sean Couturier still slotted as the 3rd line center, a 2nd line center is a top priority for Philadelphia. Barzal is fantastic in the faceoff dot and is also defensively responsible.
Zach Werenski – D – Michigan – NCAA
Prospect profile link (here)
I think Werenski and Hanifin are neck and neck in terms of development and potential. They have two distinct styles of play. Hanifin is more safe, reserved, and collected, where as Werenski pushes the pace, has speed from the backend, and is always looking to transition the game to offense.
I've enjoyed watching Werenski grow all season long and personally think he outshined Hanifin on the big stage of the World Juniors. He's not all offense though. He gets back into the play with his speed and has immense hockey sense in the defensive zone.
If Hanifin has 1st pairing potential, I don't see why Werenski wouldn't either. And if both Hanifin or Provorov is gone by the 7th overall pick, Werenski would be an excellent pickup for an already bright future on the blueline.
Timo Meier – RW – Halifax Mooseheads – QMJHL
Prospect profile link (here)
I don't know what's in the drinking water in Halifax, but whatever it is, it's making them churn out top junior players every year. Timo Meier follows the likes of Nathan MacKinnon, Jonathan Drouin, and Nikolaj Ehlers in the long line of recent to prospects that have come from the Mooseheads.
Meier is one of the most electrifying forwards I've been able to track this season. The Swiss-born winger is so strong and sturdy on his skates, is built like a bull, throws his weight around, and has a devastating shot that was responsible for 44 goals this season.

Similar to Rantanen in the sense that he can play both center and wing, Meier is also left-handed and could find a new calling at the LW position. With excellent puck control, Meier is known for blowing by defenders and getting to areas of the ice for high quality scoring chances. While the other players I mentioned I rank higher than Meier, he'd be a perfect goal scoring threat for Philadelphia if they were to take him 7th overall.
***********************
I know it's weird not to see Pavel Zacha on this list, but for my money, he isn't worth the selection at 7th overall. Zacha is one of the players I've focused on most this season and while his compete level in the offensive zone is high and he couples that with a heavy wrist shot and stick work, he's a very lazy player in the defensive zone and on the forecheck/backcheck. He'll be placed into a scoring role on an NHL team, but after having watched him numerous times, the fact he coasts and doesn't hustle to get back into the play is very telling of how he intends to play the game at the NHL level.
Does this mean he won't ever focus on changing his defensive game? No.
But for me, there is better value than Zacha at 7th overall for the Philadelphia Flyers.