It has been a season to forget in Ottawa…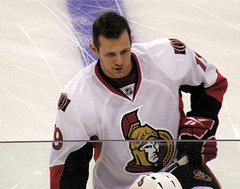 A lack of goal scoring from every position, lengthy injuries to several key players, and multiple losing streaks have brought the team from contending for a playoff position to asking, "When will we hit bottom", as the 2010-2011 edition of the Senators sinks in the standings.
Last week, GM Bryan Murray held meetings with his coaching staff and the players. His message – I am not happy, the organization is not happy and the fans are not happy. On a three-game losing streak at the time, he indicated that their performance over the next few weeks would dictate his moves going forward. The players continue to say all the right things but the result on the ice remains the same. It is safe to assume that changes are coming.
Unfortunately for the Sens, after hearing from Murray they racked up two more losses over the weekend. A tough test in Boston tonight awaits them, leaving their GM and team owner Eugene Melnyk with few options. Bruce Garrioch of the Ottawa Sun reported yesterday that the message from Melnyk has arrived – it is time to cut salary and get some contracts off the books. Having said that, Murray has attempted to trade players all season with no success, perhaps as the trade deadline arrives teams will be willing to do business with the Ottawa GM. For now though, mid-round draft picks are all that he can expect in return for his assets – no contending team is willing to give up a roster player or first round pick for Alex Kovalev, Chris Phillips or Jarkko Ruutu (all are set to become UFA's this summer).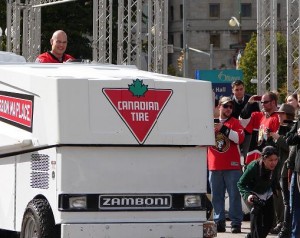 While the discussion of cutting salary and making trades has Ottawa hockey fans wondering what will become of their team, the conversation also includes the question of Cory Clouston. Will he remain the bench boss for the rest of this season? In the final year of his contract, will he return to the team next year? Can he be blamed for the lack of effort or is it Murray's player acquisitions that have handcuffed his coaching abilities?
Most reports out of Ottawa indicate that if the losing continues, an unhappy Eugene Melnyk will want a coaching change. Considering that the team has already gone through John Paddock and Craig Hartsburg as coaches under Murray's reign, most expect it is Bryan Murray himself that will step behind the bench again as he has done in the past if Clouston is indeed let go. What better way for a GM to analyze his team's performance than from behind the bench. It could also be said, if you are a glass half-empty kind of person, this is Murray's mess and he should be the one to clean it up.
A new coach should have the opportunity to start fresh next season with a revamped roster and there are several high profile candidates ready to step in should a position become available in Ottawa.
Cory Clouston: While it is unlikely that Clouston will return next season, it remains a possibility and so he is on the list of coaching candidates. With injuries to Pascal Leclaire and Jason Spezza, a lacklustre season from Alex Kovalev and several key players, and the failure of management to provide him with a much-needed top-six forward, is he to blame for the rut this team is in? It can be argued that his system does not work, but do not forget, his name was mentioned as a possible Coach of the Year candidate last season after a franchise record 11-game winning streak.
His record behind the bench in Ottawa (79-63-16) indicates he can win – just not this year. He may be offered another season to turn things around if his players can put together a few wins in the second half of the season.
Bob Hartley: The native of Hawkesbury, Ontario (about an hour East of Ottawa) can be considered a "local guy" and he is ready and willing to coach in the NHL again. His last appearance behind the bench was in Atlanta, where he was fired six games into the 2007-2008 season. A Calder Cup winner with the Hershey Bears (1996-97 season) and a Stanley Cup champion with the Colorado Avalanche (2000-01), he knows how to win, which is an attitude desperately needed in Ottawa. He also brought the Atlanta Thrashers to their one and only playoff appearance (2006-07).
His career win/loss record of 329-226-61-34 (W/L/T/OTL) in the NHL is impressive, as are the five division titles he won with Colorado and Atlanta. A real "systems" guy, he is not a player's coach, but perhaps that is what the Senators need at this time if they cannot improve their roster – a system that can grind out some 2-1 and 3-2 wins as their young stars in Binghamton mature into legitimate NHL players.
Ken Hitchcock: A veteran NHL coach, it is not likely that he will end up in Ottawa, but his name is often mentioned when changes are made behind the bench on any team. Another coach with an impressive resume – Hitchcock has coached 1,042 games in the NHL (534-350-88-70) with the Dallas Stars, Philadelphia Flyers and the Columbus Blue Jackets. He is a big believer in his system of play but players have complained in the past that it is too stifling and complicated.
Is Hitchcock the right fit for Ottawa? Perhaps not, but he does bring a winning attitude and a no-nonsense approach, which could help the under-achieving Sens players. He has a Stanley Cup (1998-99) with Dallas and two Olympic gold medals as an assistant coach with Team Canada in 2002 and 2010. However, as THW's own Jeff Little pointed out in a recent Blue Jackets article, Hitchcock is a fan of his veteran players; Ottawa will be a younger squad next year, especially on defence. Is Hitchcock ready to let Jared Cowen, Eric Gryba, and Patrick Wiercioch learn from their mistakes on the ice and not from the press box?
Dave Cameron: Perhaps the most popular choice among fans in Ottawa and the most likely scenario if a coaching change occurs; Cameron is already on Melnyk's payroll as the head coach of the Mississauga St. Mike's Majors in the Ontario Hockey League. He played 168 games in the NHL with the Colorado Rockies and the New Jersey Devils and coached in the American Hockey League and the OHL. In fact, Cameron was behind the bench with the Binghamton Senators for three seasons, coaching current Ottawa players Jason Spezza, Chris Neil, and Chris Kelly while they were in Bingo.
Cameron recently coached Team Canada at the World Junior Tournament and the St. Mike's Majors are hosting the CHL's Memorial Cup this year, so he is certainly not available as a mid-season replacement in Ottawa. If Bryan Murray makes a change soon and steps behind the bench himself, Melnyk would be happy to see Cameron rewarded for his loyalty to his organizations. Another coach with that will put a system in place, one that does not rely on having an abundance of "star power"; Cameron can work to develop the Sens prospects while already having experience with a player like Spezza.
A few of my candidates if a coaching change occurs in Ottawa, what do you think? Leave a comment on these four coaches or make a suggestion of your own. With each loss, it becomes clear that changes are coming in Canada's capital.