Brayden Schenn will return to his home town of Saskatoon, Saskatchewan to make one final run at the Memorial Cup.
"It feels pretty good to come home" said Brayden Schenn.
The deal was officially announced at a Saskatoon Blades press conference that took place at the Credit Union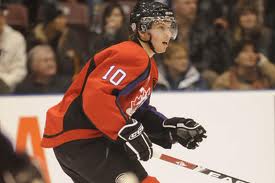 Centre on Monday, January 10th.
The deal involved the Saskatoon Blades trading their 2011 1st and 2nd round bantam draft picks, 2012 1st round bantam draft pick, 2012 1st round import draft pick, Ayrton Nikkel and Tim McGauley to the Brandon Wheat Kings for Brayden Schenn and a 2011 3rd round bantam draft pick.
"It gives us a better opportunity to achieve our goal (of a WHL championship)" said Saskatoon Blades General Manager/head coach Lorne Molleken.
Before being sent down to the Brandon Wheat Kings of the Western Hockey League, Schenn started the year with the Los Angeles Kings of the National Hockey League, and took part in a conditioning stint with the Manchester Monarchs of the American Hockey League.
The 5th overall draft pick of the 2009 NHL entry draft will add exceptional talent and veteran presence to an already impressive team; the Saskatoon Blades are currently 1st in the Western Hockey League standings with a 31-9-0-1 record. It's expected that Schenn will centre the Blades first line alongside former World Junior teammate Curtis Hamilton and the Blades top scorer Josh Nicholls.
The Blades may have felt pressure to pull off a major deal with rival teams the Tri-City Americans and the Portland Winterhawks making significant trades. The Tri-City Americans landed Carter Ashton from the Regina Pats and the Portland Winterhawks landed Craig Cunningham from the Vancouver Giants.
Ironically the Saskatoon Blades next game is against the Brandon Wheat Kings on Tuesday, January 11th. Brayden Schenn will not take part in the game due to recovering from a shoulder injury that occurred at the 2011 World Juniors in the quarter-final match-up between Canada and Switzerland. It's reported that Schenn is still 10-14 days away from returning to the ice.